Overview of the different competition riding boots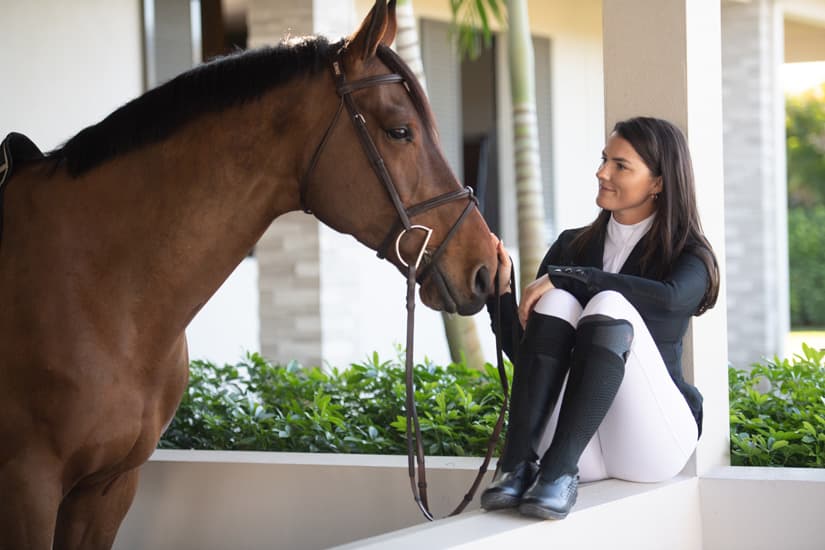 In training as in competition, we need to protect our riding calves from the rubbing of the stirrup leathers. Two options are available to us: boots, or boots with mini-chaps. Which ones to choose and how to keep them as long as possible? Here's our complete guide to finding a show boot that's right for you.
Competition boots: what the rules say
The rules of competitions, whatever the discipline, generally specify for the rider that it is necessary to wear boots or boots and half-chaps, all dark in color and with a small heel. Usually, boots are preferred for a question of aesthetics, but some riders will prefer the comfort of boots.
Boots or half-chaps: what to choose in competition?
There are different types of horse riding boots. Traditionally, competition riding boots are worn, but boots and half-chaps allow better mobility of the ankle and therefore a better position in the saddle... So what to do? We solved this dilemma for you by designing the teknit boots, but we will still give you our advice on boots, boots, and half chaps.
A few tips to keep in mind when buying show boots
Cleaning and maintaining competition riding boots
To maintain leather show boots, there is a golden rule: above all, do not maintain them like our net and our saddle. Indeed, where the harness must remain as flexible as possible, the boots must remain rigid or risk ending up like an accordion. Glycerine soap or grease should therefore be avoided.
To maintain leather competition riding boots, start by putting the boot on yourself so that the leather is taut and the seams more accessible, then clean the mud and sand with a sponge. Then put some shoe polish on a brush, and brush the boots. To keep your leather boots as long as possible, it is essential to repeat this process after each muddy session. From time to time, rub on your clean boots - and from which you will have previously removed the laces - a larger quantity of shoe polish with a cloth. After polishing, let your boots wait a few minutes then brush them. Before storing your leather boots, even for a few days, make sure they are clean and insert a shoe tree into their uppers to prevent them from sagging. Keep them in a dry place away from direct sunlight.
If this little interview chapter gives you cold sweats, don't panic, there are teknit boots. Its advantage? She goes to the machine and is satisfied the rest of the time with a little bit of damp sponge! And as a bonus, it does not require a shoe tree and takes up as much space as a pair of sneakers in your competition bag.
New generation competition riding boots: teknit boots
Our guide to show boots wouldn't be complete without an overview of teknit boots. Indeed, we have developed riding boots which avoid the usual drawbacks of classic boots, and which are suitable for competition wear. The teknit boots are designed like sports shoes. These are comfortable, high-performance technical boots that are very easy to put on and maintain, and will never sag. It's like having tailor made riding boots.
They are adapted to all morphologies for a fit comparable to that of real made-to-measure boots. Thanks to their vertical and horizontal stretch, they adapt to all body types and all leg lengths and release the calf muscle. Thanks to these details which are not, we can easily lower our heels and thus be better installed in the saddle. A grip placed at calf level ensures leg stability. Perfect for the flat as well as for jumping, dressage, ballads and stables, they are also suitable for all disciplines.
We know you once asked your favorite search engine how to break a boot because you were tired of blisters and chafing... so are we! This is why teknit boots, unlike their leather counterparts, are comfortable from the first session and do not need to be broken. Immediately received, immediately worn! In addition, they are very easy to put on and take off by folding the flexible upper on itself. There you have it, you know everything about competition boots and Horse Pilot's innovations in this area. Good competition!