Horse Pilot children's riding pants and breeches from 10 to 14 years old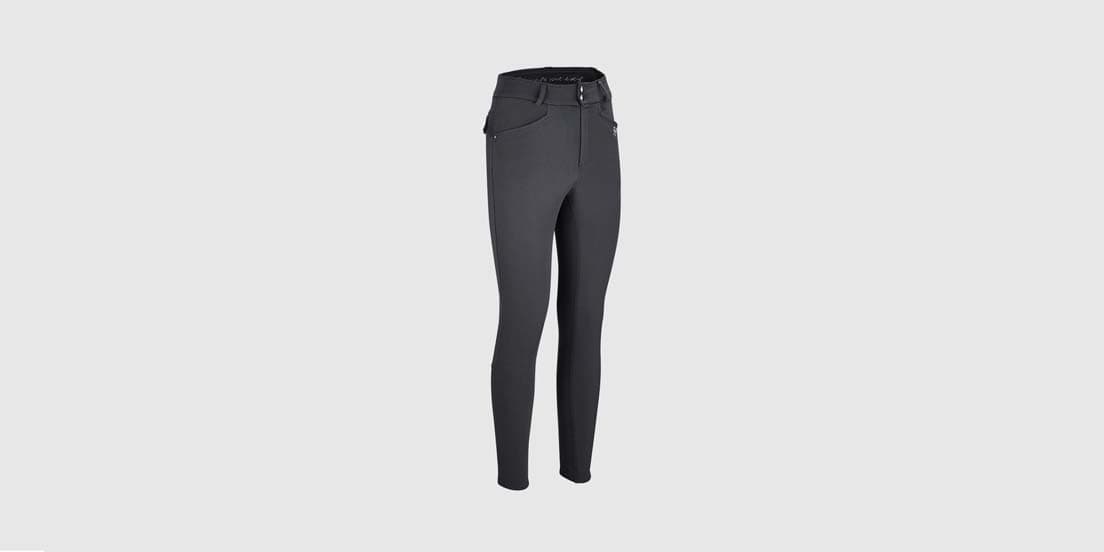 Kids' breeches or riding pants are essential for a rider's outfit. Especially for the youngest, they must be not only comfortable and with good technical qualities but also look good. For your children and teenagers, you prefer to choose elastane sportswear for comfort, and the same goes for riding clothes. Find out how to make the right choice.
Kids' riding breeches suitable for riding ponies or horses
Whether your child rides on horses or ponies, they require appropriate, quality equipment. You might think that simple track pants could be adequate. However, they do not provide optimal grip, comfort, protection, and level of technicality. Kids' breeches are more fitted towards the ankle, so your child can put on socks and wear boots over them. As you will have understood, it is necessary to provide comfortable outfits for horseback riding. Budding young equestrians, riding pant for girl or boy, youth or teenager, require kid's riding breeches with a fitted and stretchy cut that will accompany them in their favorite sport.
High-end kids' riding breeches
Quality breeches, with a high level of technicality, an attractive design, and good sturdiness, are not only reserved for adults. High-end kids' breeches have a more expensive price tag, but they are an excellent investment. Don't forget to take a look at the sales, where you will discover some affordable children's riding breeches.
The Horse Pilot collection of children's riding pants
To best meet the requirements of the youngest riders, teenagers, and their parents, Horse Pilot has created a collection of junior riding pants. You will find a range for riding pant for boy and a range for girls. The products retain the same performance as an adult model while adapting to the size and needs of a young rider. Comfort, ergonomics, protection, and style, these kids' riding breeches have been designed with care so that you almost forget them once on horseback or a pony.
Performance riding pants for children
To ride a pony without constraint, a child needs to be comfortable in his clothes. Kids' riding breeches must provide enough freedom of movement to reproduce the gestures learned during the lessons properly.
Another essential point, especially for parents of young riders, is resistance to wear. Junior riding tights are exposed to friction with the saddle and the horse and also come into contact with various types of dirt. This is why it is worth investing in substantial, hardwearing breeches, even if the price may be higher.
Horse Pilot kids' riding breeches are designed to respond to these issues to ensure unfailing comfort and solidity.
Colorful jodhpurs for kids
Who says you have to put style aside to ride a pony? Take advantage of a birthday to give must-have riding outfits as a gift for your children. What could be more touching than seeing your daughter or son, whether a tiny tot or teenager, wear their riding outfit to the equestrian center. Horse Pilot children's riding pants are available in several colors, from white and beige to darker shades, such as navy blue or black, to suit their tastes. You can choose the product that he likes the most to shine in training as well as in competition. And why not opt ​​for a colored polo shirt if they feel like it.
Riding pants for children adapted to climatic conditions
Horseback riding is frequently practiced outdoors. As such, your child's breeches must be able to adapt to climatic conditions for greater comfort and sturdiness. Breathable in summer, they must also be warmer for autumn-winter.
Waterproof kids riding pants
A passionate rider is not often discouraged by the rain, and waterproof riding pants are perfect for protection against the weather. They are warmly lined and made of materials specially designed for this purpose.
Kids' riding breeches for the summer
Riding on a horse in sunny weather is enjoyable, but your child may quickly sweat during the exercise. Horse Pilot breeches are made from SensitiveFit material. They are designed to let the skin breathe as much as possible, even when wearing boots.
Children's anti-dirt riding breeches
At the riding school, it's quite easy to get dirty, and little ones are more exposed to this problem. So, to help parents and provide an impeccable outfit for as long as possible, our anti-dirt teenager's breeches limit stains and the adhesion of straw, mud, and other substances likely to end up on riding pants when horseback riding.
Technical riding pants for children
Technical junior riding pants are just like those for adults. They are equipped with special technologies that offer additional advantages to a young rider. They are designed from a breathable fabric that wicks away moisture, so these breeches are very comfortable to wear. Thanks to their zipper, they are easy to put on and will become your child's ideal ally for days spent at the stables.
Kids' riding breeches with grips
Breeches with grip have a silicone insert that improves grip and hold with the horse. This quality product provides better contact with the saddle and the mount. Junior riding breeches are also designed with this feature.
Kids' riding pants with a silicone seat
Some riding pants for adults or juniors have a silicone seat. As with the silicone grip or patch, they offer better hold in the saddle.
Designer riding breeches for children
For young people who want to look their best in training as well as in events and competitions, children's riding pants adopt a quality design. With zippers, neat seams, and yokes, Horse Pilot junior breeches have been designed to offer young riders an impeccable outfit.
How to choose junior riding breeches?
As a parent, choosing the right kids' riding pants can be challenging. To avoid making mistakes, you must, above all, pay attention to practice, level, and size.
Children's riding breeches adapted to their level and practice
Depending on their level of experience, a young rider may not have the same needs in terms of riding breeches. For example, beginners should favor comfort and freedom of movement to provide suitable learning conditions. A more experienced rider can expect more support and grip to follow him in his practice.
The type of practice also matters. For example, riding breeches are not the same for schooling or competition. Regulation kids' riding pants for competition are more demanding than those for training. They must be a light color, such as beige, neat, and stain-resistant. For dressage, too, riding breeches are different. "Second skin" models are very popular. But for trekking, Jodhpurs or jods are preferred. The same applies to show jumping or racing. There are special, more resistant models that better meet the needs of these disciplines.
Junior size guide to buy a child riding pants 10 - 14 years
Junior riding pants should fit snugly while being comfortable and allowing the skin to breathe. They must be the right size with the correct length to fit well in the boot. Horse Pilot offers pants for children from 10 to 14 years old. You can use the size guide, which will suggest the best size to choose and the right product according to your body shape.
We have presented key information to help you choose junior riding pants or riding breeches. All you have to do is find the ideal model to allow your kids to feel good on horseback. You can find quality models combining technicality and design at Horse Pilot.