Horse Pilot kids riding jackets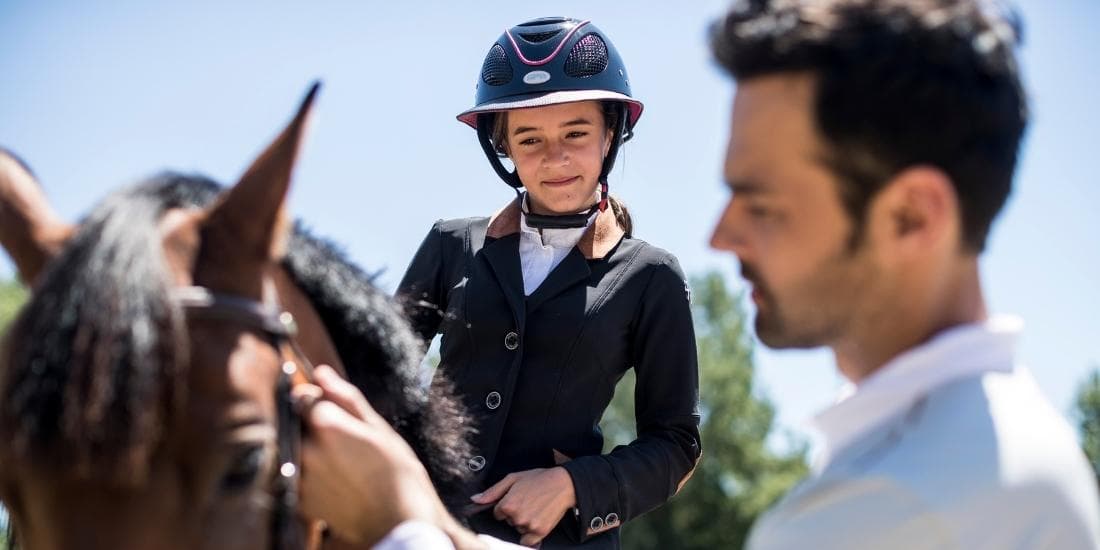 Equestrian sports and activities are almost always practiced outdoors. As such, little riders need protection from the cold, especially in winter and mid-season when temperatures drop. A suitable riding jacket is therefore essential to help them fight against the cold, rain, snow or wind.
Our kids riding jackets
To ensure that the youngest riders are as well protected as adults, the Horse Pilot brand has created and developed riding jackets designed for children. Since nothing stops them, neither the rain, nor the wind, nor the cold, they need a equestrian blouson jacket that protects them from the weather and temperature. The Horse Pilot models are perfect for this thanks to their technical qualities. Waterproof, windproof or even equipped with a lining, these jackets will be the best ally of young riders during the winter and mid-season months.
A top-of-the-line riding jacket brand for kids
Children love the act of riding, but also the life at the stable: playing, running, brushing the ponies, etc. So they need to be comfortable in a high-quality jacket that fits their every move. As for the women's equestrian blouson jacket. Known for its innovative creations, the Horse Pilot brand has put all its know-how into the creation of high-end technical, comfortable and elegant riding jackets. Thus, children can live their life of little riders to the fullest without worrying about being hindered in their movements or in their travels. Both warm and light, Horse Pilot jackets are perfect for keeping kids warm without weighing them down thanks to their second skin effect.
The Horse Pilot kids collection of riding jackets
Many riders started riding at a young age. That's why Horse Pilot has dedicated an entire collection to children. Among the different models, little riders will be able to find short cuts ideal for riding, or long cuts to protect themselves from rain and cold up to their knees. Moreover, they will also have the choice between different colors, neutral or more colorful, which they can match with the rest of their outfit (riding pants, sweater, rug, etc.). The different colors allow kids to express their personality and taste through their outfit.
Why buy a kid's riding jacket for horseback riding?
Wearing a good riding jacket is practically indispensable during the cold seasons, especially in winter. Since it is an outdoor activity, little riders need to wear clothes that can keep them warm while protecting them from the weather. It is the same for men with men's equestrian blouson jacket. For this, Horse Pilot riding jackets are equipped with different technologies. For example, the Extrem Layer technology allows the jacket to be completely waterproof while being breathable. Made of laminate, the jacket is an effective protection against bad weather. Finally, riders are sometimes required to go outside, for example in the forest. Having a sturdy and resistant riding jacket will allow them not to tear their clothes on branches.
Technical riding jackets for riding
Being comfortable on a horse is a very important element, and especially when learning to ride. Therefore, young riders need to wear a technical jacket that is comfortable, light and warm at the same time. That's why Horse Pilot has equipped its children's riding jackets with innovative technologies that allow riders to be comfortable both on horseback and on foot. They can enjoy life at the stable without worrying about the cold or bad weather. These technologies are numerous and allow riders to evolve serenely. For example, Coldblock technology, which blocks the cold to play a perfect role as a bulwark.
Comfortable kids riding jackets
Comfort is a primary criterion for choosing a riding jacket. In order for little riders to focus on their posture on horseback, they need a comfortable jacket that will allow them plenty of freedom of movement. Horse Pilot riding jackets are made with specially designed fabrics that conform to the body shape. Moreover, the Extra Comfort technology gives the rider the feeling of wearing his jacket like a second skin because it avoids friction. As for the Perform Fit technology, it guarantees riders total freedom of movement.
Performance kids riding jackets
Whether it's for riding, carrying out horse care or doing stable work, young riders need to wear high-performance clothing. That's why the Horse Pilot brand has equipped its riding jackets with technical features to protect riders from the cold. Thanks to the materials chosen and the addition of linings, these jackets are warm and perfectly insulate riders from the cold. The brand's jackets are also light, to keep riders warm while not hindering his freedom of movement.
Design riding jackets for riding
Along with comfort, style is an important consideration when choosing a riding jacket. Elegance is indeed a standard that has been ingrained in the riding community since forever. Horse Pilot riding jackets are designed with fashion and trends in mind. They differ according to their cuts (short cut, long cut, fitted or not, etc.), their colors and the details they are provided with (for example, the quilted shape on the front and/or on the back of the jacket). This way, all little riders can find a jacket they like.
How to choose your child's riding jacket
To properly choose a child's riding jacket, you need to consider different decision criteria. For example, the jacket in question must be perfectly adapted to the size of the little rider, so as not to bother him. It is also essential to choose a jacket according to the season and the weather. Finally, it is necessary to choose a jacket that the child likes, and whose style corresponds to his. Horse Pilot offers a wide range of jackets for children, which allows them to find the ideal model.
A riding jacket suited to the season
Every rider knows that you should choose your jacket in relation to the seasons and the weather. Since most horseback riding is done outdoors, riders are subject to the climate and sometimes very cold temperatures. A warm jacket can make a big difference and allow riders to be more comfortable. Mid-season jackets are lightweight and equipped with technical features (windproof, waterproof, etc.). Winter jackets are usually thick and/or lined to keep the little riders' bodies warm. This way, they will be able to enjoy their equestrian activities without being bothered by the cold or bad weather.
Child Riding Jacket Size Guide
To choose a riding jacket for children, the choice of size is very important. Indeed, first and foremost, little riders should be able to feel good in a comfortable jacket that fits them perfectly. A jacket that is too small could hinder their movements, and they might not be able to wear several layers underneath. On the other hand, a jacket that's too big might be impractical and let heat escape instead of being retained. To avoid all these inconveniences, Horse Pilot has created and made available a size guide. The latter, very precise and detailed, helps riders to choose the right size by taking their measurements.
Kid's equestrian blouson jacket