Jackets for riding Horse Pilot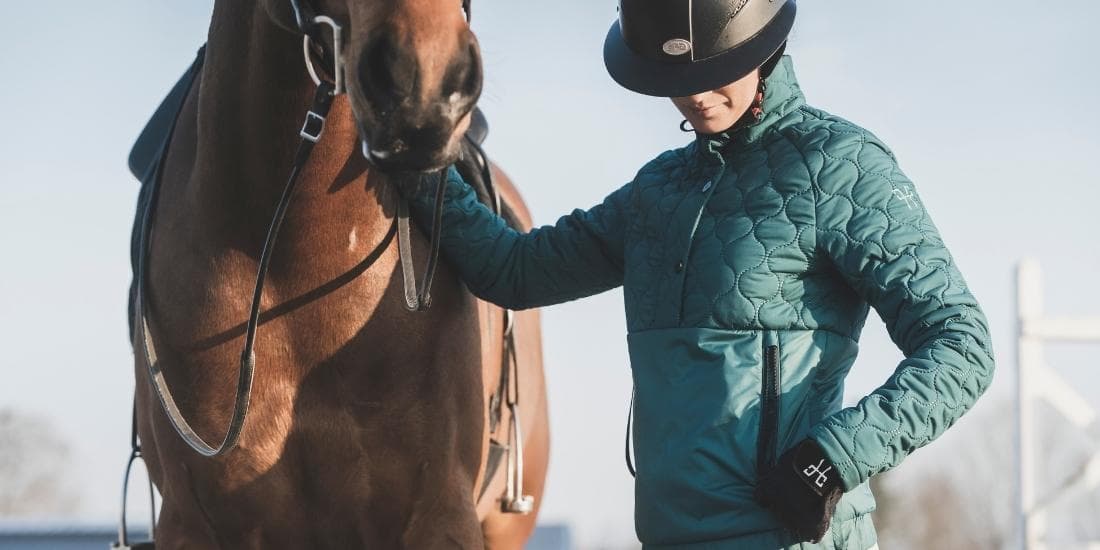 For a rider, having a good horse riding jacket is a must. Whether it is in a leisure or competition context, the use of a jacket can be very useful. That's why Horse Pilot has created riding jackets specifically designed for riding.
Our women's, men's and children's jackets for riding
A high-end jacket brand to practice horse
Riding clothes are essential to accompany and protect riders. Thus, Horse Pilot offers them high-end and high-quality horse jackets. Their technical properties and the comfort they provide guarantee riders a great ally to protect themselves from cold, wind or rain. Filled, windproof or even waterproof, these jackets are ideal for riders of all ages. In addition, the brand is known for its innovative and technical creations, so it has put all its know-how into the design of these high-end models.
The Horse Pilot collection of horse jackets
The Horse Pilot brand's collection of horse jackets is rich and varied. It consists of many different models that can suit all tastes, all morphologies, all levels and all budgets. Both aesthetic and technical, these jackets are perfectly adapted to the practice of riding and are equipped with properties and technical materials essential to riders.
Colors for your Horse Pilot horse jacket
Riders generally appreciate feeling comfortable in clothing that is comfortable but also aesthetically pleasing. That's why the Horse Pilot collection of horse jackets comes in different colors. Indeed, they have the choice between different models of red, blue, black or green color. Thus, male and female riders will be able to find a model in the color that suits them and that will perfectly match the rest of their outfit without any problems.
Why buy a jacket suitable for horseback riding?
For a rider, it is important to be well-equipped to ride a horse. For competition or for leisure, a good jacket is an essential in the wardrobe of a rider. However, it is important to choose a model that is perfectly suited to the practice of riding: the different cuts are made not to hinder riders in their movements, and the technical properties are ideal to adapt to the sport practice.
The different types of jackets for riding
There are several different types of horse jackets: they adapt to the weather and the temperature outside. Indeed, since horseback riding is mainly an outdoor sport, it is important to have a jacket that adjusts to the vagaries of the weather. Therefore, it is necessary to choose a comfortable model and adapted to the season: lined, Softshell or, on the contrary, breathable and lighter.
Summer and mid-season jackets
Riding with unsuitable clothing for warm weather can quickly become uncomfortable. Horse Pilot therefore offers summer and mid-season jackets specifically designed to be both breathable and lightweight. They are declined in different models without sleeves for summer, and with sleeves for mid-season. Thus, they do not hinder riders in their movements when they evolve on foot or horseback.
Soft Shell Jackets
Being a rider also means spending a lot of time outdoors, and therefore being subject to the vagaries of the weather. To help riders protect themselves from bad weather, the Horse Pilot brand has developed ergonomic Softshell jackets. Thanks to their properties, they are practically indispensable for dealing with the transitional seasons and their humidity. Softshell jackets do not hinder the freedom of movement of riders and guarantee them ergonomics and interesting technical properties: windproof, water-repellent and light.
Winter jackets
Riders are required to move around a lot outdoors, including in winter when it's cold. So they need to protect themselves from the weather and the cold. For this, there is nothing like a warm riding jacket. However, it is essential that it is thin and breathable, so that riders can layer several thin layers of clothing that they can remove if they need to. Finally, the jackets offered by the Horse Pilot brand are also waterproof, which allows riders to be protected from moisture, rain or snow.
Technical jackets for riding
Horse Pilot has the distinction of always creating, innovating and revolutionizing the riding apparel and accessories scene. The brand has been no exception with its riding jackets. It has designed the different models for men, women and children inspired by other sports. Thus, Horse Pilot has created technical jackets that are both comfortable and performant, but also very design.
Comfortable horse jackets
Horse Pilot brand horse jackets are totally adapted to riding and stable work. Thanks to their varied cuts, they fit perfectly to the different practices or morphologies of riders, and are therefore extremely comfortable. In addition, Horse Pilot horse jackets are breathable and thin, so they do not prevent riders from being free in their movements.
Performing jackets
The Horse Pilot brand is always at the forefront of technology when it comes to riding gear: it produces ever more high-performance items. Thus, the horse jackets are equipped with features that diverge according to the models, and that guarantee unbeatable performance. Both resistant and light, they do not hinder riders in their movements without suffering premature wear. They also adapt to the weather and the different seasons as they are warm for winter, windproof and waterproof for mid-season, or breathable and light for summer.
Design jackets for riding
While comfort is important, for a riding jacket, so is its aesthetics. Indeed, elegance has always been a notion rooted in the horseback riding community. Thus, the design of Horse Pilot jackets is studied at length and is very varied according to the various existing models: the cuts are short or long, and the jackets are very modern or equipped with quilted details. This allows each rider to find the ideal model.
How to choose your horse jacket
To choose a horse jacket, you should be based on some important criteria, such as the size and level of the riders, as well as the discipline or disciplines practiced. First of all, you need to choose a jacket that is suitable for the rider's level. For example, a beginner rider will not necessarily have the same needs as a more experienced rider. For the latter, it must be more resistant, but will also be more expensive. A beginner will probably prefer a less qualitative but more affordable jacket. In addition, competition riders will need to put on a jacket that is adapted to their discipline.
Secondly, a rider will have to base his choice on the disciplines he practices, especially in competition. For example, a cross country jacket must be compatible with wearing an airbag vest. In dressage, a classic black jacket should be worn. In jumping or show jumping, a comfortable and classic jacket will be ideal.
Finally, the last criterion to consider is the size of the rider. A jacket of the wrong size will indeed be uncomfortable. A model that is too large might interfere with the rider's movements, while one that is too small will be uncomfortable and unattractive. To help riders find the perfect model the first time around, Horse Pilot has created a very accurate size guide where the measurements to take when choosing a riding jacket are listed.