Horse Pilot red equestrian show polo shirts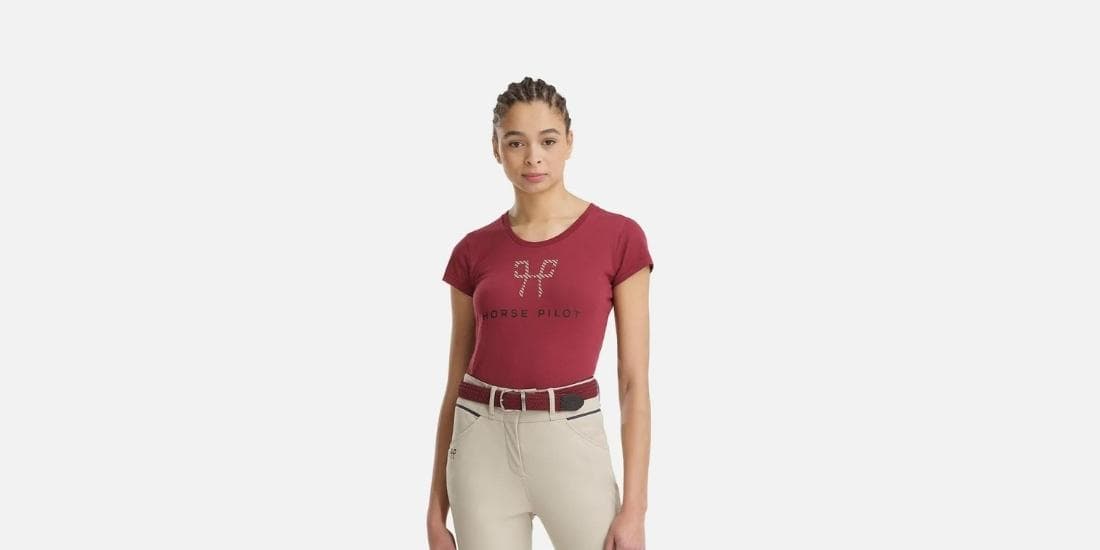 Start out ahead of your competitors with a red horse riding tops riding competition polo. Find technological innovation at the service of your comfort and style. Dare to wear a bright red riding polo for men and women, adult and child riders. Earn presentation points with your soft, lightweight sports polo that fits like a glove.
Our red show polo shirts for women, men and children
Revamp your wardrobe with a technical, high-performance women's equestrian polo shirts designed in an eco-friendly manner. Be adorned with a competition riding garment to ensure in show jumping, dressage or other competitions. Men, you can also sport a men's equestrian polo shirts.
The Horse Pilot collection of red riding competition polos
Specifically designed for sporty riders, our red show polo shirts come in several variations. Your clothing requirements will become more refined with your practice of equestrian sports over the seasons. Especially when it comes to improving your performance in horse shows. Find a range of riding polo shirts designed to fully satisfy your needs.
Polo colors allowed in horse show
Match the colors of your outfit to that of your horse's coat and tack. Our range of polo shirts comes in a variety of colors. Polish up your classic elegance in white equestrian polo shirts or black. Go girly in a pink polo, full of character in a red polo, or all soft with shades of beige, blue or green.
The different types of red riding competition polos
Every rider has his or her own preferences in terms of fit. Choose one or more styles of show polo shirts to vary according to your tastes and desires. Your stretchy, breathable riding top becomes an investment to showcase your horsemanship and style.
Red polo shirts with short or long sleeves
Wear your riding polo alone or under a show jacket without unsightly creases. Elasticated short sleeves let your biceps grow without tightening, with their neat finishes. Long-sleeve polos cover your arms to protect you from the sun's harmful rays. But their breathable fabric panels promote air circulation. This way, the chances of sweating are reduced, without getting cold.
Button or zip-up polo shirts
The textiles used are contemporary. But the classic spirit is preserved with the traditional button placket present on some models. While others assume the modernity to the end. These close with a folding stretch collar or a nice stand-up collar with a discreet zipper. Adjust the opening of your polo: closed for your passage, open for relaxation or half-open for a glamorous look. Your button or zipper collar opening adjusts to your liking.
The quality of the material and weave
A polo shirt with the raised mesh of pique knit or with a smooth mesh of jersey? Your choice is mostly a matter of aesthetic preference. Because the quality of the fabrics is amplified by an innovative mesh, to ensure comfort and impeccable fit, even with a hyperactive child. In addition, the materials chosen are certified for their lack of harm to the environment and health. The result is a polo shirt that is soft to the touch and resistant in all cases.
Technical red riding competition polo shirts for riding
Riding requires specific sportswear so as not to hinder your performance as a rider. This is even more obvious when competing. The stress before the ride is enough. No need to add to it with unsuitable clothing.
Comfortable competition polos
Each polo design is a combination of quality fabrics and innovative mesh. This results in a lightweight, soft, close-fitting riding polo with no stickiness. The maximum reduction of its seams complements the elasticity of its stretch material to avoid unpleasant rubbing on the skin. Your sportswear offers a very pleasant feeling of fluidity.
Performing competition polos
Such comfort ensures your freedom of movement, even in the most intense efforts. You saddle your mount or pass obstacles with flying colors without being hindered in your movements. The knitted fabric guarantees optimal resistance and breathability. Thanks to its special features and quick-drying properties, your polo shirt can be adapted to any season. Mesh panels or strategic micro-ventilated zones accentuate ventilation on some. When others arm themselves with invisible UV Block technology, to ward off the sun's harmful effects.
Designer show polos for riding
The Horse Pilot pocketless sports polo features a design that's fun to wear every day, for any occasion. Inspired by the classic polo shirt, its slim or straight fit adapts to all body types. Its tight lines, but not too much, draw the silhouette of the rider and the rideress of any age to highlight it. It accompanies the junior rider as much on horseback or pony as on family outings and with friends.
How to choose your red riding competition polo shirt
In the warmer months, you look flawless in a sleeveless or short-sleeved polo shirt, worn alone or under a jacket. For a polished look, the long-sleeved polo shirt is appreciated in all seasons with its thermoregulatory capacity.
Match the colors of the outfit well
Color is coming in for the competitive top. There's nothing stopping you from wearing a red competition polo shirt. In order to stay in line with the rules, your riding pants must necessarily be light. The competition pants are white, beige, cream, possibly gray. In general, the red riding polo is worn without a show jacket on the track. But this color fits perfectly under a jacket of the same color as the riding breeches. In trio of colors, the set is also impeccable with brown, navy blue or more fun a royal blue equestrian polo shirt
Red riding competition polo shirt size guide
With their close fit, red riding polo shirts fit normally. If you know your shirt size, take the same one, as they are similar. One of the advantages of its technical material is that it fits all body types. A, X, H, O or 8, it doesn't matter what shape you are. Just play with the high waist of your riding pants to complete the enhancement of your figure.
How to care for a red riding competition polo shirt
Preserve your colorful technical garment with three simple washing guidelines to follow:
To keep your polo shirt intact even longer, here are some additional care tips:
Find all our care tips for your technical polo shirt among our care guides.
Red equestrian polo shirt