What are cheap riding airbags worth?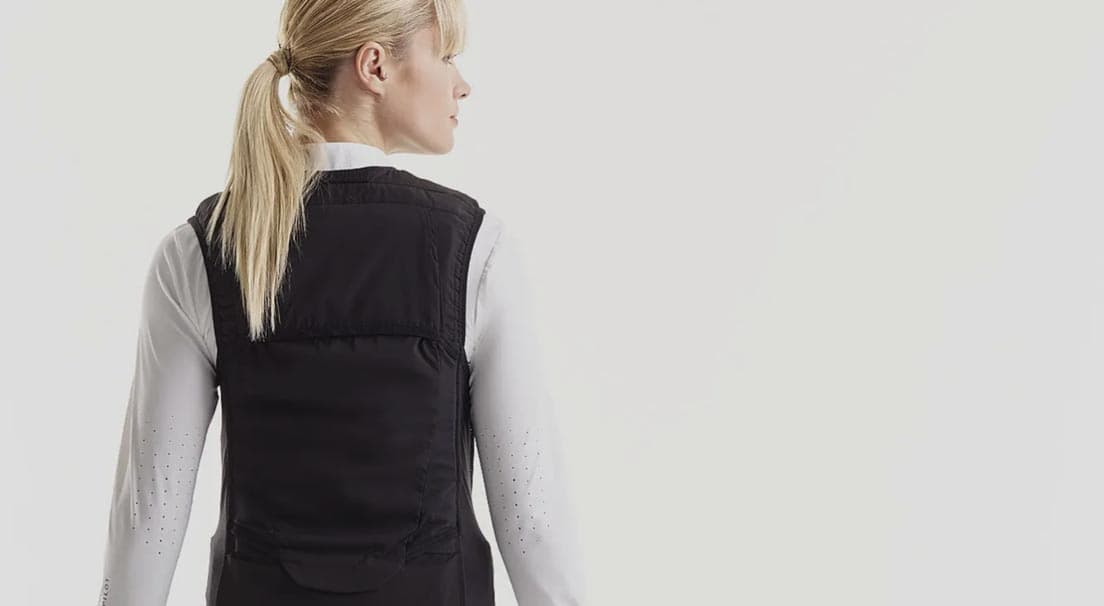 Airbag vests for riders are absolutely essential safety equipment for regular horseback riding. Thanks to this proven protection system, horse enthusiasts are guaranteed to be better protected. This is why it is particularly essential to be uncompromising about the quality of your cheap riding airbag vest.
Our airbag has been designed from a breathable fabric suitable for horseback riding, which favors air circulation and offers an optimal level of protection on horseback. What's more, the airbag is designed so that in each size it is able to adapt to the morphology of the riders. If in doubt, move around and take the opportunity to test riding pants.
Cheap and quality riding airbags
The performance of airbag riding vest models cannot necessarily be deduced from their price. Many other criteria must be taken into account to ensure the full safety of riders.
Price and level of performance of riding airbags (comfort: feel, cushioning / technicality: grip, waterproof, warm)
Riding airbag vests are protective equipment for riders whose effectiveness is well established. Initially designed to protect motorcyclists, they have been used for riding, to ensure the safety of FFE license holders.
The first models of inexpensive riding airbags to appear on the market were then very primitive. Their straight cuts and rigid materials made them uncomfortable protectors. However, the practice of the horse requiring great ease of movement, the airbag vests have gradually improved.
Many brands of riding equipment now offer airbag models that are effective, comfortable and discreet. Protections with an interesting quality / price ratio, but which still remain a difficult investment for many riders.
Riding airbag prices practiced by well-known brands
The major brands of riding equipment offer airbag protection vests slightly above 450 euros on average. Some of them specialize in luxury models. Others, on the contrary, have preferred to develop inexpensive riding airbags, or at least affordable to all riders. There are thus different types of inflatable riding vest on the market for a very extreme price range. To find out more about horse riding airbag vest price.
Value for money and risks
Horseback riding is a sport known to be as risky as it is expensive. This is why many riders choose their protective equipment based on the price / quality ratio. To reduce your costs you can try to find in horse riding airbag vest rental.
Cheap riding airbag deployment performance (trigger delay, danger if too slow)
Horse airbags are easy to use. Linked to the saddle by a simple strap, their air cushions inflate as soon as the latter is pulled. Which inevitably happens when the rider empties his stirrups, and is thrown off the horse's back. In this way, the thoracic and dorsal parts are ensured to be better cushioned at the time of the fall.
It is therefore essential that your cheap riding airbag is not as effective as it suggests. Indeed, the air bag triggering time must necessarily be as short as possible. Otherwise, it is not possible to guarantee optimal efficiency. Walls, obstacle bars or packed sand, horse falls are often fast and brutal.
Resistance to wear of cheap riding airbags (seam, cartridge, refill, aging....)
Like all personal protective equipment, riding airbags, their cartridges and refills, have a limited lifespan. Mandatory notification by sellers and designers, this maximum period of use follows very specific safety standards. After this period, horse protection vests are no longer able to guarantee you optimal protection.
It is therefore important for riders to renew their protective equipment when it is worn out. Horse-riding enthusiasts know it well, even domesticated horses remain unpredictable and therefore potentially dangerous animals. This is why it is essential to pay particular attention to the quality of its equipment. And all the more so when it comes to horse riding airbag vest cheap, compared to average prices of the market. Fabrics and finishes such as seams and zippers are guarantees of quality to be checked.
Deformation of riding airbags after deployment (tissue stretching, loss of elasticity)
When you invest several hundred euros in an airbag vest, it is normal to demand a quality product. Protective clothing for riders that is comfortable, discreet and resistant. However, this observation is not always observable in practice.
This is why major brands of riding equipment have specialized in more luxurious products. Airbag horse vests designed in elastic materials, with properties that are both flexible, non-abrasive and breathable. And above all, that do not relax over time. Compared to these products, cheap riding airbags very often turn out to be much less promising.
Air bag compatibility with clothing (airbag discretion, size, can be worn under or over clothing)
Riding airbags aren't as bulky as they once were. Thin and light, they are mostly ergonomic. Their contoured cuts and close to the body allow riders to wear them under riding clothes, jacket or jacket. The airbag can be worn alone or under items from our compatible range such as competition jackets or bombers. They are also designed to fit under a cross vest, and can therefore be used in equestrian competition.
This may be the real explanation for the large price differences on the market. Cheap riding airbags ultimately turning out to be less efficient models overall as well. A performance on the technical, practical but also aesthetic level often misjudged. You can try to find a second hand horse riding airbag vest or a discount horse riding airbag vest online.
The advantages of an airbag vest
If in the past your protective vest has hindered you when riding, you should try the airbag vest. Indeed, protection such as a vest must guarantee perfect freedom of movement for the rider and the rider. Like the horse riding helmet, the airbag vest is safety equipment adapted to the sport of horse riding. This will allow you to ride safely while being protected with a suitable protective vest. Note that an airbag can also be worn in dressage although very little used. The advantage of these vests is the color: brown, black, blue... you can match its color to your other equipment such as the saddle pad.
How to buy a cheap branded riding airbag?
The major brands specializing in horse riding equipment win the loyalty of many customers every year, thanks to unmissable promotional offers.
Discount coupons (%, free shipping,...)
Discount coupons are a good way to save money when buying branded equipment. Most discount stores offer their riding customers preferential rates: a certain percentage reduction on delivery, or for any first purchase of a cheap riding airbag.
Sales periods to buy a cheap riding airbag
Buying a riding airbag during the sales will allow you to make substantial savings. Summer sales or winter sales, companies constantly offer multiple promotional offers to build customer loyalty.
Destocking and outlet of riding airbags from previous years
Like discount stores, some companies specialize in unsold items. Specific sizes or models that are too old, destocking benefits both professionals and consumers. On the one hand, it allows companies to renew their stock and their collection. On the other hand, it is a golden opportunity for riders to access a cheap and quality riding airbag.
Riding airbag end-of-series private sale
The major horse riding brands very often organize private sales for their best customers at exclusive prices. Free registration, fast and non-surcharged delivery, riders will find a way to buy their horse airbag vest at the best price.
Cheap horse riding airbag vest