How much does a pair of riding boots cost?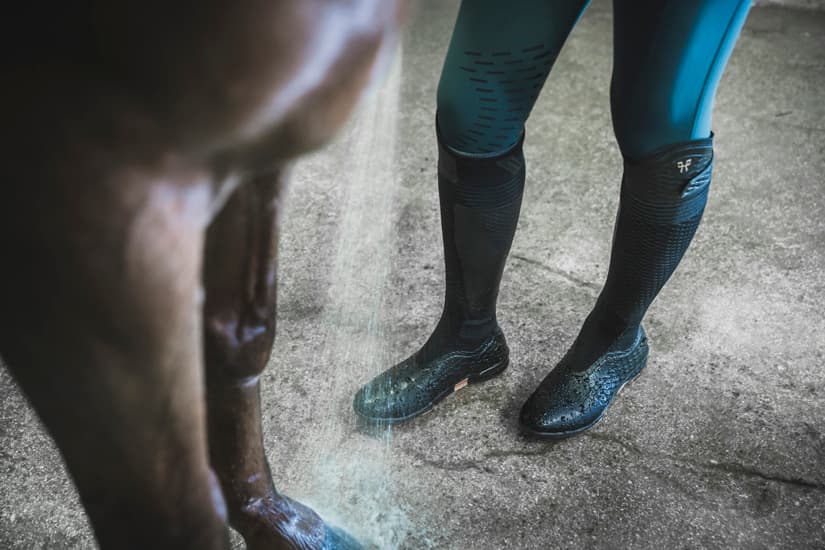 How much should I pay for a riding boot if I ride several times a week?
If you are a rider who rides a horse several times a week, you must have already tested a plethora of pairs of boots and other boots and half-chaps, from the most affordable to the most high-end. For you, the criteria to take into account will be comfort, technicality and durability. It is important that the boot holds the ankle perfectly and the sole must be comfortable for your sessions on horseback. You don't want to change your boots every year, and you're tired of sagging leather. We know, so do we! For this, we have created the Teknit Boot, a riding boot that is easy to put on and take off, at the price of 450€
For high-end technical synthetic boots like Horse Pilot's Teknit Boots, which are easier to maintain and never sag, you will need to count between 400 to 500€. When it comes to boots designed for riding intensively and several times a week, high-end synthetic boots can command a slightly higher price than custom-made leather boots - even high-end ones. - because they are simply more technical. Note that there are also winter boots that are often lined and much more waterproof than classic boots.
In this case, the entire riding boot is customizable. To begin with, the size can be half-measured: that is to say that the size can vary if you wish to modify by a maximum of 1 cm, only the circumference of the calf or the height of the stem of an existing size. Otherwise the size can be completely made to measure and offer total customization: the size, the size of the height of the rod, the width of the calf, the width of the ankle, the color of the boots, the strength of the end of the kick: round toe, square toe; The color of the reverse with a solid color, two-color or tri-color; the type of leather used (black leather and camel leather); the lining of the boot can also be personalized with a reinforcement in warm material; embroideries can also be added…
At this price, it will be all the more important to properly maintain your boots. It is important to make them waterproof and protect them from bad weather with specific products for boots at rather affordable prices. The price also justifies the quality of the zippers.
How much should I pay for a riding boot if I ride once a week
For a weekly riding practice, you will need a comfortable and durable all-round boot. With this in mind, we strongly advise you to try your boots on before purchasing, not all of them are adaptable like the Teknit Boots! Whether for women's boots or men's boots, they will accompany you in your equestrian adventures.
You will find good quality men's and women's leather boots with zippers or laces in a price range around 200€. A boots and half chaps combo will cost you about the same, so the choice will come down to what is most comfortable for you. The difference between 200€ boots and 400€ boots essentially lies in their durability: the better the quality of the leather, the more rigid it will remain and the more the famous accordion effect will be delayed.
How much should I pay for a riding boot if I ride occasionally?
If you only ride occasionally, you can head for the best priced riding boots sold at a mainstream sporting goods store. Unless you're also competing, no need for fancy boots! For riders and riders alike, we still advise you to try several models, the goal is not to have your feet hurt at each session either.
For leather boots, the entry-level of the major brands is generally around 120€. Depending on the brands, they can turn out to be of rather good quality, even if they last much less than high-end boots. It is important to note that the price can also vary depending on the size or the size of the calf circumference. For synthetic leather boots, which are more affordable but suitable for occasional horseback riding, count around sixty euros. The trick for occasional riders who don't want to invest in all-leather but still want a breathable shoe is to opt for leather boots and synthetic half-chaps. At the entry level, leather boots cost around €40 and synthetic half-chaps €30. In addition, this combo will take up less space in your cupboards. Depending on the price, we will offer you grained leather or smooth leather.
What price to put in a riding boot if I want to try riding
Not sure you want to go horse riding and just want to go to the club near you to see if you like this sport? Well done, this is a great initiative! Welcome to the big family of riders, we're sure you'll love it. Now here's our tip: usually clubs lend helmets and rubber boots to beginner riders. Go to the club with leggings you already have and a pair of sneakers you don't care too much about. The meadows are often a bit muddy, and believe us, you won't want to go hiking with rubber boots. Remember to slip a pair of very thick socks into your bag, or even ski socks if it is not summer, they are a real luxury to protect yourself from friction and the cold. Rubber cheap riding boots cost around €20 in general sports stores. They are really not the most comfortable, but to test riding, they help out quite well and in terms of quality/price ratio so you will certainly not find better. Once you've decided to come back, you can buy your own riding boots online for a low price, heading for a more flexible and breathable model.
Buying used riding boots, good or bad idea?
If you rarely ride a horse and want to have a pair of rubber riding boots for this purpose, you can buy them second-hand. It is also much better for the planet because many riders quickly sell their beginner boots to buy a more comfortable model. You will find little worn rubber riding boots for around 10€ on second-hand goods websites.
On the other hand, in other cases, buying a pair of second-hand riding boots is not necessarily a very good idea. Leather boots deform naturally to hug their rider's foot. Unless you have a twin exactly cut like us, wearing another rider's boots can therefore be very uncomfortable. So for women's riding boots, it is advisable to buy new boots despite the sometimes high price.
Mini-chaps, however, are an exception to this rule. If your calf has the same circumference as that of another rider, you can recover their gaiters, provided they are of good quality. Check before buying that they are not sagged - there should be no horizontal creases in the leather even at the ankles - and that they fit your leg well.
There is no hard and fast rule as to the price of used riding boots, as it depends on the price of the new item and how worn it is. In general, for an article already worn but in good condition, assume that it is worth half the price of new, unless a professional has taken care of reconditioning them. What can be complicated is finding the right color.
Comment garder mes bottes le plus longtemps possible ?
The Teknit Boots are machine washable and do not require any additional maintenance, but for other synthetic boots you will need to use a sponge. For leather boots, the same, the sponge is your best friend! Be careful never to use cleaning products dedicated to your horse's harness on your boots. Indeed, glycerine soap and grease soften the leather. For bridles, it's perfect, but for boots it's the opposite of what we want! Remember to wax your boots thoroughly from time to time with a black or brown shoe polish, and always slip a shoe tree into their shaft before storing them.