Women's Horse Pilot Riding Jackets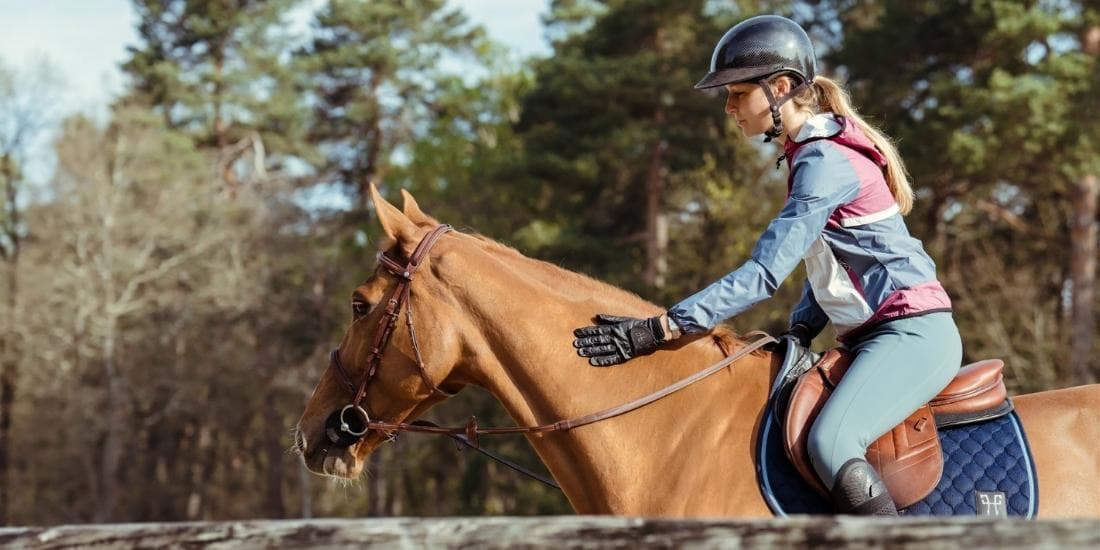 When riding, having a good horse riding jacket is a must in all seasons. Known for its innovations and technical clothing for riders, Horse Pilot offers different riding jackets for women riders. Their wide selection allows each one to find the ideal and perfectly fitting jacket.
Our riding jackets for female riders
Riding is mainly done outdoors. Horse Pilot therefore offers women's horse riding jacket adapted to each season, especially the cold and transitional seasons. In addition, these jackets are technical, practical and aesthetic in order to perfectly suit each rider.
The Horse Pilot women's riding jacket collection
The Horse Pilot brand offers collections of riding jackets entirely dedicated to women. They contain several varied models that can be adapted to each one according to her level, size, tastes and morphology. These jackets also have different properties, materials and cuts. They can thus suit all riders and be worn all year round.
Feminine colors for your Horse Pilot rider jacket
Aesthetics are an important aspect when choosing a riding jacket. Thus, Horse Pilot offers riders many jackets in feminine colors to best suit the tastes of each. We can thus find the classic black and blue colors, as well as more sparkling colors such as red or green.
Women's riding jackets adapted to the seasons and the weather
Women riders spend a lot of their time outdoors, in summer and winter. Therefore, it is important to choose a good riding jacket, which will be able to protect them from cold and rain, while being comfortable.
Summer and mid-season riding jackets
In order to best adapt to summer or mid-season temperature drops, Horse Pilot has designed lightweight and breathable riding jackets. These are available in different cuts. There are also sleeveless riding jackets perfect for transitional seasons.
Women's Softshell Jackets
When you're a rider, it's important to consider the impact of the weather. That's why the Horse Pilot brand has a line of women's softshell jackets. Light, comfortable, water and windproof, they are the ideal ally for cold and wet seasons, to protect effectively from wind or rain. Ergonomic, they do not hinder the freedom of movement of women riders.
Winter Rider Jackets
When winter temperatures arrive, you need to protect yourself from the weather and the cold. For this, a warm jacket is essential. But it also needs to be thin and breathable: this way, women riders can build up several thin layers and take them off if they get warm. Horse Pilot jackets for women are therefore warm and light, but also waterproof to effectively protect against snow and rain.
Technical riding jackets for women who ride
Horse Pilot is a well-known brand known for its many technical innovations. Through clothing specific to other sports, it has found its inspiration to create women's riding jackets that are high performance, technical, design and above all comfortable.
Comfortable riding jackets
Horse Pilot riding jackets are perfectly suited for riding and stable work. The different cuts available are ideal for female riders, and fit their movements without ever getting in the way. In addition, they are breathable and lightweight to ensure optimal comfort.
Performance Rider Jackets for Women
Horse Pilot jackets are high performance and adaptable to every situation. Featuring great breathability, they are comfortable to wear in summer. They are windproof and waterproof for mid-season, and warm for winter. Moreover, they are resistant to last in time. Finally, they allow riders to maintain a great deal of freedom of movement.
Designer rider jackets for riding
There are many different ranges of jackets offered by Horse Pilot, but what they all have in common is their design and aesthetics. The cuts are elegant and feminine and enhance the figure. Quilted jacket or not, short or long, each rider will be able to find her happiness among the many models offered.
How to choose a rider's jacket
The choice of a riding jacket is important: it guarantees the comfort of the rider. Indeed, it is unpleasant to ride a horse with an unsuitable jacket. Thus, it is necessary to take into account various criteria to choose. For example, the level of the rider, her size and morphology, or the disciplines she practices.
A riding jacket adapted to your level
A rider should choose her riding jacket according to her level. For example, a beginner rider who rides once a week will not have the same needs as an experienced rider who spends more time at the stable. She will therefore be able to opt for an inexpensive but less resistant riding jacket. Competition riders, on the other hand, will have to equip themselves with a competition jacket according to the regulations in force.
A rider's jacket for each equestrian discipline
All equestrian disciplines have their own particularities. Trail riding, for example, requires a durable, waterproof jacket (like a jacket or parka). For dressage competitions, it is mandatory to wear a classic black jacket, as well as for show jumping. Finally, to practice cross-country, it is mandatory to wear a protective vest: you must therefore choose a jacket suitable for wearing this type of vest.
Women's size guide to buying a riding jacket
To find the right riding jacket, first of all, you need to choose the right size. Having an unsuitable garment for riding can quickly become a pain. For example, a jacket that is too small will hinder the rider's movements, while a jacket that is too large will be impractical and unattractive. To help riders make the right choice, Horse Pilot provides a handy size guide.
Which rider jacket to choose according to its morphology?
There are as many different morphologies as there are riders. Therefore, it is necessary to opt for the jacket that will best suit the rider's morphology, taking into account the rider's height, weight, chest size and musculature. Thanks to its many models, Horse Pilot offers riders different sizes and cuts to adapt according to her preferences and shapes.
How to maintain a riding jacket
A jacket, whether it has practical properties or not, must be carefully maintained. This maintenance will differ depending on the material and color of the jacket. First of all, remember to follow the instructions annotated on the jacket's label: they give valuable information, such as the temperature or the type of washing recommended. It is also advisable to use a natural, residue-free detergent and not to add fabric softener. In addition, it is best not to wash above 30°C and to air dry instead of using a dryer. Also consider adding an anti-fading wipe to prevent your jacket from losing color or fading. Finally, it is necessary to maintain certain properties of a jacket with suitable products, such as waterproof or breathable function.
Women's horse rider jacket