Horse Pilot men's riding jackets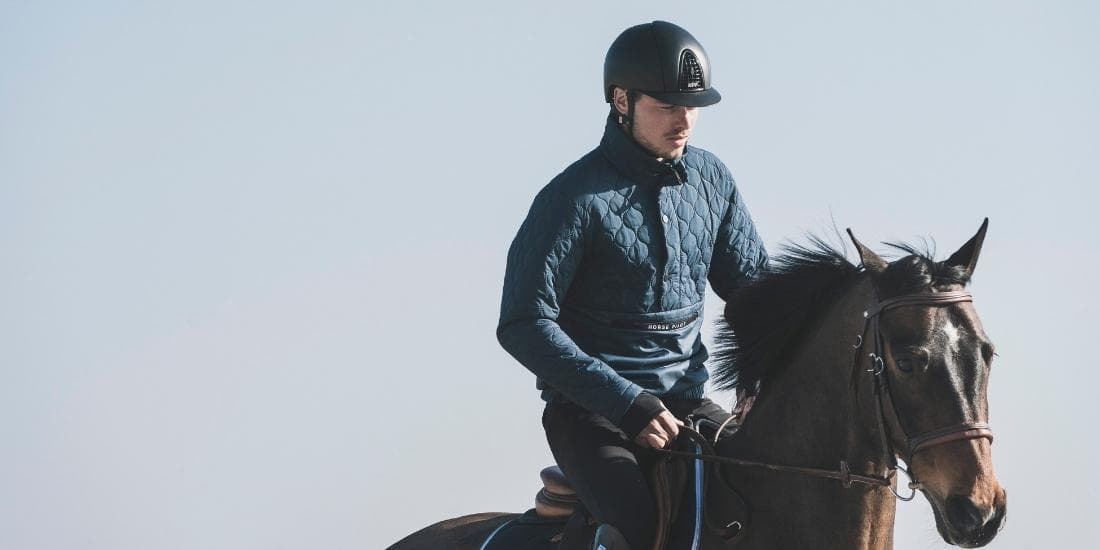 A good horse riding jacket is essential when you're a rider. Horse Pilot is a brand known for its expertise in technical clothing. It has therefore designed different types of riding jackets for men adapted to all tastes and morphologies.
Our riding jackets for riders
Riding is a sport that is mostly practiced outdoors. Thus, during the cold and transitional seasons, riders need to be able to wear clothing that is practical, technical and aesthetically pleasing. Horse Pilot offers every rider a wide range of riding jackets.
A premium riding jacket brand for men
Always full of ideas and new concepts, the Horse Pilot brand offers riders high-end riding jackets for men. Water-repellent, windproof or even lined, they will delight all riders and suit everyone's tastes, while guaranteeing remarkable quality.
The Horse Pilot men's riding jacket collection
Horse Pilot has a collection of riding jackets entirely dedicated to men. It includes various models adapted to all tastes, levels, morphologies and budgets. Its products are technical and practical, while being also aesthetic. The cuts, materials and properties diverge and can thus suit all cases of figure.
Masculine colors for your Horse Pilot riding jacket
When you're a rider, it's important to feel good in aesthetic clothing. Horse Pilot has thus declined its men's riding jackets in several masculine colors, such as black, gray, or even blue. These neutral colors are ideal and will suit all riders, regardless of their tastes.
Seasonal and weather-appropriate riding jackets for men
Riders practice horseback riding all year round outdoors: they are therefore subject to weather conditions. Everyone knows that it is important to choose a good jacket. This one must be adapted to the weather conditions and temperature, but also be comfortable.
Summer and mid-season men's jackets
It is uncomfortable to ride with clothes that are not suitable for the summer heat. So Horse Pilot's summer and mid-season jackets are especially designed to be lightweight and breathable. They are available with sleeves for the transitional seasons, and sleeveless for the summer. They therefore do not hinder the rider by allowing him to keep all his freedom of movement.
Men's Softshell Jackets
Riders spend a lot of time outdoors. They are therefore exposed to the vagaries of the weather. To mitigate this, Horse Pilot offers ergonomic Softshell jackets for men. Their properties make them essential during the wet and transitional seasons. Light, water-repellent, comfortable and windproof, the Softshell jacket is ideal in case of wet, cold or windy weather. It is ergonomic and does not restrict freedom of movement. There are also women's horse riding jacket.
Men's jackets for winter
To be a rider is also to be in the stable in the cold of winter. To best protect yourself from the cold and bad weather, it is essential to choose a riding jacket that is warm. However, it should be breathable and thin, so that riders can build up thin layers of clothing and remove them as needed. Horse Pilot waterproof horse riding jacket are also waterproof, to protect riders from rain or snow.
Technical riding jackets for men who ride
The Horse Pilot brand has always made a point of highlighting its technical innovations. To design its men's equestrian jacket, it drew inspiration from other sports to design technical jackets that perform, are comfortable, and have a great design.
Comfortable riding jackets
Horse Pilot's men's riding jackets are designed specifically for riders. The cuts are varied, but always with the aim of making the jackets as comfortable as possible. In addition, they are suitable for stable work and riding. They are therefore breathable and do not hinder the rider's freedom of movement. Finally, they are thin and adapt to the rider's gestures whatever he does.
Performing riding jackets for men
The Horse Pilot brand makes it a point to create products that always perform better. The jackets for men are no exception. Their characteristics diverge according to the models and guarantee riders incredible ease. Lightweight and durable, they do not restrict freedom of movement in any way. Adapted to the seasons and the weather, they are breathable for summer, waterproof and windproof for mid-season, or warm for winter.
Designer riding jackets for riding
It's important to feel good in your riding clothes, and that also involves their aesthetics. The design of Horse Pilot men's riding jackets is studied and varied: short or long cuts, in quilted material or with a very modern look, each rider will be able to find the jacket that suits him best.
How do riders choose their riding jacket?
The choice of a riding jacket for men should be made according to certain criteria, including the size of the rider, his level, or the discipline or disciplines he practices.
A riding jacket adapted to your level
A riding jacket is chosen according to the rider's level. Indeed, a beginner rider will be required to spend less time at the stable than a more experienced rider. The riding jacket of the latter must therefore be more resistant, but also more expensive. A beginner rider will prefer a less expensive jacket but a little less quality to start. As for the competition riders, they must put on specific riding jackets according to their discipline especially men with men's equestrian show jackets.
A riding jacket for each equestrian discipline
Riders should choose their riding jacket taking into account the disciplines they wish to practice. This is especially true in competition, where the classic black jacket is mandatory in dressage, for example. On the other hand, for cross-country riding, it is important to choose a jacket that is compatible with a protective vest because the latter is mandatory. For show jumping or jumping, a classic jacket, comfortable and light, is ideal. Finally, to practice hiking, it is best to opt for a resistant and waterproof riding jacket.
The choice of a jacket goes first and foremost by its size. Indeed, it is preferable to ride a horse with a garment adapted to his morphology. A model that is too small will be uncomfortable and unattractive, while a model that is too big will be impractical. In order to be sure to make the right choice, each rider has the possibility to refer to the size guide made available by Horse Pilot.
Which riding jacket to choose according to one's morphology?
A riding jacket for men must be chosen with care and adapted to the morphology of each rider: his height, his muscle mass and his weight. Horse Pilot offers riders many different cuts, which each rider will be able to adapt according to his morphology. For example, a rider with a large muscle mass will prefer a sleeveless jacket. On the other hand, the fitted jacket will be more suitable for a tall and slender body type.
How to maintain a riding jacket
Riding jackets need to be carefully maintained to keep their practical properties. This care is different depending on their material. Some properties of riding jackets (waterproofness, breathable function, etc.) need to be maintained with specific products in order not to be altered. For this, it is important to follow the instructions on the jacket label. It is best to use a detergent with no residue and no softener. It is also advisable to wash at a maximum of 30°C and not to put the jacket in the dryer.
Men's horse riding jacket