The different types and cuts of riding pants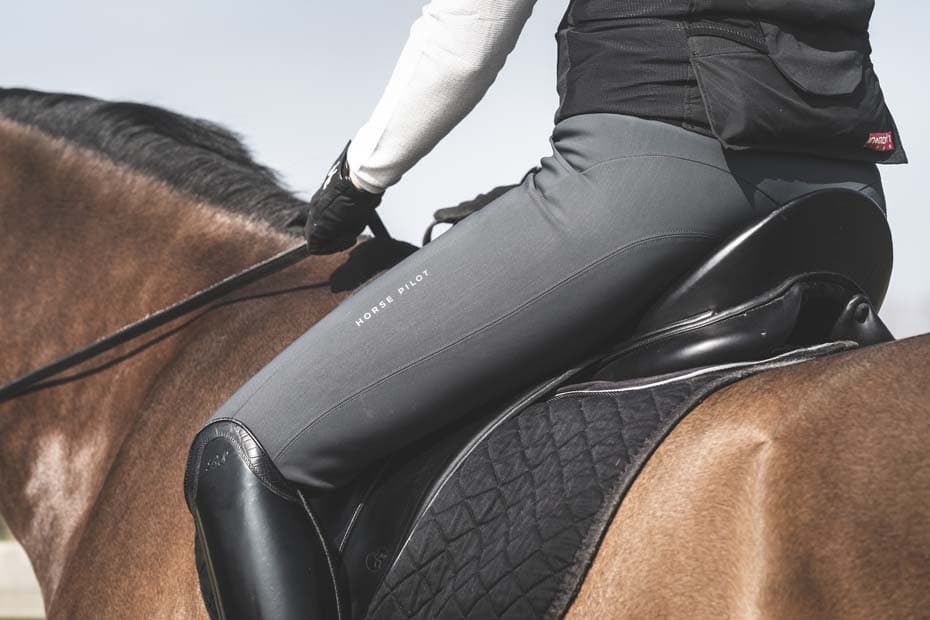 Good riding pants (or riding breeches) are essential equipment for any rider. For increased safety and the best possible comfort, it is important that riders choose riding pants well suited to their figure, their level and the disciplines they practice. Western riding is not the same as cross-country, after all. There are a variety of pants, each of which differs in their material, cut, style or color.
The different cuts of riding pants
It is possible to find a large number of varying cuts of riding pants on the market, suitable for all body types. More and more pants are characterized by their high quality and the innovations that go into their design and production. High-waisted pants, with knee patches, without visible seams, or with pleats, riders are now spoiled for choice when it comes to finding their ideal riding breeches.
Classic riding pants
Classic jodhpurs, also known as riding breeches, are a timeless item of clothing. These stretchy English pants are very commonly worn by the vast majority of riders. The classic straight cut is generally the most common choice, as it is well suited to most body shapes. Available for both men and women, these pants can fit both regular-sized riders and those who are tall or short in the leg.
High waist riding pants
The high waisted breeches help to avoid exposing the rider's lower back while descending as a result of the movement of the pelvis on the saddle. They also allow riders to bend over with security while working in the stable. A feature particularly appreciated by riders is that they can shape the waist while also guaranteeing support and comfort thanks to their elastic waistband.
Low-rise riding pants
A very different style of pants, low-rise jodhpurs offer something different from classic or high-waisted options. This style of pants is very fashionable, and will be perfect for riders who do not want to feel their movements are limited. Having said that, riders will need to pay attention to their descent while wearing these pants.
Riding pants with knee patches
Breeches with knee patches are particularly appreciated by riders in show jumping or cross country disciplines. Designed specifically to make it simple to rise out of the saddle, these fitted pants have patches at the knees. The patches generally take the form of either silicone grips or leather inserts.
Demi-saumur riding pants
This style is generally used for hunting with hounds (or other hunting). Characterized by their puffed-out thighs, these riding pants give the rider more freedom at the top of the leg. Not as wide as a full saumur, the demi-saumur cut is still very much appreciated by a number of riders today.
Saumur riding pants
Created before the invention of technical textiles, the saumur cut allowed riders (and especially those in the military) to ride comfortably, without compression of their thighs. Tailored at the hips but wider at the thigh than demi-saumur pants, these are also popular with riders who practice hunting with hounds and similar disciplines.
Baggy riding breeches
Suitable for both male and female riders, baggy riding breeches have similarities with both saumur and demi-saumur pants. Unlike the more classic styles of riding pants, baggy breeches are not always made of technical textiles or stretchy fabrics.
Flared riding pants
Riding pants with flared ends are quite wide at the bottom of the leg. This allows riders to wear paddock or cowboy boots directly beneath their trousers. A word of warning, though: it can be uncomfortable to wear some types of riding boot over pants with flared ends like this.
Loose riding breeches
These riding breeches combine the thigh freedom found in a Saumur or demi-Saumur style and the lower leg of flared low-rise trousers. Made without elastic or technical fabrics, this type of pants makes a good compromise, allowing an enjoyable ride without too much leg pressure.
Stirrup riding pants
Frequently used for hunting, stirrup pants are perfect for trekking. Generally made from strong, breathable fabrics, they are also reinforced, and very often waterproof too. This style of pants also comes equipped with pockets at front or back to add practicality for the trail rider: they then become riding tights with phone pocket.
Tight jodhpurs
Most simple jodhpurs are tight-fitting. Because of their elastic fabrics and their precise shape, they allow a rider's lower body to be fitted as closely as possible, allowing considerable, easy freedom of movement. As part of their determination to update the traditional design of tight pants, Horse Pilot provides a range of innovative jodhpurs, with close-fitting, flattering designs. Suitable for competition with competition breeches and most other disciplines, these tight-fitting trousers are an essential item for any rider.
Darted riding breeches
Darted leggings come with a seam located at the hip. This produces a so-called comfort pleat - in other words, a crease that runs along the full length of the leg. This style is very comfortable, as well as stylish. It has become very popular for its resemblance to the trousers of a gentleman's suit.
Riding pants with bridge
Riding tights are trousers without a fly. This is replaced by a patch, which makes it more straightforward to pull on and remove the pair of trousers. Although in the past this style has generally been worn by men, female versions of this type of pants now also exist.
Seamless riding pants
Sometimes called by the name riding leggings, seamless pants are perfect for easy, comfortable riding. The lack of any seams, together with the stretchiness of the jodhpurs, give a very high degree of comfort. They are also suitable for any body shape or type. On top of this, their design removes the risk of chafing or marking after removing the pants.
Which cut of riding pants should you choose?
It is important that every rider chooses jodhpurs that suit their needs, with an appropriate style that fits their discipline, their level of expertise and their body shape. Considering budget and personal preferences is also important. Riding pants give a rider comfort and freedom of movement, letting riders keep a firm hold on the seat of their saddle. Choosing the right garment is therefore vital. With this in mind, Horse Pilot stocks a wide variety of jodhpurs in multiple styles, allowing everyone to have get the most out of their riding pants.