RIDE AGAIN
Discover Ride Again, our new second-hand platform, with which we want to offer you a new way of consuming in order to transfer products from rider to rider. Discover
NEW AIRBAG TWIST'AIR
The horse rider's airbag.
Découvrir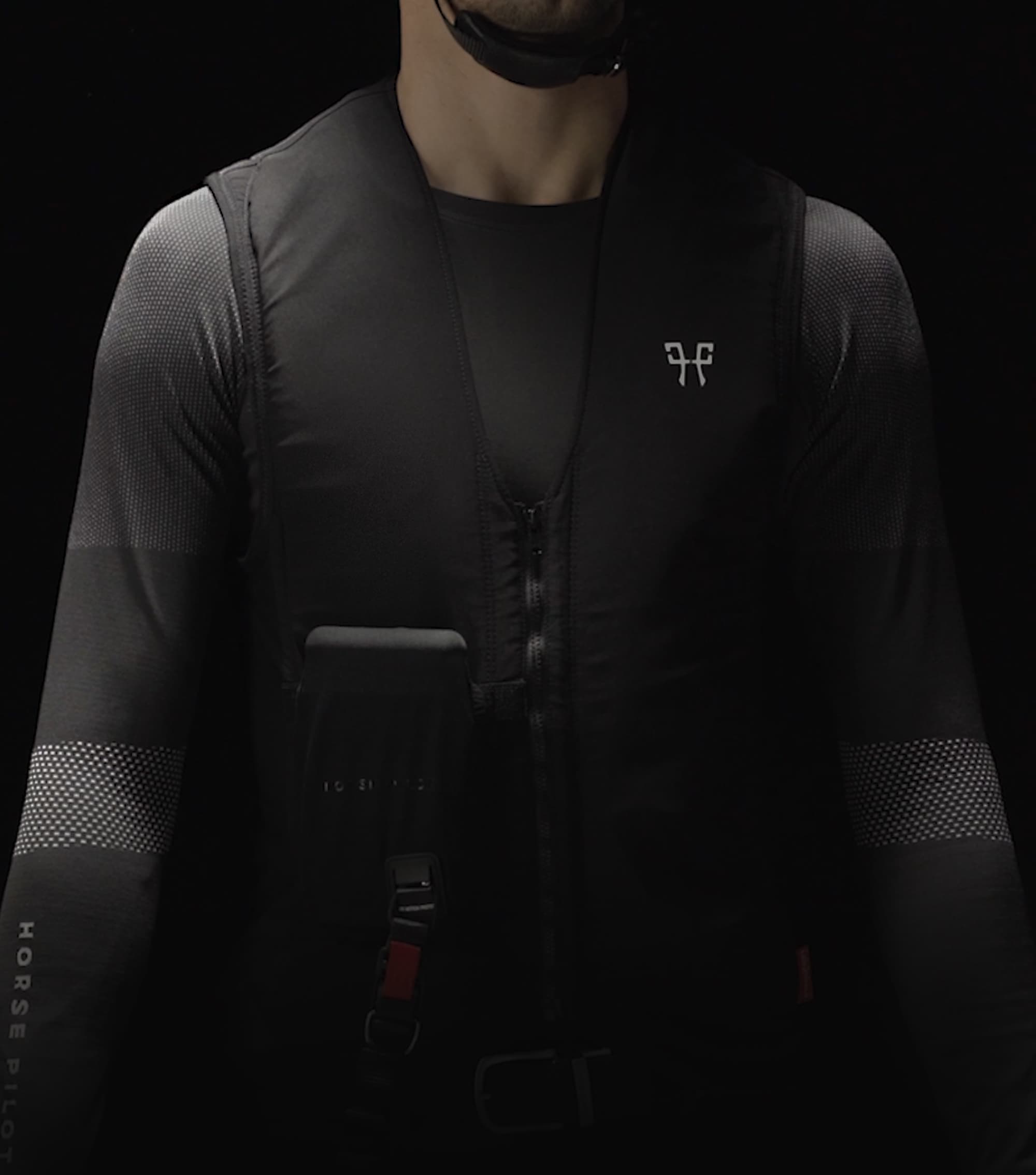 TEKNIT BOOT
Equestrian footwear revolution
Discover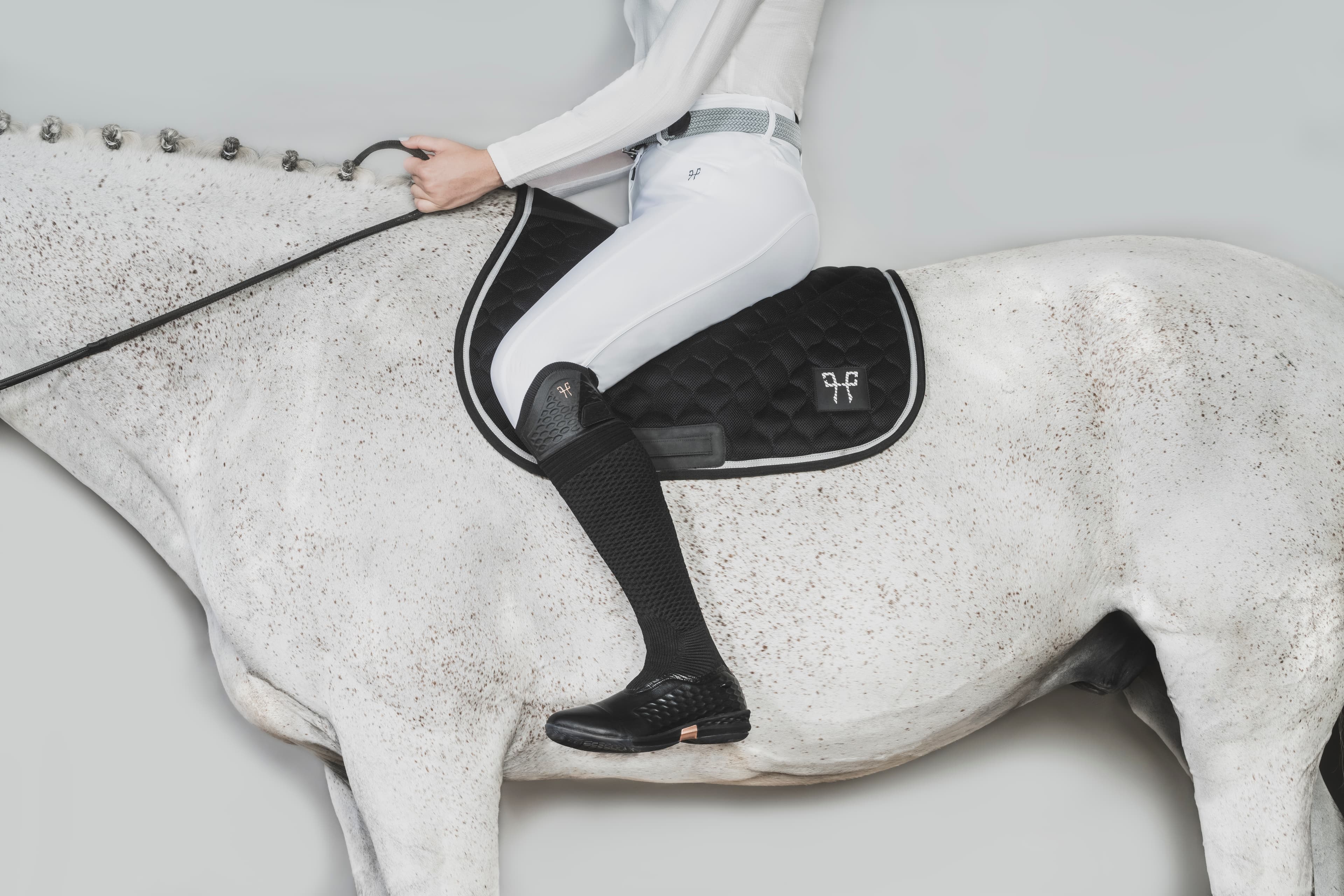 THE HORDE
A story in which horseback riding is represented as a way of life and the riders proudly carry the values of the community to which they belong.
Discover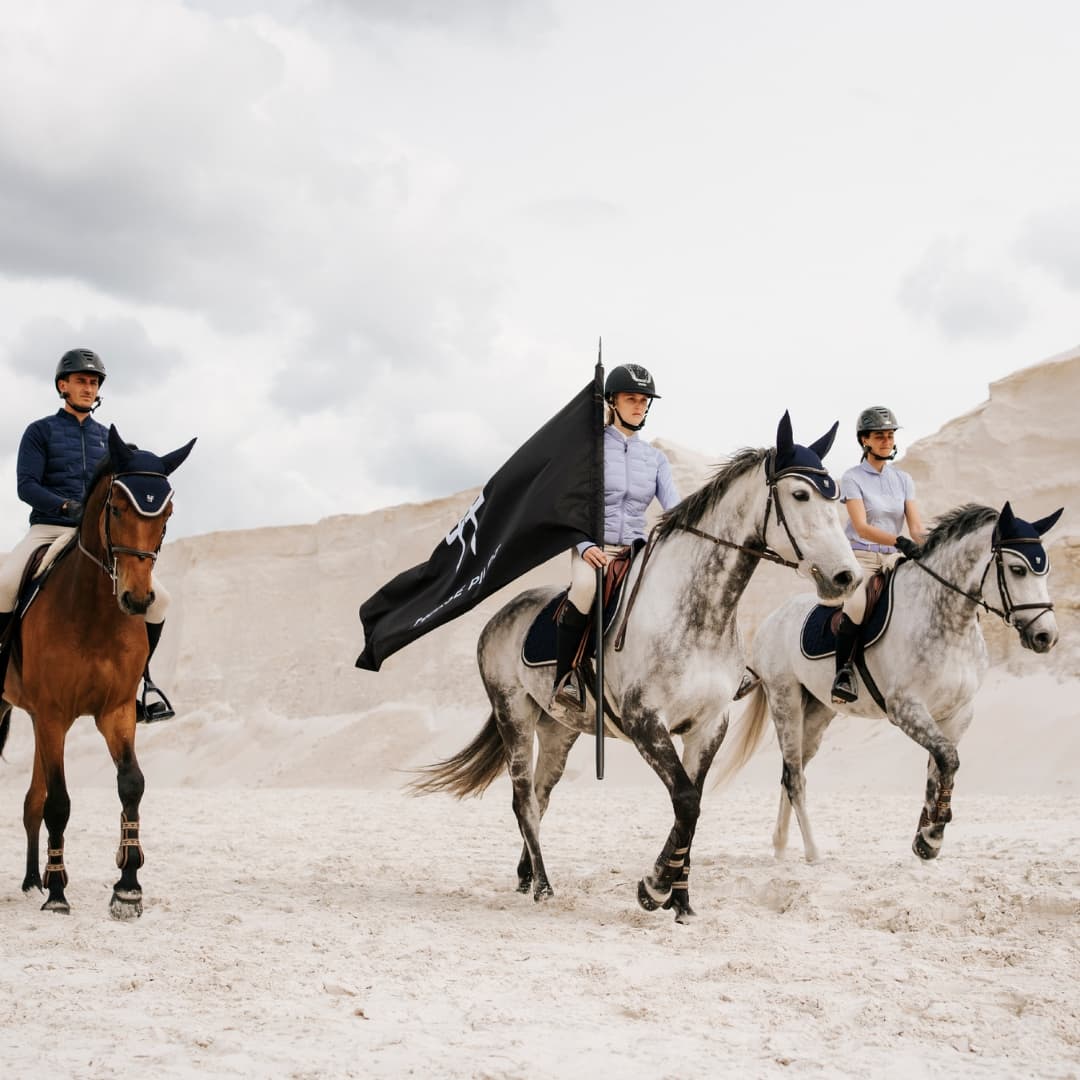 Horse Pilot, a technical equestrian clothing brand
Horse Pilot is aimed at riders who are looking for technical riding gear.  We find our inspiration in terms of technological advances, from clothing used in other sports: running, swimming, motorcycling...  Our goal is to offer breathable, insulating rider clothing that moves with the rider while making sure he or she is protected.
The equestrian brand also caters for the youngest age groups, with competition jackets and children's riding pants. From horse riding pants to competition show-jackets, Horse Pilot designs equestrian equipment that is made to last. The latest, the Teknit Boot, a women's riding boot that adapts to any and all body shapes, is one of the greatest technical advances in the world of riding boots.
TECHNICAL GARMENTS TO SUIT AMATEUR AND PROFESSIONAL RIDERS
Horse riding is a sport that is steeped in tradition, both in its performance and in clothing.  It is one of the only sports whose Olympic athletes compete in jackets and pants.  Whether in show jumping, dressage or eventing, white riding pants, a competition shirt and a competition jacket are the norm
Although the heritage of riding has remained intact over time, they should not hinder the rider in his/her search for performance. At Horse Pilot we consider the rider to be a true athlete, and we believe that riding clothes must keep up with the changes in the sport and be rethought to meet new demands.
Riders have to cope with weather conditions that are not always ideal. In the stable or in the paddock, riding remains an outdoor sport where riders and their horses are confronted with the vagaries of the weather. This does not mean that cold, rain or snow will keep riders from riding, however. As designers of outdoor garments for horseback riding, we create clothing that will stand up to all weather conditions.
All of our riding equipment is made to meet the riders' need for insulation when they are riding. This holds true for our riding jackets as well as our winter riding pants.
Improving comfort and enhancing rider performance through innovative clothing
At Horse Pilot, technological innovation is an integral part of the corporate culture. In a way, it's our core business. Our clothes are designed to move with and support the rider, enabling him or her to perform in an environment that is subject to climatic changes that he or she cannot control. With that in mind, our sole objective is to provide riders with the best of textile technology through our riding gear.
Our riding jackets and sports leggings are therefore designed and developed in line with the rider's uses and needs, whether in terms of performance, protection or comfort.  Our priority is to ensure their well-being and to  provide them with warmth and insulation come rain, wind or snow or, conversely, to be able to control their body temperature when exertion becomes intense.
For this, Horse Pilot, whose staff is largely made up of male and female riders, strives every day to optimise and integrate intelligent technologies in its products.  In partnership with a network of suppliers, design offices and experts, we seek out the best in textiles used for extreme sports. Whether it is mountain sports, running, motorcycling or swimming, we draw inspiration from their technological advances to design our technical riding clothing.
The search for these innovations is therefore a permanent commitment based on four criteria: freedom of movement, protection, increased comfort and improved performance for the rider.
Riding coats to keep the cold at bay
As a rider, clothing insulation is one of the main concerns in cold weather. Horseback riding is an outdoor sport where the rider has to cope with the vagaries of the elements, particularly in winter. This is why we wanted to develop warm padded riding coats for riding in cold weather
Coldblock, our high performance insulation technology, allows our winter riding coats to effectively protect the rider from the harshest conditions. The fabric is quick drying and provides excellent heat retention even when wet. This technology is used in our Fahrenheit winter riding jacket and our Celsius sleeveless riding jacket for men and women.
Some of our sweaters also have ergonomic stretch cuffs to prevent heat from escaping.
Technical fabrics that let the rider's body breathe
Besides insulation, breathability is one of the most important topics when talking about technical clothing. The key is to avoid the build-up of sweat and to wick it away if necessary, so that the rider can remain focused on their activity. Breathable riding clothes will allow the rider to stay dry, avoiding any unnecessary discomfort during their activity, whatever the season.
Because although we think about breathability being an issue mainly in summer, let's not forget that in cold weather, the difference in temperature between inside and outside, and the changes in body temperature during exercise, can lead to severe sweating and ultimately a chill. Horse Pilot has developed many textile technologies, with this in mind particularly in our riding jackets, shirts and equestrian polo shirts.
This is particularly true of our 'Aerotech' technology, which, thanks to the air flow produced by the rider's speed, can optimise ventilation and airflow during exercise. Our Aerotech technology is found in many products such as the Aeromesh competition riding jacket or the Design LS Shirt competition shirt.
The 'Thermo regulation' technology, with its mixture of lining and padding placed in strategic areas, is designed to counteract the temperature variations to which the rider is subjected over the course of the day. This technology is featured in our Essential khaki riding jacket and in our Storm riding jacket.
Horse Pilot has also developed 'Extrem layer', a technology that protects against the rain while allowing moisture to escape, thanks to fabric made by laminating several layers, resulting in a riding garment that is breathable, waterproof and windproof. Used in our chaps and our Integral riding parka for men and women.
fabrics that support the muscles for extra stability and balance
Riders are athletes and their bodies are subjected to a lot of physical exercise, both on foot and on horseback. Whether for show jumping, dressage or eventing, riders' muscles are in demand. The body in general, and muscles in particular, need to be looked after if they are to stay the course.
This support is found in particular in our adult and children's riding pants. Support for the legs is an essential factor in horse riding. It will ensure the rider is at ease on horseback, guaranteeing their stability and balance while protecting their muscles. Whether in our high-rise and low-rise breeches or riding pants with grip, support is an essential attribute in good outdoor riding pants.
To achieve this, Horse Pilot took inspiration from other sports where the muscles are very much in demand to develop a new generation of riding garments that are capable of sheathing, maintaining and controlling the muscles. This is what our Compression technology offers: improved support and compression for the rider.v It can be found in our compression socks or our women's riding pants with beige X-Design grip
In our quest for compression and support, Horse Pilot wanted to develop a revolutionary riding boot for comfort and performance. The result is our Teknit Boot, a complete reinvention of the riding boot. Designed using 3D Knit technology, the Teknit riding boot provides elasticity, breathability, compression, support and protection.
Freedom of movement in comfortable riding clothes
As with any sport, comfort is the essential criterion in the choice of technical clothing. Garments should never hinder riders' movements when they are on horseback, whatever their level of horsemanship. It is important that the garment moves with the rider as they work on their posture, whether over jumps, in the dressage ring or outdoors.
To achieve this with our riding gear, Horse Pilot uses textiles that are designed to fit the body shape perfectly, adapting to whatever that shape may be. Riding polo shirts should be close-fitting, riding pants should be sheathing and riding coats should be fitted and flexible, moving with the rider.
For many years, Horse Pilot has made developing comfortable riding clothing our primary focus. This is possible in particular through technologies such as Preform Fit, which provides total freedom of movement when riding, or Extra Comfort, which ensures there is no friction or chafing. We use these in our long-sleeved Suntech zipped polo shirt and our zipped Tempest riding sweatshirt.
style and elegance for a fashionable riding outfit
In addition to technical performance and comfort, we never neglect the style aspect of our products. We want to provide riders with outfits that are strong both technically and visually. At Horse Pilot, our designers pay particular attention to the style of our riding jackets, tops and leggings for those who want to ride well and look good at the same time! This applies to all of our riding equipment, regardless of the rider's gender or age.
On-trend prodcuts
Elegance is an essential aspect in horse riding, whatever the discipline: jumping, dressage, eventing... Our team is always on the lookout for fashion trends so that every year we can provide products that combine comfort, protection and style. We study the latest trends in great detail, with the aim of including them in our riding garments.
Comfort, protection AND up-to-date with the last fashion trends. That is the remit we give our designers at Horse Pilot. This is why the choice of the right textiles and fabrics, the cut of the clothes and the colourways are important aspects when designing fashionable riding clothes.
It is also why you will find several colour choices for all our products: women's riding pants in red, royal blue, navy blue or brown, black riding boots, a black airbag vest... Our products are featured on our online store and in the best riding equipment stores.
Close-fitting clothing for clean lines
Through the careful choice of textiles and cuts, Horse Pilot provides products with sleek and elegant lines. Riding coats, jackets, windbreakers and down jackets fit the body perfectly, so riding enthusiasts can stay warm and look great!
Following the lines of the body as closely as possible, we use form-fitting fabrics for those who need men's riding pants for intensive use. This is also true of our children's riding gear. For riding jackets and equestrian polo shirts, close-fitting and flexible cuts are used to move with the rider whether they are on foot or on horseback.
With these sleek cuts available in several colourways, there is something for every taste in the Horse Pilot range. Thanks to 3D Knit technology, our ladies' riding boot will also fit any body shape.
Riding equipment for both horses and poniesy
Riding equipment for saddle horses and ponies must meet their specific needs. Horse Pilot has not forgotten them, and has a range of riding equipment to meet those needs. As with bits, the saddle pads, ear bonnets and fly masks must adapt to their body shape. The pad and the cap must be stable. The pad must be shaped to follow the line of the back so as not to hinder the horse in its movements, just as a horse blanket shouldn't get in the horse's way in the stable.
The pad is designed in a 3D Mesh to afford excellent air circulation and weight distribution. Its reinforced strap loop, thick quilting and 3D Mesh construction ensure it will stand up to the roughest wear and tear. Our Aerotech saddle pad and bonnet are available in our online store. Designed for horses, it is perfectly suitable for size D ponies. Just pick your favourite colour!
environmentally responsible products that are made to last
At Horse Pilot we take a long term view. We are aware of our responsibility in terms of the impact our business has on the environment. We do not make disposable clothing. Whether it is our riding leggings, waterproof jackets, bombers or breathable riding polo shirts... all are made to last over time, withstanding wear and tear and cleaning. To prolong their service life, our after-sales service is available to help you with repairs
We therefore take care to minimise our impact at all levels: from creating long-lasting products to reducing our carbon footprint by choosing eco-responsible, recycled and recyclable materials and reducing packaging.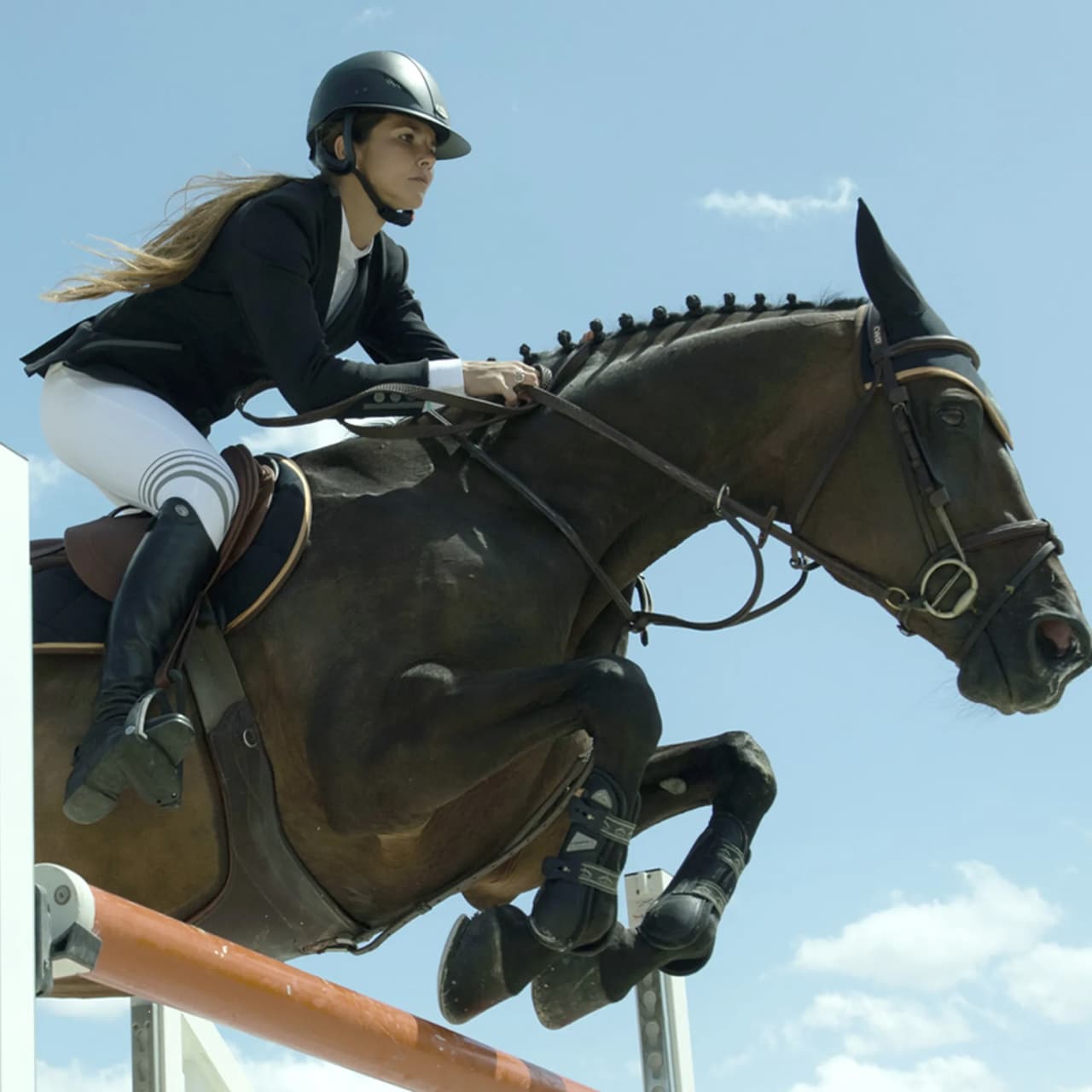 @horsepilot
Use #horsepilot on your photo for a chance to be published on our Instagram account.