Horse Pilot women's riding winter down jackets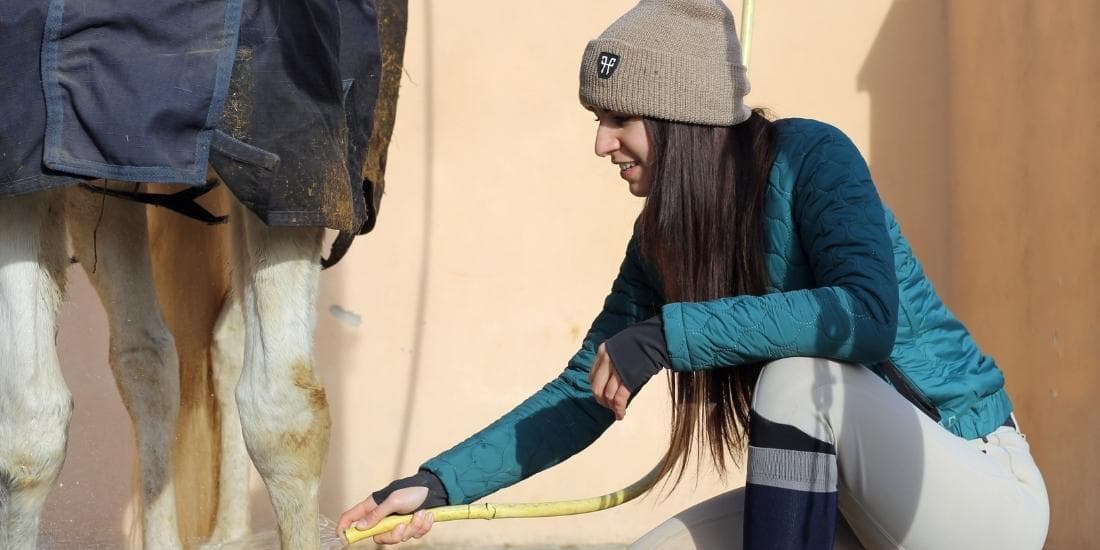 Riding is a sport that is mainly practiced outdoors. In winter, women are therefore exposed to cold, snow, rain or wind. That's why Horse Pilot offers a whole range of equestrian padded jacket for horse riding adapted to winter. Both warm and waterproof, they are ideal for the cold season.
Our women's riding down jackets for the winter season
Women riders are regularly subjected to the winter weather. Therefore, resistance to cold, wind and rain is an essential element to take into account. That's why Horse Pilot has designed a collection of women's equestrian padded jacketfor women totally adapted to winter. The models perfectly retain body heat and protect from the wind without, however, hindering the movements of women riders.
A premium winter riding down jacket brand
The Horse Pilot brand is known for its innovative and ingenious technical designs. It is no exception when it comes to winter riding down jackets for women. These have many technical qualities (water-repellent, warming, waterproof, etc.), while being comfortable and aesthetically pleasing. These high-end models are adapted to the practice of riding and stable work, to provide riders with great comfort in any situation.
The Horse Pilot winter collection of women's riding down jackets
Because women riders are entitled to the best, Horse Pilot has created an entire collection of winter riding down jackets entirely dedicated to women. It is composed of various models with different cuts, materials and technical characteristics depending on the products offered. Thus, each female rider can find the down jacket that suits her and pleases her.
Winter colors for your Horse Pilot women's riding down jacket
The comfort of a riding outfit also comes down to its style. Women actually appreciate putting on an aesthetically pleasing outfit that they like to ride in. Thus, Horse Pilot offers these riders winter down jackets in colors adapted to the winter season: sober colors such as blue, beige or green; or red to bring a touch of sun in winter. They will be able to match the color of their down jacket with the color of their outfit (like their pants or carpet, for example).
Why buy a horseback riding down jacket for winter riding?
Riding is an outdoor activity; therefore, riders are subject to the weather and the elements. A riding down jacket is a great ally to face the winter. Indeed, it is a warm garment specially designed for horseback riding. A down jacket is ideal if a rider wants to layer several under layers of clothing to retain maximum heat.
The technical characteristics of winter riding down jackets
Winter riding down jackets must have certain characteristics, such as heat retention, comfort, or waterproofing. Horse Pilot brand down jackets are totally adapted to winter riding. They have a great resistance to the cold and allow riders to maintain their freedom of movement.
Women's riding down jackets suitable for cold and wet weather
All female riders know that it can be difficult to bear the cold and wet weather in winter. It is to alleviate this that the Horse Pilot brand has created down jackets adapted to wet and cold weather. They are warm to keep the body heat. Their waterproof and water-repellent material protects riders from rain and snow. Finally, these down jackets are also windproof, to fight against the cold winter wind. This way, female riders can enjoy the winter season without being uncomfortable because of the cold or wet.
Winter down jackets suitable for riding
When riding, whether it's riding a horse, doing footwork or stable work, it's crucial to be comfortable in the right clothes. Horse Pilot winter riding jackets guarantee riders a great freedom of movement. They can thus carry out all their usual gestures and movements without feeling embarrassed by their coat. In addition, these down jackets are very comfortable and offer great resistance, which guarantees them a long life.
Women's heated down jackets
Horse Pilot decided to go even further in the comfort of women riders, and created a heated down jacket. The latter is embellished with I-Warm technology, which allows it to generate a continuous diffused heat. The down jacket is equipped with a carbon nanotube panel located in the lining of the garment, at the bottom of the back. Thanks to a button that the rider can operate at will, the down jacket can emit a gentle heat. Three temperature levels are available, so the rider can adapt the warmth of the jacket to her activity and to the outside temperature. Finally, this jacket has no electronics, so it will be able to be washed in the washing machine by simply removing the battery.
Designer riding down jackets for women who ride in winter
Women riders appreciate the fact that they can wear riding clothes that are equally stylish and practical. That's why the Horse Pilot brand has created designer down jackets that look great. They come in different cuts (short or long, quilted front or back, etc.) and in several colors, so that each rider can choose the model that suits her and fits better with the rest of her outfit.
How to choose your riding down jacket for the winter season.
The choice of a riding down jacket for the winter season is important. It will have to be based on several elements, including its aesthetic and comfortable appearance, but especially its ability to keep the rider warm and dry. It will also be necessary to take care to choose the right size, so that the down jacket is perfectly fitted and comfortable.
A riding down jacket adapted to the season and your style
It is important to adapt your riding down jacket to the season. Thus, some models with long sleeves will be perfect to fight against the winter cold thanks to their warm material. Others, on the contrary, will be more suitable for summer mornings or evenings or mid-season, when it starts to get cool. This is for example the case of sleeveless down jackets, which are also very practical for riding. In addition, a down jacket can both be worn as an over layer (over one or more thin layers of clothing) or as an under layer (under a thicker coat or parka).
Winter riding down jacket size guide
To properly choose a winter riding down jacket, it is important to choose the right size. Indeed, the wrong size riding down jacket could be uncomfortable. For example, a model that is too big could be uncomfortable, while a down jacket that is too small could hinder the rider's movements and be too tight, especially if she wants to wear an under-layer underneath. That's why Horse Pilot provides riders with a size guide to best help them in their choice.
How to maintain a riding down jacket (cleaning, down, feather, be careful with the battery if heated)
It is essential to properly maintain a riding down jacket. This will allow it to have a longer life while maintaining its technical properties. Indeed, these can be hindered by dust, dirt or perspiration. First of all, you should consult the cleaning instructions on the label of your down jacket. They will tell you how hot to wash the garment and whether or not it can be washed in the washing machine. A synthetic down jacket can be machine washed at 30°C maximum. But a down comforter must be washed by hand. If the winter riding down jacket is heated, it is imperative to remove the battery. For drying, it is best to air dry the garment instead of putting it in the dryer, which could damage it.