Horse Pilot navy blue riding competition jackets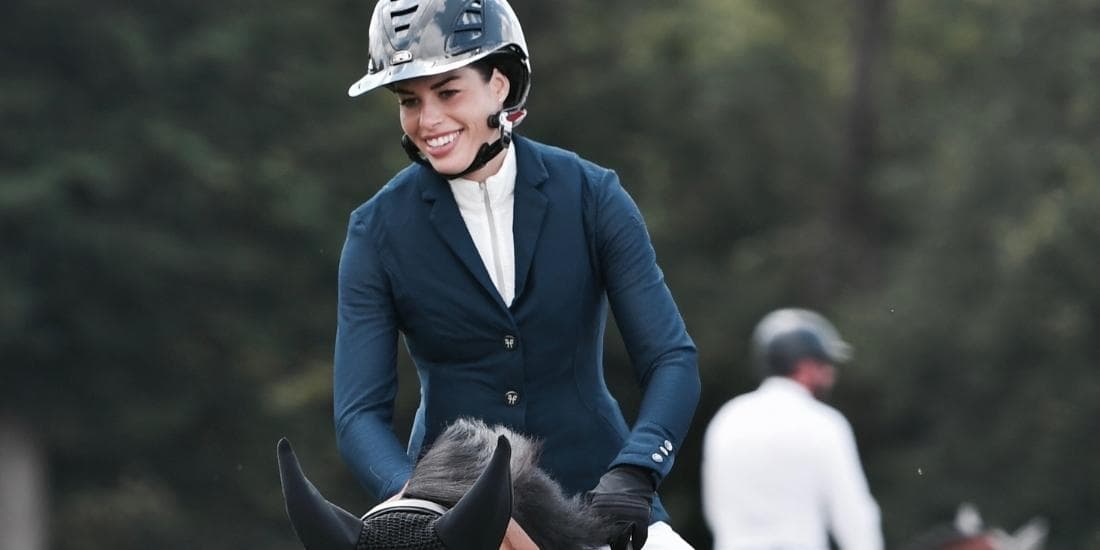 Every rider knows that it is mandatory in competition to wear a horse riding jacket for certain events. It is in particular the case of the dressage or the CSO, where the riders must wear a equestrian show jackets navy blue or black. Horse Pilot has therefore developed navy blue jackets for women, men and children to meet the needs of riders. The models differ thanks to their various cuts (belted jacket, long, short) and their various technical characteristics (waterproof, windproof, light, etc.).
The different blues of show jackets
The blue colored show jackets are very trendy. This color is indeed discreet and original, and it blends beautifully with many other colors to create a stylish ensemble. That's why Horse Pilot has developed a whole collection of show jackets in different shades of blue. This allows riders to choose the color that best matches their taste and the rest of their outfit (pants, rug, polo, etc.). Navy blue jacket, electric blue, duck blue or royal blue, all riders will be able to choose according to their preferences.
Our navy blue show jackets for women, men and children
All riders, young or old, have the right to compete with comfortable and designer show jackets. That's why the Horse Pilot brand has developed a collection of navy blue riding competition jackets for women, men and children. The models adapt perfectly to the rider's movements, and have many technical qualities that will help him feel good on horseback. Therefore, every rider will be able to find a show jacket that will suit him among the different products offered.
The Horse Pilot collection of navy blue show jackets
The collection of navy blue show jackets is rich and varied. The models are studied to be practical, aesthetic and very comfortable at the same time. They bring together innovative technical qualities that allow riders to feel good on horseback as well as on foot. This collection is extensive and has navy blue show jackets for men, women and children, so that everyone can enjoy Horse Pilot show jackets.
Navy blue show jackets compatible with Horse Pilot airbags
Horse Pilot emphasizes the importance of wearing an airbag when riding. To encourage the use of this type of protection, the brand has created navy blue show jackets that are compatible with these airbag vests. These are so thin that they appear invisible under the jacket. This is for example the case of the Air Motion Protect jacket, which is specially designed to be combined with the Horse Pilot in & Motion airbag vest. Riders can therefore be protected while maintaining the class and distinction proper to a women's equestrian show jackets.
Customizable navy blue show jackets
Equestrianism is an activity where elegance and style are important. As such, navy blue riding show jackets have been created with trends and fashion in mind to allow riders to wear a stylish jacket that meets their technical needs. The Horse Pilot brand has distinguished itself in the field of creating show jackets, because it has innovated by allowing riders to customize their jacket: a great novelty. They can choose the color of the collar and buttons, the addition of pockets or alcantara pieces on certain areas such as the collar, sleeves or pockets. Thus, riders will be able to get an original and very elegant jacket.
The different types of navy blue show jackets
Because there are a multitude of equestrian disciplines, navy blue riding competition jackets fit the different needs of riders. Dressage jacket or show jumping jacket, the cuts differ and the materials are adapted to the riders' positions and movements.
Good quality technical jackets for show jumping
Equestrian competitions are usually emotional moments. The body and mind are put to the test, and wearing a comfortable jacket allows riders to focus on the essentials: their course and technique. Horse Pilot has therefore developed the Extra Comfort technology: the competition jackets are made of fine and breathable fabrics and elastane that will give the riders the feeling of wearing a second skin. The jackets adapt to the riders' movements and positions without ever hindering their freedom of movement. These very resistant competition jackets are breathable, waterproof and windproof to overcome all climatic possibilities. Finally, they are elegant and carefully designed to be as aesthetic as comfortable. This is particularly the case with the famous Aeromesh model.
Designer riding competition jackets for riding
Riding attire is important, in this sport. Riders appreciate feeling good in a stylish outfit. That's why the design of Horse Pilot navy blue show jackets is varied: the different models come in short or long cuts, and are perfectly adapted to each specialty (dressage, show jumping, etc.). They are equipped with different types of closures: zipper, zipper, snaps. So all riders will be able to find a men's equestrian show jackets or women's jacket that suits them perfectly.
How to choose your navy blue equestrian show jacket
It is important to choose a navy blue show jacket properly. To make this choice, it is advisable to take into account certain criteria, such as the level of riders, the discipline or disciplines they wish to practice, as well as their size and morphology.
First of all, the level of the rider or rider is to be considered. Indeed, a beginner rider is likely to compete less than a more experienced rider. He or she will therefore prefer a less expensive but potentially less resistant competition jacket. On the contrary, an experienced rider who is used to competitions will want to invest in a more qualitative riding jacket that will have a longer life span.
Next, riders should choose their competition jacket according to the discipline they practice. Whether it's dressage or show jumping, riders' gestures and positions are not the same, so the cuts and materials are different as well.
Finally, it is obvious that riders should be careful to choose a navy blue show jacket in the right size. Indeed, a jacket that is too small will be uncomfortable and unattractive, while a jacket that is too large may interfere with movement. To help riders in this choice, Horse Pilot provides a very detailed size guide.
Can a navy blue jacket be used in official competition?
It is totally possible to wear a navy blue jacket for an official contest. There are also red horse riding show jacket. This color is actually one of the few colors allowed for show jackets, and goes perfectly with the traditional white riding pants. Riders can therefore opt for this shade, which is a change from the traditional black while remaining acceptable in terms of dress protocol.
How to wash a navy blue show jacket
A navy blue pageant jacket must be carefully maintained to extend its life and retain its technical qualities. This maintenance differs depending on the material of the jacket, and taking into account that certain properties (breathable function, elasticity, waterproofing, etc.) must be maintained with dedicated products. First of all, it is strongly recommended to consult the cleaning instructions on the jacket label. It is best to use a natural detergent without residue and not to add fabric softener. Washing should be done at a maximum of 30°C, and it is very useful to add an anti-discoloration wipe to prevent the jacket from losing its color. Finally, it is advisable to air dry a jacket instead of putting it in the dryer.
Blue equestrian show jackets