Horse Pilot red riding competition jackets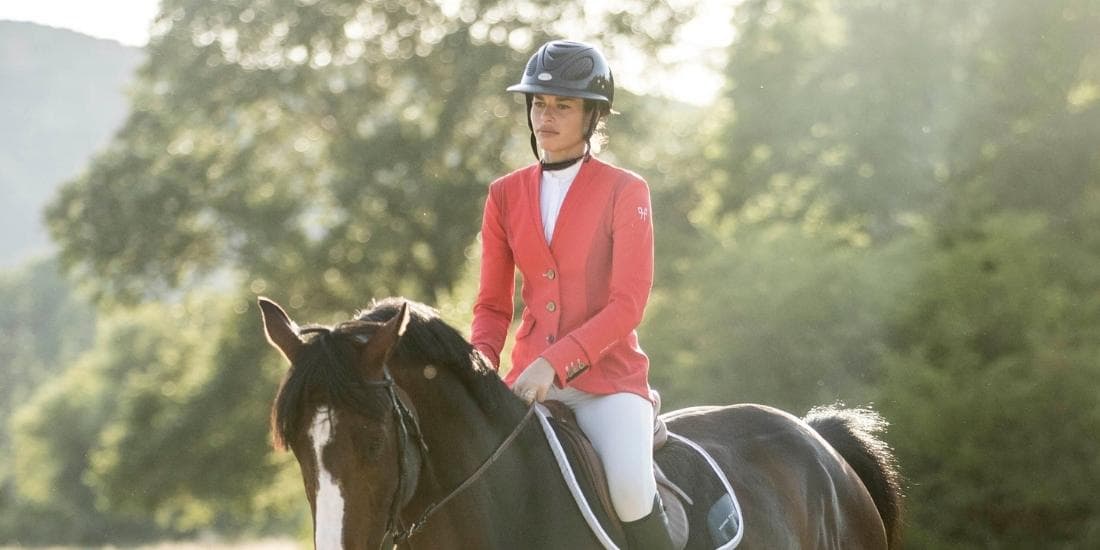 The show jacket is one of the must-have riding clothes for competition. This equipment of the rider is imposed by the rules of the competitions of jumping, dressage, in Hunter and eventing. As for the FFE (French Equestrian Federation), it simply requires that it be clean, adapted to the morphology and movements of the riders. So you are free to stand out, in compliance with the official rules, in red Horse Pilot riding competition jacket.
Warm colors used for show jackets
Once limited to black and navy blue, riding show jackets are taking on color. Outfit yourself according to your personality. Express your softness with the sobriety of terracotta, plum or burgundy colors. Blaze in a passion red jacket over your white riding breeches. Whatever the case, adopt the color of your mood, in the codes of horse shows.
Our women's, men's and kids' red show jackets
Enhance your performance as a competitive rider with color on your back. No more tweed jacket that's too warm or stiff. With us, synthetic polyamide rules, mixed with spandex or stretchy elastane. Recycle your old blazer jackets for breathable and colorful show jackets.
The Horse Pilot collection of red show jackets
Start out in front of the judges in a fold-over or flat collar jacket with unparalleled comfort. Elegance is the order of the day in your pre-shaped technical garment. Plain or two-tone, standard or customizable, your women's, men's or children's jacket accompanies you on the competition trail. Go from a beginner rider to a high level rider thanks to your talent. The performance of your Horse Pilot jackets helps you take flight, uninhibited and in style.
Red show jackets compatible with Horse Pilot airbags
Your show jacket has an aesthetic role first and foremost. But it also combines with your protection. Indeed, your red show jacket has a passage for the leash of your airbag vest. Thus, your Horse Pilot airbag vest is totally invisible under your outfit. In case of a fall, your elastic garment stretches to follow the inflation of the airbag. Then, it simply returns to its original shape.
Customizable red competition jackets
Make your red jacket as unique as you are for your riding. Customizing your equestrian apparel couldn't be easier. Just select the options to make it your own. Change the color of the finishes: martingale, collar, pocket, wrist edging, or even buttons. The combinations are numerous.
The different types of red show jackets
Variety is possible with the choice of colors and cuts available to you. Horse Pilot designs jackets with the most modern technology and adheres to the rules of equestrian competition. On your show jumping course or in a dressage event, be classy and perform well in all circumstances. Without feeling like you're wearing a jacket, either at the gallop or in the stables.
Good quality technical jackets for show jumping
Extra Comfort technology gives you a second-skin feel with its bi-stretch material. No less than 3 layers of quality textiles reduce the effects of weather conditions on you. So you retain your freedom of movement with all the comfort and strength of the best fabrics. All for a Softshell result: breathable, windproof, waterproof. Everything for your comfort. And your comfort contributes to your elegance.
Design red riding competition jackets for riding
To perfect your style, earn appearance points with your perfectly designed zippered show jacket. Slim-fitting for women, fitted for men, the fit is modern and code-conscious, even for traditional fracs. Even the cuffs are left free to move in elegance. Long or short, your jacket is adapted to your equestrian specialty. With its pre-shaped anatomical cut and wrinkle-free wear, it becomes your ally on the course.
How to choose your red riding competition jacket
Today, your red show jacket is getting light and easy to care for. Have fun matching the color of your jacket to your saddle pad or mount. Beyond the aesthetic concern, your show jacket must be adapted to your level, to the equestrian discipline you practice and to your morphology.
In equestrian center or pony competition, the riders' outfit is free or in the colors of your horse club. However, as soon as the level is higher, the conditions change. In show jumping, CCE (except cross country), Hunter and dressage competitions, you must wear a show jacket, a federal jacket or a show polo. The traditional jacket, also known as a frac, is added to dressage events.
Can a red colored jacket be used in official competition?
No FFE rules mention the color of the equestrian show jackets, regardless of which of the four disciplines is listed. Even when it is a Grand Prix. Only in Amazon riding is black or navy blue required for the traditional Amazon outfit. So, yes, you can show in an official competition with a red jacket, or you can have a blue equestrian show jackets. Even the traditional dressage jackets, which are more regulated, have multiple colors in international competition, including red. So as long as you have riding boots or boots with matching chaps and a riding helmet, you're fine. Riders, don't forget your tie to complement your competition shirts.
How to wash a red show jacket
Like on your riding pants, your red jacket has a label that indicates precautions to take. Wash your jacket only when it really needs it. Often, letting it air out or a little textile deodorizer will suffice.
Machine washing can fade the redness of your horse riding jacket. Turning it inside out before placing it in the machine helps retain the red color. Closed buttons, zippers and velcro also prevent damage. Wash at 30°C maximum, in short cycle, with an environmentally friendly detergent. This one will make your laundry clean, without attacking it.
Most importantly, keep detergents and bleach away from your blazer jacket, which could stain it. Your jacket also hates the dryer. It prefers to dry quickly and well in the open air, on a wide hanger or flat. This way, the technical specifics of your show jacket are preserved, such as the elasticity of its mesh and its shape.
Red horse riding show jacket