Horse Pilot winter riding jackets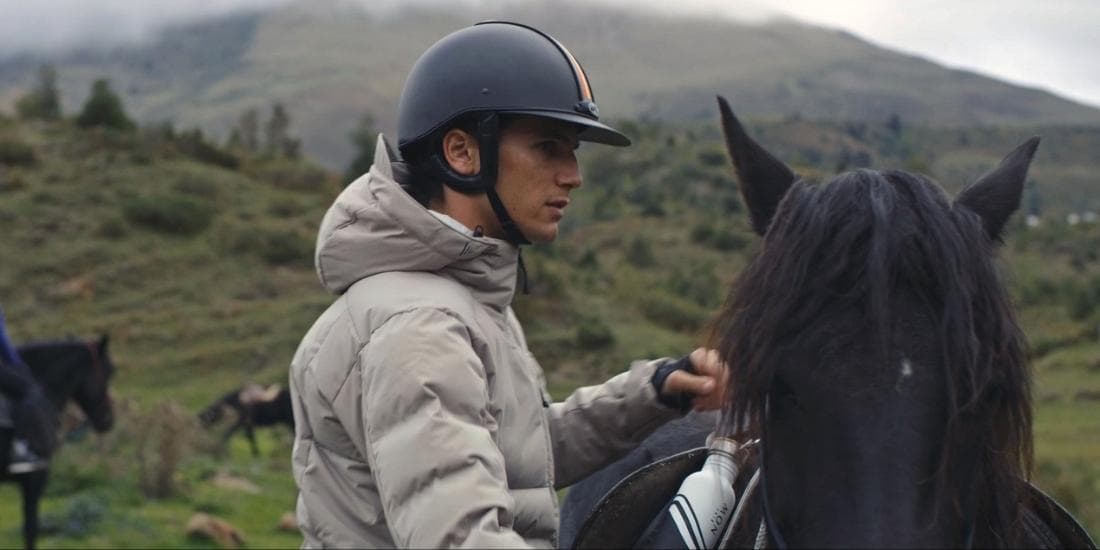 Riding is an outdoor sport: it's practiced outside, and it doesn't matter what the weather is like. Thus, riders are exposed to rain, cold, wind and even sometimes snow. They must therefore equip themselves with a winter horse riding jacket to protect themselves from all these bad weather.
Our women's, men's and children's winter riding jackets
The Horse Pilot brand has developed a whole collection of winter riding jackets dedicated to men, women but also to children. Everyone can thus find a winter jacket model that suits him and looks like him. The collection consists of a wide variety of models and high quality. Winter riding jackets protect riders from the cold without hindering their freedom of movement.
A premium winter riding jacket brand
While the Horse Pilot brand is especially renowned for its innovative designs and the technologies it develops, it has made no exception for its winter riding jackets. These jackets are equipped with many qualities: they can be heated, water-repellent, or waterproof. They are also aesthetically pleasing and very comfortable. Thanks to these riding jackets, riders will therefore be able to stay warm, both on horseback and on foot, while enjoying the greatest comfort.
The Horse Pilot collection of winter riding jackets
Horse Pilot wanted to offer riders the very best. So the brand has developed an entire collection of winter riding jackets for men, women's horse riding jacket and kids jackets. It is composed of models very different from each other, with different cuts, colors, technologies and materials. Thanks to this wide choice, riders will be able to find a winter jacket that fits and suits them.
Winter colors for your Horse Pilot riding jacket
While comfort is an important dimension for a winter men's horse riding jacket, style is also a consideration. Both male and female riders appreciate having a jacket that is to their liking when it comes to aesthetics. That's why Horse Pilot has declined its winter riding jackets in different winter colors, such as black, blue or green. This way, riders will have the opportunity to match the color of their winter jacket with the rest of their outfit (like their pants, for example).
Why buy a riding jacket for riding in winter
Since horseback riding is practiced outdoors, male and female riders are subject to the weather and the weather. Therefore, it is best for them to have a quality winter riding jacket. It is indeed a garment adapted to the cold of winter and designed specifically for riding. A winter riding jacket is the ideal garment to wear over several thin layers of clothing during the cold season. With cuts and technical features appropriate for the cold season, Horse Pilot winter riding jackets are an ideal winter ally.
The technical features of winter riding jackets
It is important that winter riding jackets have useful technical features to protect riders from cold and weather. For example, good heat retention can be paramount, as well as waterproofing or comfort. Horse Pilot's winter riding jackets are perfectly suited to riding and the winter season. They offer excellent resistance to cold and weather, and do not impede riders' movements.
Riding jackets suitable for cold weather
Humidity and cold weather can be hard to bear during the winter months. To help riders cope with this cold season, Horse Pilot has created winter riding jackets that are totally adapted to cold and wet weather. They are warm and retain body heat. The materials used for their conception are water repellent and waterproof, in order to protect the riders from snow and rain. Horse Pilot winter jackets are also windproof, to effectively combat the cold winds of the winter season.
Winter jackets fit for riding
When riders are riding, moving around on foot or participating in stable duties, it is very important that they feel comfortable in a suitable winter jacket. The Horse Pilot winter riding jackets are ideal and very comfortable: they guarantee a total freedom of movement, so as not to hinder the riders in their movements in all circumstances. In addition, these jackets are very resistant: therefore, they have a very long life if they are properly maintained.
Design riding jackets for riding
Riding men and women appreciate being able to wear a winter jacket that is comfortable and practical, but also stylish. Indeed, style has always been of great importance in the riding community. Thus, the Horse Pilot brand has designed aesthetic and design winter riding jackets. The models are declined according to the cuts (long, short, quilted on the front or the back, etc.) and in several colors. Thus, each rider will be able to choose the riding jacket that will best suit his style and the rest of his outfit.
How to choose your riding jacket for the winter season.
Choosing a winter riding jacket is very important. This choice will have to be based on different elements. For example, a winter jacket must first of all be warm and be able to maintain the body heat of the rider or the rider. Then, it must be adapted to the discipline(s) practiced, as well as to the rider's size. The aesthetic aspect of the jacket must also be taken into consideration, as well as its comfort. Finally, there are other criteria to consider: the rider's style and preferences, as well as his budget.
A riding jacket adapted to the equestrian discipline
A winter riding jacket must be adapted to the disciplines practiced by the riders. For example, to go hiking, it is essential that the jacket is resistant and does not get damaged by coming into contact with small branches. For show jumping and jumping, the jacket must be totally in line with the rider's movements. Finally, for dressage, it should be fitted and stylish.
Winter riding jacket size guide
It is sometimes difficult to know what size jacket to choose when ordering on a website, although this choice is very important. Indeed, if riders choose a model that is too small, they will be hindered in their movements and may not be able to wear several layers underneath. On the other hand, if they choose a model that is too large, heat retention may not be optimal. To help them find the right size the first time, Horse Pilot has created an accurate sizing guide with all the measurements you need to take to choose the perfect fit.
How to care for a winter riding jacket
The maintenance of a winter riding jacket is very important. If done correctly, it will allow the jacket in question to extend its life and remain in good condition for a very long time. In addition, regular and well done maintenance will help the jacket to keep its technical properties over time. These properties can be degraded by various elements, such as dust, sweat or dirt. First of all, it is important to consult the label of the winter riding jacket: it contains precise and very useful cleaning instructions. It will tell you, for example, that a synthetic winter jacket can be washed at 30° maximum. On the other hand, if it contains down, it is strongly advised to wash it by hand. Regarding the laundry, it is preferable to use natural products and not to add softener. Finally, it is adequate to let a winter riding jacket dry in the open air rather than putting it in the dryer, as the latter may damage it.
Waterproof horse riding jacket