POLO, T-SHIRT & SWEATSHIRT CARE
Care guides for your riding clothes.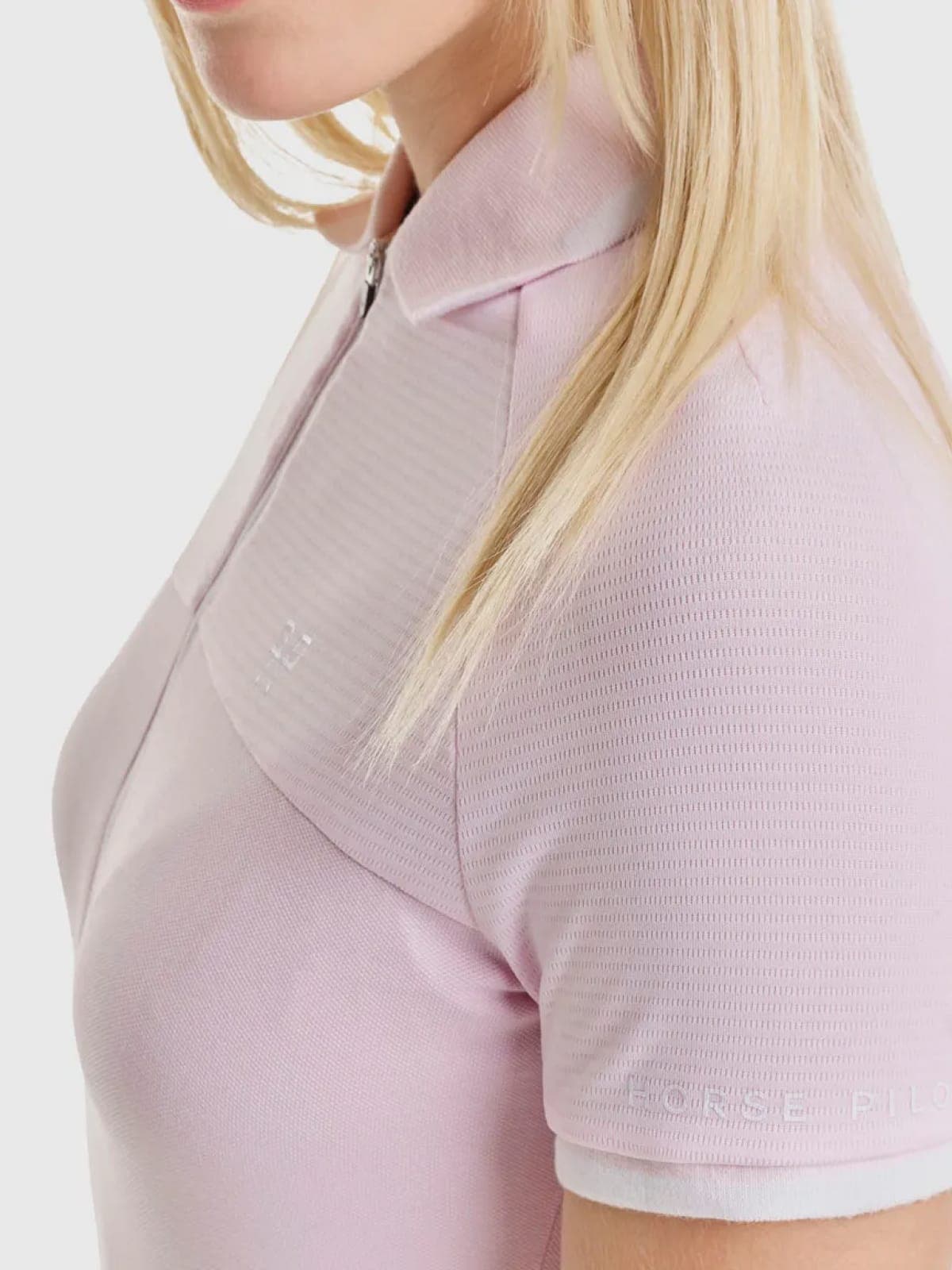 HOW TO TAKE CARE OF YOUR POLO SHIRTS, T-SHIRTS AND SWEATSHIRTS?
All of our women's and men's clothing is designed for sport and the technical material is made to withstand the abuse that riders can put them through while riding. As durable as they may be, you will need to wash them at some point.
As with any garment, you should avoid washing them too often. If you just want to remove odors, we recommend using our technical sportswear deodorizer, apparel refresh. Designed and developed by our team, this product eliminates bad odors from clothing and leaves a fresh smell thanks to the presence of eucalyptus essential oil.
However, the clothes closest to the body are often in direct contact with the rider's skin and are subject to sometimes intense perspiration, leaving traces, especially in summer. In contact with horses, you can also stain your polo shirt, short or long sleeve tee shirt or sweatshirt. Unlike a jacket, tops will retain stains more easily and they will be more difficult to remove without washing.
So, you will have to wash your sport polo shirts, tee shirts and riding sweatshirts regularly, which is why it is important to choose the right care in order to protect their technicality and prolong their life.
STEP 1 : PROLONG THE LIFE OF YOUR POLO SHIRTS, TEE SHIRTS AND RIDING SWEATSHIRTS
PRECAUTIONS TO TAKE BEFORE WASHING A TECHNICAL RIDING APPAREL
In general, it is important to choose similar colors for the clothes to be washed with your men's and women's polo shirts, T-shirts and riding sweatshirts. This will avoid discoloring your clothes.
It is also important to separate street clothes and sportswear when washing. They do not have the same technical properties and it is preferable to use a washing program adapted to each one and not to use fabric softener, as it will affect the life of the product.
If it is not possible for you to separate them, you can put your top in a net like our Guppyfriend® Washing bag. It will protect your top and filter out small microfibers released by the textiles during washing and keep the fit intact. By reducing fiber loss, it helps extend the life of your clothes. And we advise you not to use fabric softener, in order to preserve your sportswear.
A DIVERSITY OF MATERIALS AND ASSOCIATIONS, HENCE THE IMPORTANCE OF READING THE LABELS
Our women's polo shirts, men's polo shirts, tee shirts and riding sweatshirts all have a different composition with a distribution of materials that varies according to the level of technicality sought. Among these materials, you will find :
Cotton from organic farming

Recycled polyester

Polyamide

Elastane or Spandex
All these materials do not resist in the same way to the washing programs, hence the importance to identify them. For this, you can refer to the labels on the clothes.
STEP 2 : THE KEYS TO GET OVER PERSISTENT ODORS AND STAINS TO MAINTAIN YOUR POLO SHIRTS, TEE SHIRTS AND RIDING SWEATSHIRTS !
HOW TO REMOVE ODORS FROM YOUR RIDING CLOTHES?
As previously explained, the clothes closest to the body are the ones most subject to odors related to perspiration. Odors can persist even after washing. For this, there are techniques to remove unpleasant odors from your clothing. Here is a selection of the best techniques:
Technique 1: Apply Marseille Soap and scrub with a soft brush before machine washing your garment.
Technique 2: Apply a mixture of 2 tablespoons of baking soda and a little water to the area, let it dry and run the machine.
Technique 3: Dip your polo shirt or tee shirt in a basin filled with ¼ of white vinegar mixed with ¾ of water and let it sit for a few minutes then machine wash your garment.
Note that these techniques are also very useful for removing stains from your riding clothes.
HOW TO REMOVE STAINS FROM YOUR POLO SHIRTS, T-SHIRTS AND SWEATSHIRTS?
In the case of superficial stains on your tops, our detergent created for the regular maintenance of riding clothes, the apparel wash for technical clothes, removes superficial stains. In case of more stubborn stains, use a stain remover adapted to the type of stain that you can find in supermarkets.
When applying the product, make sure not to rub the stain but to dab the garment with the product. Finally, follow the instructions on the bottle and leave the product to act without exceeding the recommended time.
HOW TO GET A WHITE POLO SHIRT AGAIN?
Removing a stain from a colored polo shirt is one thing, but removing a stain from a white polo shirt is another, especially in the case of sweat marks. So you are wondering how to remove these sweat marks on the collar and if it is possible to have your white polo again?
It's not the easiest thing to do, but there are several methods in addition to using a stain remover for this purpose. Here is a selection of the best techniques:
Lemon juice is useful for all types of stains. Squeeze the lemon, rub it on the stain gently and leave it for 45 minutes, then wash the garment.

Baking soda is very effective for collars. To use sparingly, sprinkle the collar of your shirt previously moistened with baking soda. Rub gently. Rinse with an equal mixture of white vinegar and water.
STEP 3: A WASH CYCLE ADAPTED TO THE MATERIAL OF YOUR CLOTHES.
As explained above, each material is different and requires a washing and drying program adapted to its technical properties.
CHOOSING THE RIGHT PRODUCTS TO WASH YOUR POLO SHIRTS, T-SHIRTS AND SWEATSHIRTS
In general, we advise you to use our special detergent for technical clothing developed to preserve their properties. Otherwise, use a mild or organic detergent and avoid using fabric softener to preserve the product over time. Indeed, the silicones present in these products eat away the glues, damage the technical treatments, the breathability and deteriorate the membranes of the products. Over time, the materials lose their effectiveness, especially polyester. For a first wash, we recommend adding an anti-discoloration wipe. Finally, do not use bleach or detergent.
CHOOSE THE RIGHT PROGRAM AND TEMPERATURE TO WASH YOUR POLO SHIRTS, T-SHIRTS AND SWEATSHIRTS
For your cotton T-shirts, polo shirts and sweatshirts, we recommend washing in a washing machine up to 30°C / 86°F on a cotton cycle with similar colors. And for Team Shirts and Team Sweat-Shirts, we recommend washing them inside out to preserve the logo.
For garments made up largely of polyester and / or polyamide it is advisable to wash them in a machine at 30 °C/ 86°F, to keep a low-temperature wash. Indeed, hand washing will preserve your garment more. These delicate fibers should not be put in the dryer at the risk that the spinning deteriorates the material.
Elastane fabrics can be washed at a maximum of 30°C/ 86°F and should not be tumbled. On the other hand, you can iron this synthetic material using the delicate mode of the iron.
Finally, avoid drying your clothes on a hanger, which could deform them, and prefer to air dry them flat or spread them out from below.
If, despite these tips, you still can't manage, contact us via our form or directly by phone: +33 4 99 54 63 5