Riding clothes for horse riders
Creators of technical equipment for riders, Horse Pilot has …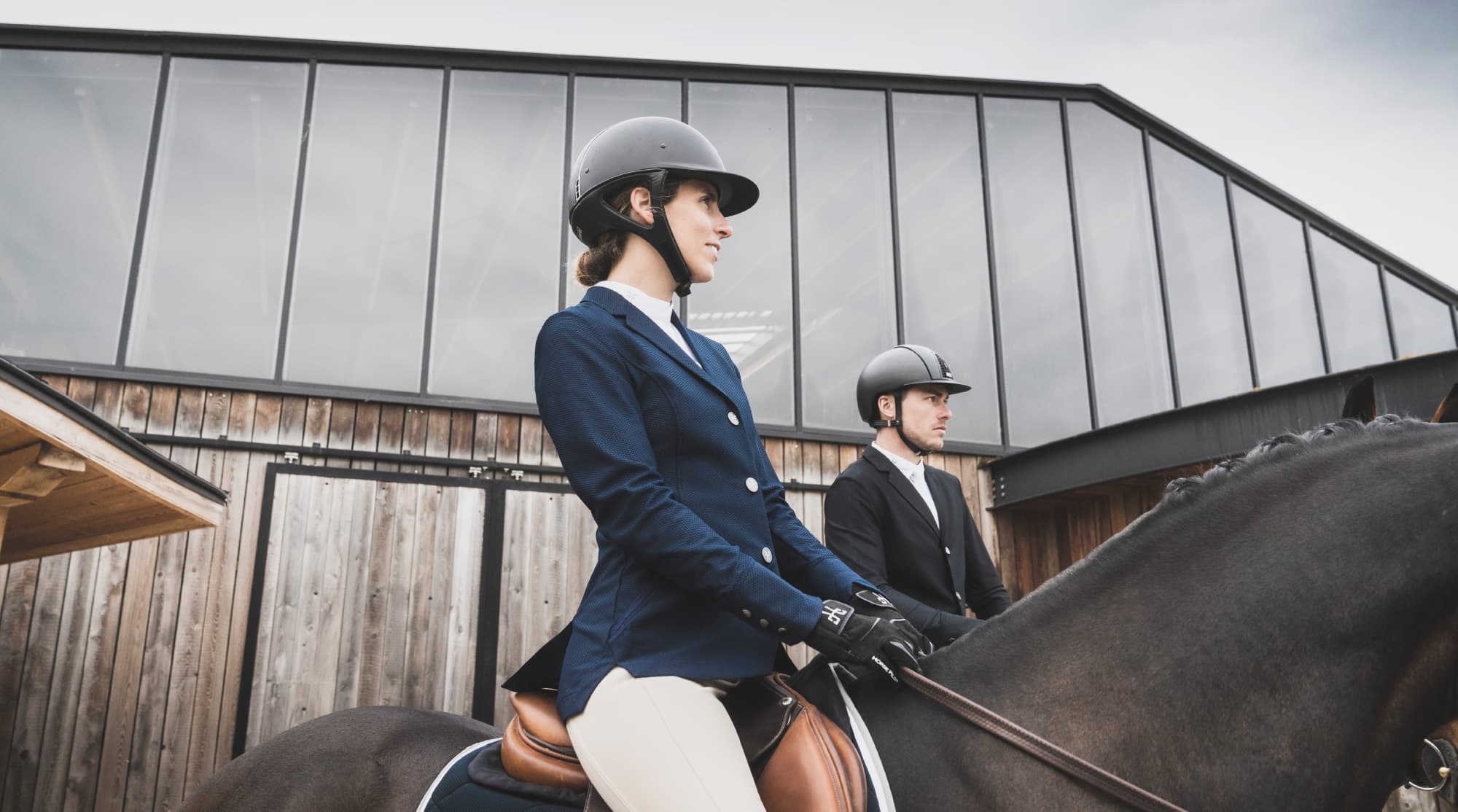 Rider and horse: what riding gear to use when riding?
THE BEST OF RIDING EQUIPMENT
The horse world is all about practising horsemanship, but not only that. In the stable or paddock, the child or adult rider uses a lot of equipment and consumables for himself and his mount. Let's go for a small overview of these equipments of horse enthusiasts for the practice in classic riding, show jumping and dressage.
HOW TO EQUIP YOURSELF TO START RIDING.
After your first few rides, you decide to invest in the essential equipment of the beginner rider. Even at a low price, you can buy the basic products you need.
THE BEGINNER RIDER'S EQUIPMENT
There are a few things that are essential for any rider who is getting equipped. Sports equipment brands are flourishing in physical shops and online shops. You have products to suit all budgets, from budget technical clothing to luxury bespoke leather equipment.
RIDING GEAR FOR A GOOD START
Riding trousers are essential, comfortable and seamless on the inside of the leg. Depending on their cut, material and appearance, they are called riding breeches, jodhpur trousers, riding jeans, riding tights or riding leggings. When you start out, choose trousers with a full bottom, anti-slip silicon grips or baskets. Your usual clothes are sufficient for the top. But there's nothing to stop you investing in riding clothes such as a riding waistcoat or a practical fleece for the horse, or comfortable riding socks for your feet.
THE BEGINNER RIDER'S RIDING SOCKS
Boots or booties, there is a wide choice to complete your riding outfit. Often, junior riders wear rubber boots. Adult beginner riders start with the unclosed riding boot in leather or synthetic. But test the riding boots to find your own, with the lace-up, elastic or velcro riding boot. Try the riding boot as well. Like the boot, it comes in a wide range of models. The boots can be put on with elastic sides or tied with laces. And complement synthetic boots or leather ankle boots with mini chaps. Keep your feet warm in winter, with warm riding boots or add fleece-lined booties to your boots.
RIDING GEAR FOR RIDER PROTECTION
Beyond protecting your legs with riding shoes and other boots, a riding helmet is a mandatory and essential safety item. Also known as a bomb, it must be worn by all riders, beginners and experienced riders alike. Depending on your discipline, you may be required to wear a riding safety waistcoat or back protection. The ideal way to ensure you are safe from the risks of falls, right from the start, is to have a horse riding airbag vest.
HORSE OR PONY EQUIPMENT FOR RIDING
Often, children and adults develop the equestrian experience at a riding school. No need to invest a big budget to equip yourself.
EQUIPMENT FOR THE EQUESTRIAN CENTRE HORSE AND PONY
Most riding schools provide the equipment for the ridden horse or pony, such as the saddle and its accessories (stirrups, stirrup leathers, girth), and the snaffle equipped with the bit and reins. Even as a beginner rider, you may appreciate having your own saddle pad, as well as a halter and lead rope, even if the riding centre also provides these products.
BASIC HORSE AND PONY CARE EQUIPMENT
Even if your horse has already worked before your arrival, some basic care before or after your ride may be necessary.necessary. A grooming of his coat with a hard brush (or plug), a soft brush and a currycomb will clean the dust from his coat. Remove mud and stones from his hooves with a hoof pick to avoid foot injuries. And don't forget his little carrot treat.
WHAT IS THE EQUIPMENT OF THE EXPERIENCED RIDER AND THE OWNER-RIDER?
The experienced rider's equipment retains the same basis as the beginner rider. He makes the choice of better equipment or additional equipment, depending on his needs.
THE EXPANDED RANGE OF RIDING CLOTHES
The basic outfit remains the same as that of the beginner. With experience, your tastes may refine to invest in more technical trousers without velcro or a second pair of fleece-lined trousers to cope with winter. You add waterproof chaps for riding in the rain, and a riding parka. Add shoe trees to your leather riding boots to keep their shape, after removing them with a boot puller or boot remover. You carry them in a carry bag and maintain them with leather nourishing milk.
RIDING ACCESSORIES FOR THE EXPERIENCED RIDER
As for accessories, buying riding gloves is advisable for working in the longe or certain mounted competitions, such as show jumping or dressage competitions. Spurs and a riding crop or stick can be added. Go into competitions with suitable attire, such as white riding trousers and a show jacket.
COMPLETED RIDING GEAR FOR YOUR HORSE
As your riding level rises, you enjoy investing in your personal riding equipment. You also learned some basic care for the well-being of your mount.
HORSE EQUIPMENT
This includes buying your mixed leather saddle if you are versatile or a dressage or show jumping saddle with a comfortable seat. You choose a snaffle, with or without a noseband, a bridle, a bit adapted to your horse, such as the olive bit or a needle bit. For dressage, you can choose to have double reins or a gogue. The technical saddle pad is also very useful. Sometimes supplemented with a shock absorber. For the protection of his limbs, you equip yourself with bands, gaiters, or even bells and fetlock guards.
HORSE CARE
Care for your horse's hooves after a good cleaning by applying hoof grease with a brush. Help him dry off after a sweat or a good shower with a heat knife. Protect his pink skin under white hair with a horse sun cream. Help his tendons to relax after exercise with a tendon cooling oil. For the box or the meadow, equip him with a blanket adapted to his needs.
DO YOU WANT EVEN MORE RIDING EQUIPMENT?
The list of riding equipment is far too long to mention them all. Just know that they don't just stop at what the rider and horse can wear in jumping or dressage.
RIDING GEAR DEPENDING ON YOUR EQUESTRIAN DISCIPLINE
There are many other equestrian disciplines to discover: acrobatics, trekking, driving, hunting with hounds... Each of them requires additional or different equipment from the general riding disciplines. For example, you have the trekking saddle and the western saddle. In acrobatics, your bareback horse wears an acrobatic harness. For your night rides or hunting, you have reflective items, such as a reflective tail guard or a reflective walker blanket.
STABLE EQUIPMENT
If you have your horse at home, you will need to fit out his shelter with a water trough. A bucket to take his pellets to him can be useful, or a stand to attach his salt stone.
PASTURE AND MEADOW EQUIPMENT
A horse also needs rest and space for its well-being. There's nothing like a relaxing break in a green meadow with a fence made of electrified tape or a safety net. Remember to protect him from insects with a fly mask or insect repellent.
HORSE PILOT, RIDING GEAR FOR SPORT RIDERS
Dedicated to riders who seek comfort and safety when riding, our Horse Pilot brand uses the latest technology to design a comprehensive range of technical clothing. Enjoy your equipment longer by investing in quality.
IN HORSE PILOT, IN TRAINING AS WELL AS IN THE STABLE!
Men, women and teenagers, dress for the season. Enjoy the summer sun in a riding polo shirt, or wear a t-shirt under your riding sweatshirt. Avoid draughts and chills with our versatile and breathable jackets, to be worn in all seasons. Protect yourself from the rain with our waterproof jackets. Is it cold? Wrap yourself in a jacket or down jacket with a hood. Cover your head with a cap and your ears with a bonnet. Wear your Teknit Boot, a high-performance and versatile riding boot, both in training and in competition. And protect yourself! Our complete riding airbag waistcoat is there to ensure your optimum safety.
HORSE PILOT SHOW EQUIPMENT
Style up your show style with our show riding clothing. Pair your stylish show jacket with your white or beige designer trousers. Enhance your look with matching gloves or a chic belt. For men, don't forget to adjust your tie on your show shirt. Go even further: personalise your customisable show jacket to your liking to get an original and unique riding jacket for women or men. Don't forget to adorn your horse with its best finery. Our breathable technical saddle pad in mesh distributes pressure points on his back. And our horse bonnets keep his ears free of bugs and surrounding noise, so he can focus his performance on the course.