Men's horse riding collection
Selection of men's equestrian clothing - Show Jacket & pants…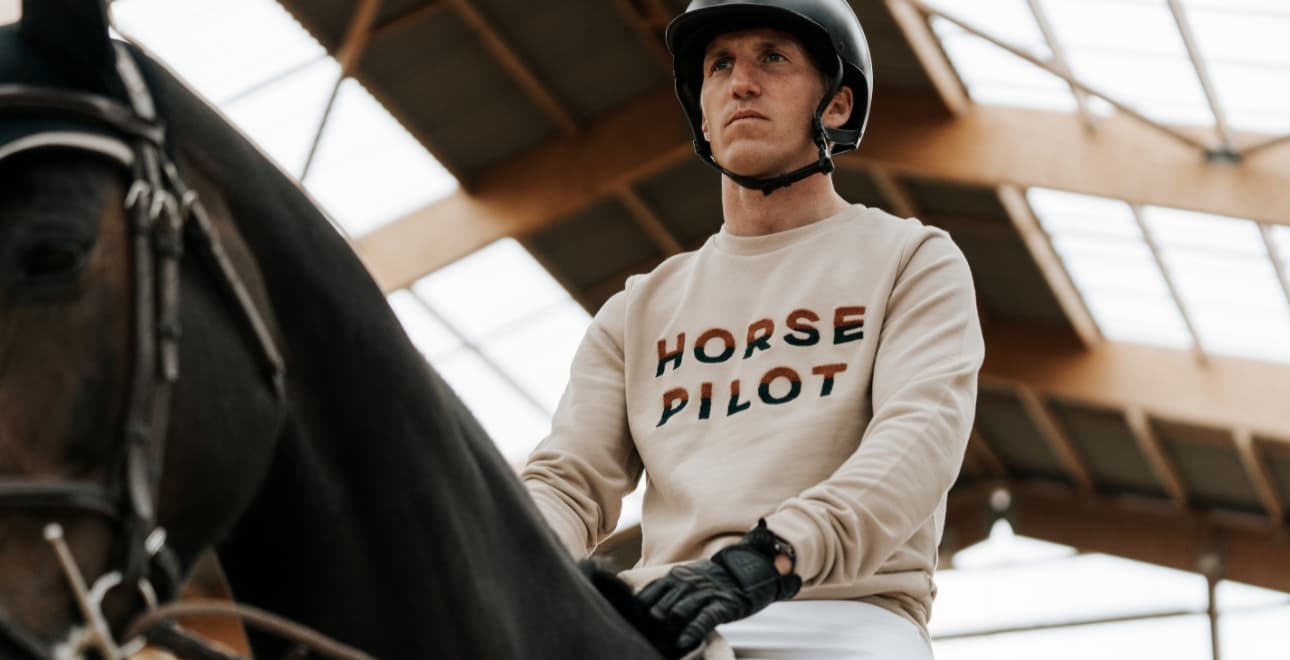 Men's riding apparel for horseback riding
Whether you are a recreational or competitive rider, your riding equipment helps keep you safe. The cuts and materials used for equestrian apparel preserve your mobility as a rider and reduce chafing and burning.
Why wear men's riding apparel?
Would you do motocross in a diving suit? Or go skiing in a judo kimono? Unless you want to win a bet, each sport has its own outfit. The same is true for horseback riding. Any self-respecting rider should wear clothing that is suitable for riding. Whether you practice leisure or sport riding, all your riding equipment contributes to your safety. The cuts and materials adapted to equestrian sports preserve your mobility as a rider and reduce friction and burns.
Choosing good riding apparel for men limits the risk of accidents and injuries. This functional clothing also protects you from the weather, including sun, wind, cold and rain. Not to mention that they wick away perspiration to keep you healthy and comfortable.
How should I dress for horseback riding?
Your riding outfit changes with your practice (frequency and discipline) and level. An experienced rider who competes in international jumping does not have the same needs as a beginner who is just starting out at a riding school.
Which men's riding clothes should you choose when you are just starting out?
At first, a pair of men's riding trousers, riding boots (or ankle boots or riding boots with mini-chaps) and your riding helmet are all you need. These are the essentials. A protective airbag vest is not required, but it does provide better safety. You will soon want to purchase riding socks. They are the perfect size and have seams adapted to riding boots and trousers.
Your riding gear changes with Your needs
As you continue your riding journey, you can keep adding garments for all situations. Lightweight men's trousers for summer. You can choose silicone grips or knee braces to improve your position in the saddle. A waist that is high in the back and low in the front makes you look good and feel comfortable as you do your riding exercises. You can wear fleece-lined trousers in winter or overtrousers to protect you from the cold and rain. A pair of white competition trousers for men goes perfectly with your show riding jacket. You may be interested in the performance of riding tops such as sweatshirts, t-shirts and men's riding polo. Here again, cuts and materials provide comfort, breathability and aesthetics.
Riding clothes for all weather
Riding is usually an outdoor sport. A polo in summer, a warm riding jacket in winter, a waterproof jacket or a down jacket or vest completes your outfit. Riding clothes are designed to equip you efficiently while keeping you comfortable and avoiding scaring your horse. You can also wear riding gloves, which keep you in contact with the reins and prevent them from slipping. For summer, they are made of lightweight fabrics such as silk or leather. Warmer styles, such as fleece-lined gloves, are available to keep your hands warm in winter.
Horse Pilot men's riding apparel
Because elegance isn't just for women with women's riding apparel, Horse Pilot also takes care to showcase men. We equip athletic riders like you from head to toe to ensure comfort and performance.
A quality brand for men's riding apparel
Whatever your riding level, we equip you effectively. We have all you need for your work the stables, on a lead in the paddock and at high-level competitions. Gallop and win awards with durable and innovative clothing that is comfortable and stylish.
A Collection of men's riding apparel for passionate riders
We offer a wide range of fabrics designed to complement your equipment and other riding gear. Our modern clothing follows the latest trends through technological innovations and our expertise in equestrian sports.
Performance clothing for equestrian athletes
The carefully selected fabrics structure each element of your outfit to perfection. Organic cotton and polyester provide comfort, combined with spandex or elastane for elasticity or mesh for breathability. The warm, water-repellent softshell, fleece or down feathers protect you from the rain and cold. Even your airbag vest is designed to give you the best possible protection, while looking and feeling good, including under your compatible, slim-fitting show jacket for show jumping or eventing.
A perfect combination of elegance and comfort
Our zippered tops, trousers and men's riding jackets follow your movements, as if tailored to your body. The relaxed cuts are close-fitting or form-fitting without constricting movement. These garments are designed for comfort in your riding posture and make you look good in all situations. Is your garment hooded? The hood stays in place during jumping and follows your head movements. The colours are sober, yet elegant in shades of blue, green, red, beige, etc.
How to choose men's riding clothes
There are three kinds of riding clothes: leisure, training and competition. Riders prefer functional clothing that promotes their performance and safety on horseback and on foot. Check our sizing guides before buying for optimal performance.
Men's riding clothes for every season
Move freely, both in the stable and on your horse, whatever the weather. Riding tops and coats offer ideal freedom of movement, with a snug, elastic fit, making it easier for you to sit in the saddle. You'll stay warm in your high-collar men's sleeveless down jacket. It can be worn alone or as a lining for a waterproof coat. Your fleece-lined riding breeches keep the cold out without losing contact with your saddle. Protect yourself from the rain in your waterproof parka or windproof jacket... They wick away sweat, even when you're working hard. You can find sizes for children's riding clothes and women's riding apparel.
Equestrian clothing for every equestrian discipline
The requirements for functional clothing may vary depending on your activity. There are different needs for riding, jumping, dressage and eventing. Top brands such as Horse Pilot make life easier with riding clothes that are suitable for all equestrian disciplines, so there is no need to have a pair of riding trousers or a riding jacket for each activity. Your Horse Pilot riding boots will follow you wherever you go. You can choose a unique competition jacket or a blazer custom made just for you...
How Do I care for men's riding clothes?
Cleaning your men's riding clothes is very simple. Follow the guide: your textiles do not need to be washed every time you use them. Shake or lightly brush your riding coat or show jacket to remove dust. Use a textile deodorizer if necessary. Your technical clothing is machine washable. If you come home with wet clothes, dry them properly so that odours do not set in. Before putting them in the washing machine, turn them inside out, close the velcro and zippers and empty the pockets. Program your washing machine to 30°C and 600 rpm, then select a synthetic programme. Caution: wash your feather down jacket on the delicate or down programme. If in doubt, consult the label. Once your laundry is finished, hang the articles to dry. High-performance technical clothing air dries quickly.