Riding pants for warm weather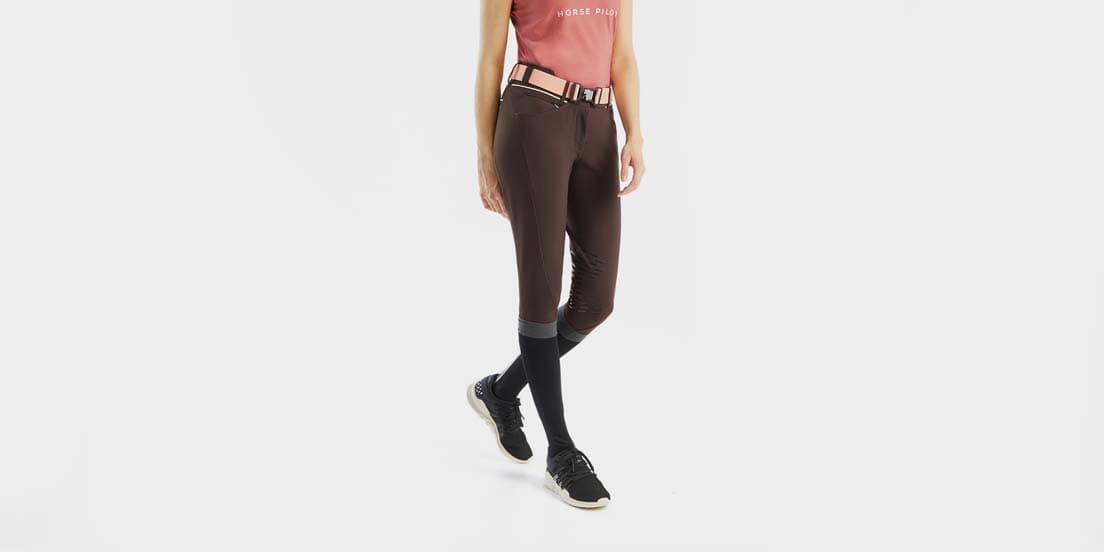 Riding pants are an essential item of clothing for riders, and must adapt to all disciplines. They can also be worn as dressage pants. It is important to be comfortable in them, and that they are suited to the weather conditions, in summer as much as winter with winter riding breeches. As such, we have decided to opt for sizes that adapt to you. In warm weather, you will need to select lighter and more breathable riding pants, to let you fully enjoy the pleasure of riding while withstanding the heat. With innovative UV-BLOCK technologies, our pants offer good UV shielding, providing a high level of protection against the harmful effects of ultraviolet rays. At Horse Pilot, we offer a wide selection of riding breeches, made from comfortable materials, suitable for all skin types. Fine fabrics reinforced with grips to maintain adherence to the saddle and always keep you on top of your technique. To look after your equipment, make sure to choose sportswear made from elastane and polyamide, which are more durable. And, with the quality of the materials selected by Horse Pilot, your riding pants will be hard-wearing over time while being very light to wear.
Women's summer riding pants
At Horse Pilot, we have developed a range of riding breeches for women. We can offer you comfortable and stylish summer riding pants. The colors on offer range from black to white, including royal blue, to let you look stylish in any conditions. As for our riding pants with their stretchy and comfortable materials, they adapt to all body shapes and become effortless, like a second skin. While riding or in competition, our summer riding pants allow you to keep complete freedom of movement and enjoy the moments you share with your horse.
Men's summer riding pants
For you, gentlemen, Horse Pilot offers breeches for men suitable for warm weather. We have made sure to choose breathable and fresh-feeling fabrics, in order to optimize your comfort and give you a feeling of freshness even in very hot conditions. Our riding breeches are equipped with silicone grips to maintain contact with, and adherence to, the saddle. You therefore need only concentrate on your riding technique, without having to worry about the heat. Our clothing has been designed to feel like a second skin. Whatever your discipline or your standard of riding, you will be able to enjoy your sport to the fullest!
Children's summer riding pants
For children, Horse Pilot has developed a range of hard-wearing and comfortable summer riding pants. In fact, we have selected products made from breathable and easily washable fabrics, letting your little rider fully enjoy their favorite sport. The children's riding breeches are reinforced at the knees and at the seat of the pants by grips, which ensure their durability and extend the life of the riding pants.
Choosing the right riding pants for hot weather
To select your riding pants for warm conditions, you first need to choose them according to your discipline. Riding pants for outdoor expeditions should be lightweight and branch-resistant. At Horse Pilot, we have selected riding pants made from breathable fabrics, reinforced with grips to allow you to fully enjoy your horse riding. If you practice indoor disciplines or competitions, we have a range of stylish and elegant summer riding pants. Our riding pants are suitable for both expert and novice riders, and offer good value for money.
Breathable summer riding pants
At Horse Pilot, we have selected a wide range of summer riding pants that you will love wearing in hot conditions. Depending on your preferences, you can choose patches for reinforcement at the knees or a silicone grip on the seat of the pants, which helps with grip in the saddle. Our summer riding breeches are made from lightweight materials that both limit and wick away perspiration. Whether you are more into competition or outdoor walks, you are sure to find the outfit that best suits you in our range. And on the color side of things, you will have a choice running from white to royal blue through beige. If you would like something more imaginative, we also have summer riding breeches with printed patterns to brighten up your outings, or to match your horse and/or pony's appearance.
Summer riding pants at the best price
We at Horse Pilot have selected for you a wide range of summer riding pants at the best prices, to satisfy all riders. Whether you are a beginner or an expert, more interested in competition or leisure riding, you will find the riding breeches to suit you! For beginner riders, we recommend riding pants with a silicone grip at the bottom of the seat, to provide a good grip in the saddle. For more experienced riders, according to your custom and preferences, you can choose knee-patch pants utilizing lighter fabrics to help wick away sweat. The most important thing is to feel perfectly comfortable in your outfit, so you can properly enjoy your horse riding. In our range of summer riding pants you are certain to find the ideal riding breeches for you. Picking high-waisted pants which can mold to your body shape is vital. To let you put them on easily, the zipped fly of these pants is perfect.
Comfortable summer riding pants
If you are looking for summer riding pants that give you comfort and freedom of movement, as well as good value for money, you will find what you are looking for at Horse Pilot. In fact, we have selected a range of riding pants in light and durable fabrics, with styles suitable for all types of body shape. And, to ensure you keep on enjoying your riding, silicone patches are a perfect choice: they ensure excellent comfort and good adhesion to the saddle. This lets you concentrate on your technique and the enjoyment of riding. At the end of your session, keeping the lower leg in place with an elasticated band is perfect to allow you to remove your riding boots easily.
Summer pants for all standards
Riding pants are a basic item of clothing for horse riders, so they need to be suitable for a variety of equestrian disciplines. This means they need to be pleasant and comfortable to wear, like a second skin. Featuring patches made from grippy materials, our riding breeches let you stay in contact with the saddle. Practical for riders of every level from beginner to advanced, they allow you to focus on your technique and fully appreciate your passion. In hot conditions, the mesh fabric areas help to wick away sweat. Our range of riding pants in lightweight, form-fitting fabrics give you perfect freedom of movement.
Summer riding clothing
To complete your outfit, we have designed a range of clothing for the summer. Our bi-material polo shirts have a dual-fabric construction, an ultra-lightweight mess, and an anti-UV, antibacterial mesh. They are made to guard against the sun and its UV rays. There are also riding tights with phone pocket, very useful in summer when you don't have a jacket to put on your phone.