Winter riding breeches: for comfortable riding in cold weather!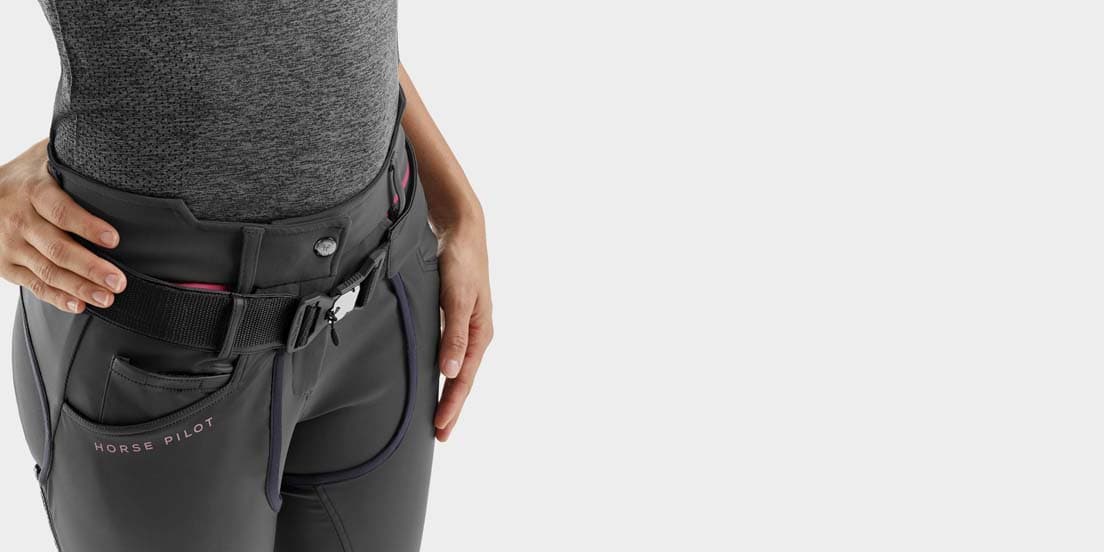 Wearing winter riding breeches is the perfect way to stay warm and comfortable all winter long in cold, wet weather. When the temperature starts to fall, it can become difficult for riders to stay comfortable all day during outdoor practice on horseback. But winter and water-repellent riding breeches solve these constraints easily and elegantly.
Designed for equestrians, winter riding breeches are perfect for riders who prefer freedom of movement while keeping warm in cold weather and being protected from the rain. Easy to put on and comfortable, they are perfect for riding in winter. They are made from technical fabrics that regulate body temperature by wicking away moisture and maintaining air circulation around the skin.
Winter riding pants, protection against the cold and rain
Order Horse Pilot winter breeches and bring warm, waterproof clothing to the stables to protect your body from the challenges of winter. They are therefore not summer riding pants. The main advantage of a pair of winter breeches is that they insulate the legs from cold and moisture. This type of riding pant has an insulating layer of brushed fleece that feels soft and pleasant against the skin.
One of the biggest challenges of riding in winter is staying warm and dry. The superposition of layers of clothing prevents the body's moisture from escaping. Thanks to the Sensitive Fit® material, excellent air circulation around the leg is maintained, thus allowing for sustained effort without discomfort.
These riding pants are water-repellent, which prevents the rain from infiltrating and penetrating the fabric. They resist humidity and light rain, allowing water drops to slide off thanks to their technical, water-repellent outer membrane.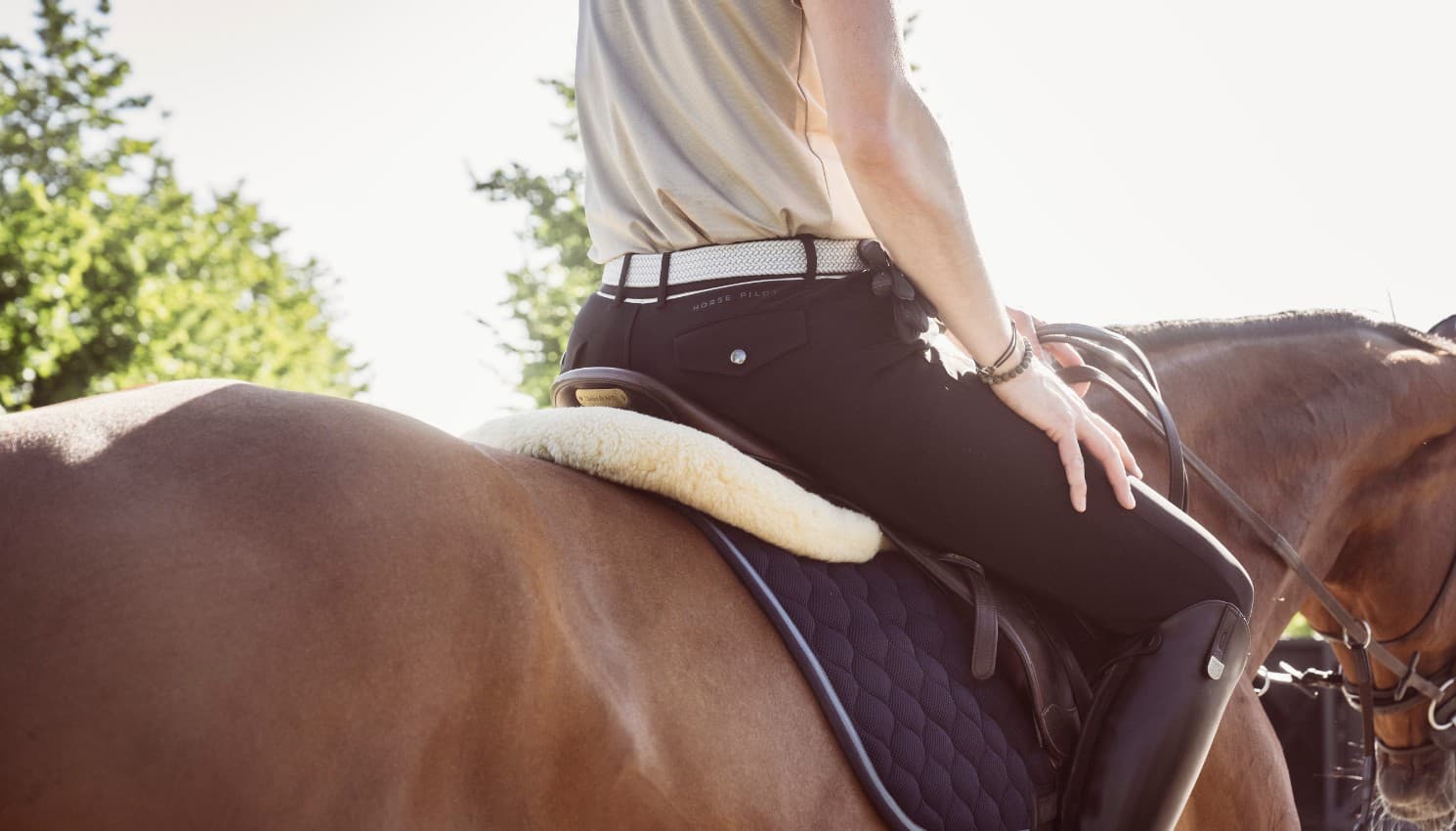 Winter riding pants, clothing designed for sport
The preformed cut of the breeches adapts completely to the posture of the equestrian. They are ideal even for dressage. These breeches are not a worthless accessory as the pre-shaped legs are an additional incentive to maintain an impeccable position in the saddle. Not only are riders not numbed by cold, but the calf is also in slight compression to provide additional support to the muscles by promoting better recovery. This design also makes it very easy to put on riding boots and prevents the fabric from riding up even during sports practice.
The crotch is seam-free, thus ensuring that you do not suffer those unpleasant frictions that can ruin an important recovery or a magnificent ride. These waterproof riding pants and breathable pants allow you to ride without fear for your skin integrity.
We took the time to compare the sizes to adapt to all body types with these winter riding breeches. An extra feature of these breeches is that they are designed with a high waisted breeches in the back and a low waist in the front. By choosing breeches for women or breeches for men we gain in comfort. The cut provides additional comfort for both male and female riders, avoiding the impact of cold on the back without compressing the lower abdomen and preserving all the respiratory capacity and abdominal muscles.
When purchasing winter riding breeches, it is advisable to check that you are ordering the correct size, taking your measurements if necessary. The garment must be adjusted without compressing excessively. Movement should not be restricted, and muscles should be supported without exerting uncomfortable constraints.
Winter riding breeches with removable bib
It is now possible to add a removable bib. It is fastened by zipping and benefits from the same technical features as the winter riding breeches. A bib can be an excellent option for outdoor outings in cold and wet weather as it allows you to benefit from almost complete protection of the body, so it is warm and waterproof. The trunk is well sheltered from the rain, and the thermal protection is also reinforced. These breeches combined with a top become real riding overalls for cold weather so that the rider can stay in the saddle longer with maximum comfort.
Winter riding breeches are made to last.
In addition to its breathable character, Sensitive Fit® material is Oeko-tex® certified, meaning that all manufacturing processes are scrutinized to guarantee the consumer's total health safety. The integral fabric does not contain any harmful material. However, it is also an anti-UV and abrasion-resistant technical membrane.
Riding generates a great deal of friction on the saddle but also along the inside of the leg. The fibers of these winter riding breeches will not be damaged on the seat or the patches by frequent horse rides. The rider will also be protected from skin damage by friction because the crotch is seamless, an inconvenience that the lack of protection against the rain could further increase.
The waterproof or water-repellent nature of the fabric requires some precautions to be taken when caring for the garment, but it will continue to function perfectly if they are respected.
The anti-UV will limit discoloration due to prolonged or intense sun exposure and protect the skin by reflecting the sun's harmful rays. And as with all the technical clothing in our collection, it is quite possible to change a zipper or a press stud. After a few years of use, you can also have them re-waterproofed in the workshop or with the product available for purchase on our website.
Like all our products, these winter riding breeches are guaranteed for two years under conditions of sporting use in winter and summer - a guarantee of the confidence we place in the garments we offer.
How to wash winter riding breeches?
Take time to visit our site and discover the new Horse Pilot collection and how to wash your winter breeches.
We do not recommend washing them every time they have been worn, but only when necessary. It is advisable to deodorize them instead as required and air them well between uses.
It is essential to read the washing instructions on the label before washing winter riding tights. They can be laundered in the washing machine at a temperature of 30°C maximum or even in cooler water. It is important to sort laundry by color before washing to avoid accidents of discoloration of the colored backgrounds. Similarly, it is wise to opt for a medium spin to avoid breaking the fibers.
Tumble drying and ironing are not recommended because the technical material would lose its breathable and water-repellent properties. It is best to let the riding pants air dry in a well-ventilated area. If mechanical drying is essential, it must be programmed at a very low temperature so as not to damage the fabric.