Horse Pilot Men's Riding Sleeveless Down Jackets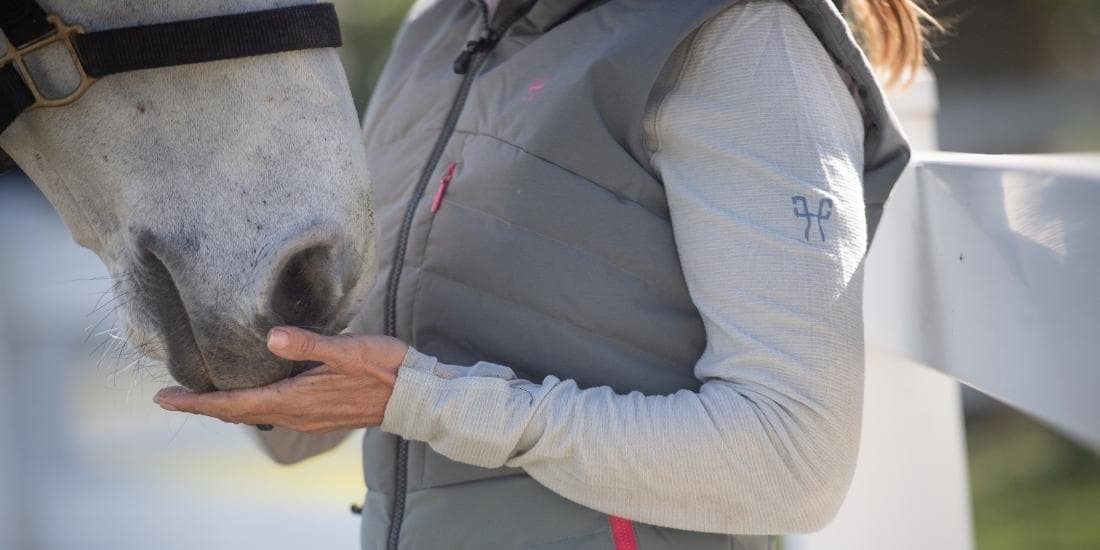 The sleeveless down jacket is a must-have piece for every rider. Horse Pilot takes care to keep horsemen warm in style. No need to cut your time in the saddle or at the barn short because of the cold. Train in the warmth without breaking a sweat with a jacket tailored to your riding style.
Our men's riding sleeveless down jackets
Find the perfect lightweight sleeveless down jacket that suits your taste as a man and your needs as a rider. Unless you choose more than one to vary the pleasures.
A premium men's riding sleeveless down jacket brand
Horse Pilot outfits riders who like to practice their equestrian sport freely, in style, in any weather. Including when it's cold. You feel so good in your padded sleeveless jacket that it never leaves your side. At the equestrian center, on a ride, and even in town, it accompanies you everywhere.
The Horse Pilot men's collection of sleeveless riding down jackets
Warm up your style with a zippered Horse Pilot sleeveless quilted jacket. To keep the weather cool, our range has a variety of styles for every man to choose from. From the equestrian sleeveless padded jacket with or without a standard hood to the heated down jacket with battery, discover our sleeveless quilted vests.
Masculine colors for your Horse Pilot sleeveless riding down jacket
Is your riding pant black? Any color is allowed to enhance it. Highlight your eyes in navy blue over your brown riding pants. Your timeless beige down jacket goes with sky blue and gray. Your quilted equestrian padded jacket in a deep green matches your brown, dark blue or beige riding pants. Play with contrasts in Horse Pilot riding gear.
Why buy a sleeveless down jacket for horseback riding
Sleeveless technical down jackets for riders
Horse Pilot is known for bringing innovation to sport riders like you. Every sport has its constraints, including equestrian sports. Therefore, riding clothes must meet requirements that we know, to ride with pleasure.
Comfortable sleeveless down jackets
Pass obstacles without restraint with your men's sleeveless quilted jacket. Your freedom of movement is preserved with armhole-free arms. But also thanks to their ergonomic, pre-shaped cuts designed to fit the rider's posture in any situation. Your breathable down jacket is ideal to keep you warm without making you sweat. A zipper closure closes your short down jacket all the way to the top to close it to the height you want.
Performing sleeveless down jackets for men
The thinking goes even further to ensure you get the best riding gear possible. Materials are selected for their quality and placed purposefully on your bust. Each model combines quilted, stretch fabric and other panels for a winning combo. So you get a sleeveless down jacket that is insulating, warm, comfortable and light at the same time.
Designer sleeveless riding down jackets for riding
Because a rider, such as yourself, cares about style, we took care of the design of your sleeveless riding down jacket. This one follows your movements on horseback with its perfectly tailored fit. The strong seams ensure that the padding is properly maintained with the added aesthetic touch.
According to your preferences, opt for a quilted vest model with a high collar without a hood or a hooded down jacket. For the latter, two solutions: the fixed hood or a removable one that is discreetly stored. In all cases, it is useful without hindering you. In order to give a little warmth to your hands or to store your small necessities, take advantage of well-placed zippered pockets.
The padded shape protects essential chest and back areas to keep you healthy. The straight bottom or longer in the back than in the front, covers your loins without bothering you once you're in the saddle. So you take care of your style without risking your health.
How to choose your sleeveless riding down jacket
The most important selection criteria is the type of insulation. The weight and warmth of your men's down jacket will vary depending on whether it is stuffed with natural duck or goose down or synthetic insulation. Horse Pilot has researched many options. The result? Down jackets padded entirely with synthetic material or with a mix of synthetic and quality duck feathers. The objective is the same each time: to ensure a perfect insulation with the thinnest and lightest thickness possible. Just as for men, there are women's equestrian padded jacket.
A men's sleeveless down jacket suitable for the season
The sleeveless riding down jacket cuts through your mid-season sartorial hesitations. When the fall weather turns cool, a riding jacket is too warm. Your sleeveless jacket then leaves your men's dressing room to clothe your shoulders.
Lightweight, it slips discreetly under your parka or riding coat to provide an extra layer of warmth in winter. Conveniently, your compatible down jacket attaches to your Horse Pilot jacket with its snaps.
For additional warmth that can be adjusted as needed, opt for the heated down jacket. With the E-Kelvin down jacket, you adjust the thermal dosage that suits you with the touch of a button.
Men's size guide for sleeveless down jackets
Every technical garment has a size guide. In order to choose your size correctly, straighten up and measure your chest circumference where you are widest. No need to bulge your chest though, or clutch the tape measure.
Are you already one of our Pilots? The size of your sleeveless vest is the same as your other Horse Pilot riding tops (t-shirt, sweatshirt, jacket...).
Do you have a doubt? Our matching chart helps you figure it out. When you put on your down jacket, you should be comfortable, even with the zipper up. You don't want to swim in it though, to keep the wind out.
How to care for a sleeveless riding down jacket.
Preserve the thermal qualities of your sleeveless quilted jacket. Simple to care for, it still requires some precautions. Rest assured, it's no hassle. First, you don't have to wash it every day. Removing dust by shaking it or a splash with a damp cloth is usually enough.
Next, close the zippers and snaps on your down jacket after making sure the pockets are empty. Turn it inside out and put it in the washing machine. Caution! If you have a heated down jacket, remove the battery.
Then program your machine to short, delicate or down cycle for a down comforter. The temperature should not exceed 30 °C. You can add two or three tennis balls in the drum to better aerate the quilt. Once clean, let your technical down jacket dry on a wide hanger or flat. If it contains feathers, shake your jacket from time to time to distribute them well. Need more tips? Find our care guides to help.
Men's equestrian sleeveless padded jacket