Horse Pilot white riding polo shirts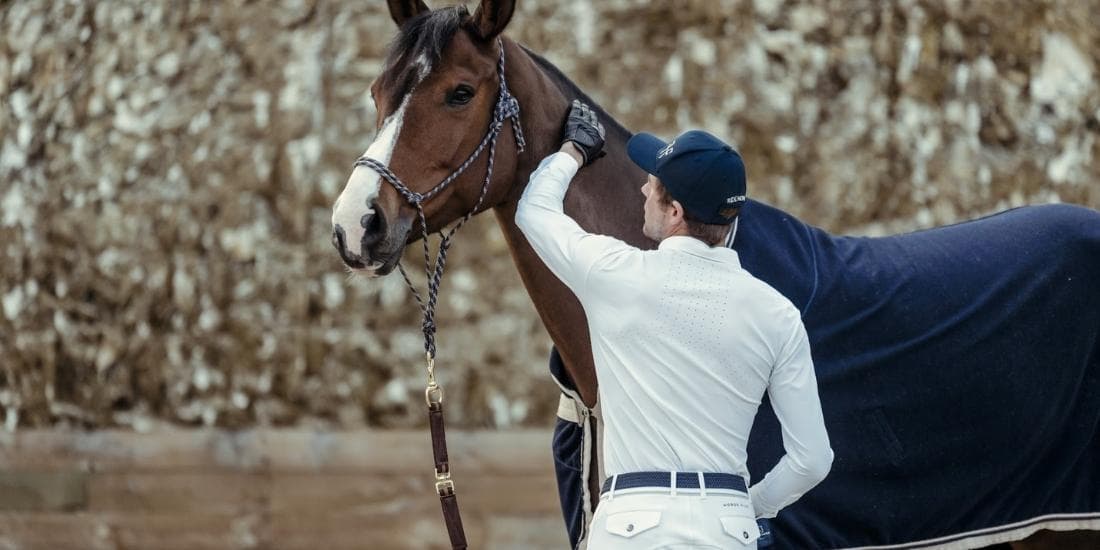 For all riders, wearing a polo shirt is essential for riding. Known for its many technical innovations in the equestrian world, the Horse Pilot brand has developed a collection of white riding polo shirts dedicated to male and female riders.
Our white riding polo shirts for women, men and children
The white horse riding tops from Horse Pilot are perfect for riding. They are suitable for both leisure riding and competition, where riders must meet dress code standards. These polo shirts are declined for men with men's equestrian polo shirts, women with women's equestrian polo shirts but also children.
Discover our premium white riding polo brand
Horse Pilot riding polo shirts are of high quality. Indeed, they are both aesthetic, comfortable and resistant. Their technical qualities make them indispensable. The brand has designed many models very different from each other so that everyone finds his happiness: various cuts, aesthetic details, pleasant materials, etc. These different models are adapted to different equestrian disciplines such as dressage, show jumping or riding. They will accompany riders during their training sessions as well as during competitions.
The Horse Pilot collection of white riding polos
In competition, some disciplines are governed by a very precise dress code. This is particularly the case for dressage or show jumping, where riders are asked to wear (among other things) a black jacket over a white polo. That's why Horse Pilot has declined its riding polo shirts in a very classic white color. Thus, this collection is totally adapted to the riders for training or competition. There are also red equestrian polo shirt and royal blue equestrian polo shirt.
The different types of white riding polos
Because all riders are different, Horse Pilot has developed a collection of white polo shirts consisting of a wide variety of models. This way, everyone can find the ideal model, whether they prefer short or long sleeves, collars with a closure or zipper, or a piqué weave or jersey. All of these parameters depend on individual taste.
Short sleeve or long sleeve polo shirts
Polos should be appropriate for the weather and the season. For example, a white polo shirt with short sleeves will be perfect for summer or to wear under a thin jacket. On the other hand, a white polo with long sleeves will be suitable for cooler temperatures, at the end of the day for example, or as a first layer under a thicker jacket for mid-season and/or winter. They are therefore suitable for all situations and can be worn at any time, to look stylish in summer and winter.
Button or zip-up polo shirts
The advantage of a riding polo is that the collar can be opened. This is ideal during hot weather, but it is also a stylish detail. The collar closure of riding polo shirts is different depending on the model. Some pieces have a collar with a traditional button closure, while others feature a zipper. The two choices diverge based on aesthetic and practical criteria.
The quality of the material and weave
On horseback as well as in the stable, you need to wear clothes with comfortable materials. Horse Pilot thus offers models in jersey or pique knit. The former, very light and soft, is supple and perfectly suited to warm seasons. The latter, on the other hand, is stretchy and easy to care for. Choices vary depending on riders' tastes, and the brand has made it a point to cater to them all.
Technical white riding polos for riding
The Horse Pilot brand's riding polo shirts meet the technical needs of both male and female riders. They are both comfortable and high performing, to help riders reach the top level without worrying about heat, their freedom of movement or the strength of their clothing.
Comfortable white riding polo shirts
A white riding polo shirt must possess certain qualities to be suitable for riding. Horse Pilot brand polo shirts totally meet the comfort requirements of this sport. Light and breathable, they allow riders to be helped even during hot weather. In addition, the thin, seamless stretch material acts as a second skin, to allow riders to maintain full freedom of movement.
Performing white riding polo shirts
Horse Pilot's white riding polo shirts are high performing thanks to their technical qualities. They provide riders with significant freedom of movement, while guaranteeing great resistance. They offer great breathability, wicking away moisture, or on the contrary a conservation of body heat for cold periods: they are therefore perfectly adapted to all seasons.
White riding polo shirts design for riding
Horse Pilot white riding polo shirts are aesthetically pleasing: their design is unique and the variety of models makes them adaptable to all circumstances. For example, some pieces have pockets or not, cuts are varied, and they are form-fitting, soft and flowing to act as a second skin.
How to choose your white riding polo shirt
The choice of a white riding polo should depend on several important criteria, including the rider's size and body type, aesthetic tastes, budget, and use.
Matching the colors of the outfit
Aesthetics are important when riding: both male and female riders want to feel good in stylish clothing. Therefore, it is important to match the colors of an outfit. For example, the ideal color combination is to wear a white polo shirt with darker pants. The color of the latter can be declined endlessly: navy blue, black, green, etc.. But a white riding polo shirt will also go perfectly with a more neutral and light color, such as gray or beige. Finally, especially in competition, white pants are de rigueur and perfectly complement the outfit by giving it a chic and very elegant look.
Riding polo shirt size guide
Choosing the right polo shirt size is very important. Indeed, if a garment is not adapted to the size and morphology, it can quickly become uncomfortable. For example, a polo shirt that is too large could interfere with movement and sitting in the saddle. On the other hand, a polo shirt that is too small can be uncomfortable and unattractive. To help the riders to make the right choice, Horse Pilot provides them with a size guide. This lists the measurements to take for each size, whether for men, women or children.
How to maintain a white riding polo shirt
A white riding polo shirt must be carefully maintained to keep its technical properties and preserve its lifespan. Cleaning must therefore be done with respect to the material and color. First, it is strongly advised to follow the instructions on the label of the polo. It is also preferable to turn it over to wash it, and to use a soft detergent without residue. Ideally, you should wash the polo shirt at 30°C, and dry it naturally instead of putting it in the dryer.
White equestrian polo shirts