Selection of show jumping products for women
Discover a selection of products designed for show jumping r…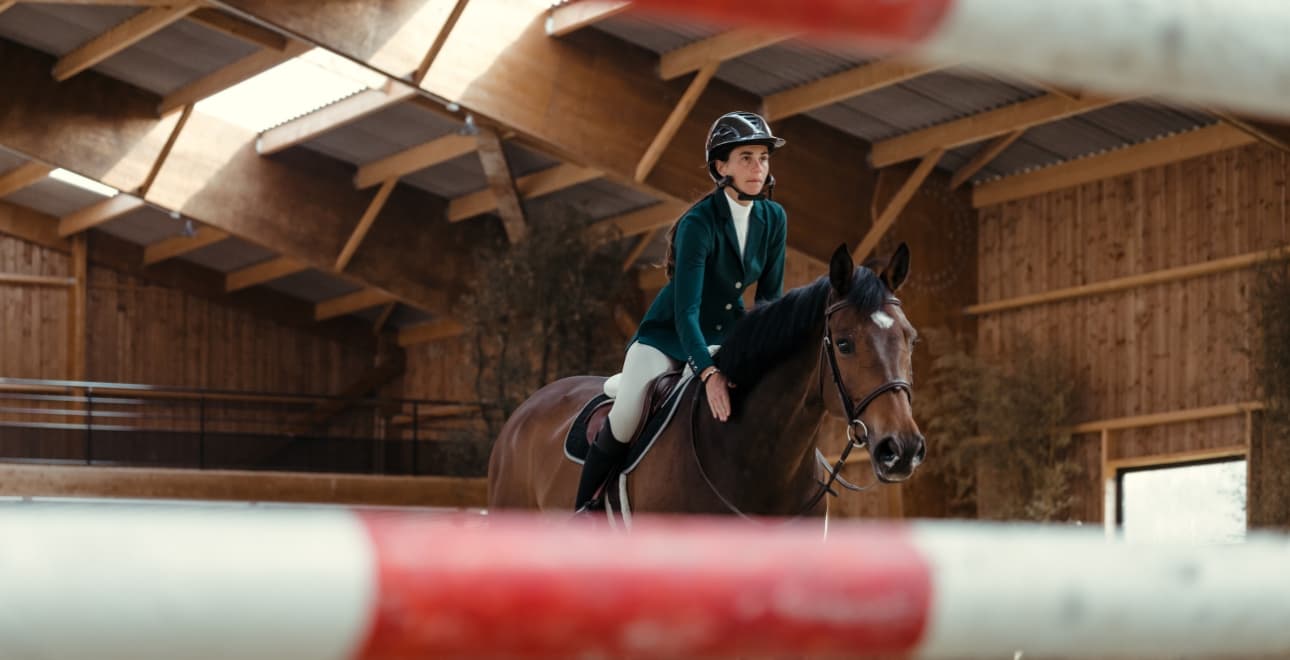 What is show jumping?
Over 80% of all equestrian competitions are show jumping events. This popular equestrian discipline requires agility and technique. Horse Pilot explains why this equestrian sport is so popular with amateurs and professionals alike.
What is show jumping - CSO?
Commonly known as CSO, show jumping is a flagship discipline in equestrianism. It showcases the skill of the rider and the power of the horse. It attracts beginners and seasoned pros alike.
a.  What is show jumping?
Show jumping is the most widely recognized Olympic equestrian sport. It consists of clearing a course of varied obstacles without fault and within a set time limit. Show jumping demonstrates the skills of the riders, as well as the agility and power of the horses or ponies.
b. The different show jumping events
From Club level to international Pro competitions, show jumping offers a variety of indoor and outdoor obstacle courses. Obstacle courses feature verticals, oxers, rivers and more in a variety of sizes. Prestigious equestrian competitions attract the best riders.
c. Show jumping rules and judging criteria
Show jumping follows strict rules laid down by the FEE and FEI (Fédération Équestre Française et Internationale). These include time limits and penalties for errors. Competitions are evaluated according to various scales, crowning the rider with the fewest penalties.
The skills needed to succeed in show jumping
Performing in show jumping is as much about adapting to the course as it is about managing your horse. This means mastering a number of essential skills.
a. Jumping technique
Riders and their horses must be able to clear complex obstacles, sometimes high and wide, while maintaining fluidity of movement. This involves selecting the right trajectory and fluid coordination between rider and horse. Not forgetting the management of strides and the use of the horse's power to clear obstacles.
b.  Rider balance and position
A stable, flexible posture and gentle contact with the horse's mouth are inseparable. They improve communication with the horse for better performance.
c. The relationship between rider and horse
Clear communication and mutual trust between rider and horse are essential. This is facilitated by knowledge of the horse's behavior and appropriate training.
How do you prepare for a show jumping competition?
Rigorous, well-planned preparation ensures that you arrive in perfect condition. This can be anticipated, but maximizes the chances of success in this demanding discipline.
Physical and mental training
Regular, technical physical training improves the strength, endurance and coordination of horse and rider. Mental preparation helps to manage stress, concentrate and maintain self-confidence. What's more, taking part in small competitions is an excellent way of anchoring good habits.
Choosing the right horse and equipment
The skills of a horse suited to show jumping combine power and agility. Many breeds stand out, such as the Selle Français for horses and the Connemara for ponies.
To ensure the performance and safety of both rider and mount, it's essential to have the right, high-quality equipment. This includes saddles, stirrups, boots, limb protection and tack.
Pre-show planning and organization
Good planning and organization before an equestrian competition reduces the mental load and maximizes the chances of success. This involves selecting a show jumping competition suited to the level of the rider-horse pair and the logistics of travel. But also warm-up and preparation time before the competition.
The benefits and challenges of show jumping
Show jumping offers an enriching experience, strengthening the relationship between rider and horse. But this equestrian discipline also has its challenges.
Benefits for rider and horse
Show jumping builds trust and strengthens the relationship between rider and horse. Show jumping teaches perseverance, determination and how to deal with failure. Each jump requires perfect coordination between rider and steed, as well as a healthy dose of adrenalin. What's more, skilled riders can earn rewards and notoriety in the equestrian world.
The challenges of show jumping
Jumping requires precise technique and perfect coordination between rider and horse. Good stress management and appropriate safety measures reduce the risk of injury to both rider and horse in the event of a fall. The financial cost of entry fees, training, horse care and equipment must also be considered.
Tips for overcoming obstacles and progressing in show jumping
Regular training with experienced instructors is the basis. The priority remains safety with high-quality equipment and beneficial stress management. Try out the riding airbag for one and deep breathing for the other, for example. Finally, drawing up a budget is an unstoppable solution for good financial management.
Famous show-jumping competitions
The greatest show jumping competitions highlight the elite of this demanding equestrian sport. They offer a captivating spectacle. They also demonstrate the complicity between rider and mount, who push the limits of equestrian agility.
National and international championships
The most prestigious show jumping championships bring together the world's best riders and horses. They are an opportunity to demonstrate an exceptional level of skill.
Olympic Games
Held every four years, the Olympic Games include equestrian show jumping events. Riders represent their country in individual and team events, in top-level international competition.
FEI World Championships
These championships are also held every four years, alternating with the Olympic Games. Riders from all over the world compete in individual and team show jumping events.
European Championships
This top-level continental competition is held every year. The best European riders compete for the title of European Champion.
Prestigious events on the professional circuit
In addition to championships, show jumping includes several world-renowned events on the professional circuit. These competitions offer substantial prize pools, attracting elite riders.
The Show Jumping World Cup (Longines FEI World Cup)
This indoor circuit is contested every year. The world's best riders compete for points towards the final, which takes place in a major international city.
The Longines Global Champions Tour
This outdoor circuit includes several prestigious stages in destinations such as Cannes, Monaco, Paris and Chantilly. It attracts the best riders and offers substantial prize money.
The Rolex Grand Slam of Show Jumping
An extraordinary challenge for riders to win three of the world's most renowned show jumping competitions in succession: Aachen, Spruce Meadows and Geneva. Success is rewarded with a considerable bonus.
Specific competitions for young riders or ponies
Young riders and ponies also have their own show jumping competitions. These events offer an opportunity for junior riders to develop their skills and raise their profile.
Tournée des As Poneys
This regional circuit is reserved for riders aged 18 and under riding ponies up to category D (maximum 1.48 meters). Talented young riders compete in show jumping events and qualify for international competitions.
Super AS Poney events
These FFE-approved events offer a high level of competition for young riders and their ponies. Super AS Poney stages are often the springboard to international competitions.
Why take part in a show jumping competition?
Taking part in a show jumping competition is an opportunity to push your limits. There's nothing like obstacle courses to develop the bond between rider and mount. Agility and performance come together in an experience open to junior beginners and pro riders alike. Facing the obstacle, composure mingles with the thrill of adrenalin. And what a joy it is to be rewarded!