White riding jodhpurs and Horse Pilot breeches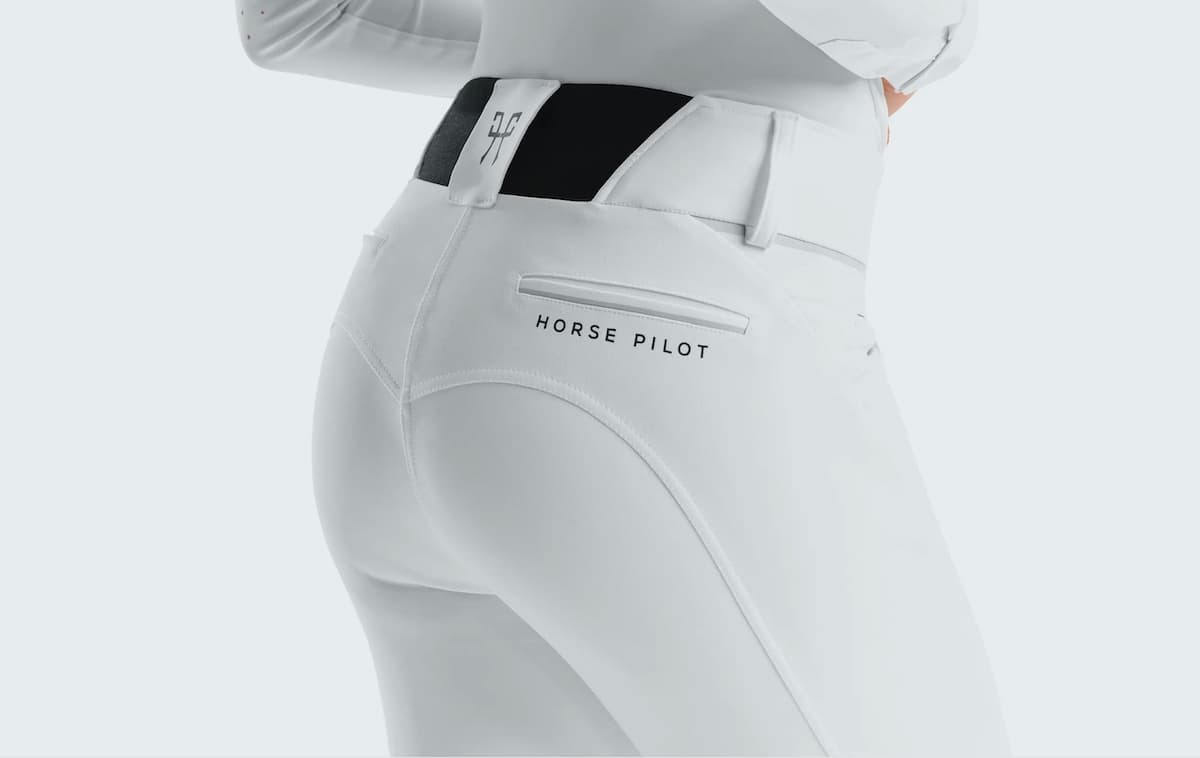 Horse Pilot's fitted white riding jodhpurs are designed to meet the needs of riders, including in competitions, with performance and elegance. Versatile, resistant and breathable, the models of riding breeches for men, breeches for women and children adjust to all body types and are suitable for horse riding. Elegant and smart, they optimize the outfit on horseback and are so comfortable that you almost forget them.
Why buy white riding breeches for horseback riding?
The brand's white riding breeches are designed to improve riders' comfort on horseback. Designed like a second skin, they offer incomparable freedom of movement. Indeed, Horse Pilot uses resistant polyamide elastane to create a stretchy, highly comfortable fabric.
White is the regulation colour for horse riding competitions
The regulations for participating in equestrian competitions depend on the disciplines exercised and the level of the rider. However, there are some similarities from one practice to another. This is the case for riding boots and shoes, which must have a secure heel. And white riding breeches are required when competing at a high level. We, therefore, avoid prints and colours that are too dark in equestrian dressage competitions. Outside of dressage competitions, beginner competitors are often allowed to wear dark, blue breeches or black breeches. The main thing is that they are clean and free of stains. On the other hand, amateur and professional events are only accessible if you wear white riding pants. In Dressage, CSO or CCE, non-compliance with the rules regarding riding attire can be sanctioned with an exclusion, which is why Horse Pilot riding pants comply with the standards in force on the competition tracks. In addition, all our models of white riding trousers are certified 100% opaque. Men can also match their ties with their competition breeches for the perfect finishing touch.
Men's, women's and children's riding jodhpurs from the Horse Pilot collection
Horse Pilot riding jodhpurs are made of materials that make them particularly resistant, comfortable and stylish. Thanks to the elastic bottom, it is easy to put on and super comfortable to wear in summer and winter. The brand's collection of white riding jodhpurs is suitable for all body types - women, men, girls or boys.
White riding trousers adapted to the seasons and the weather (waterproof for winter and sun-resistant for summer
The brand's white riding trousers are designed to be worn indoors and outdoors. Thanks to the many properties of the materials used to make them, they adapt to all seasons. Models of women's, men's and children's trousers are ideal for competitions, training and trips to the sea. More waterproof than denim fabric, the white riding breeches in the range are almost waterproof. Autumn or winter, in the rain or a damp fog, they protect riders from the cold. <br/>Stretchy and breathable, the products in the children's and adult collections are also perfectly suited to hot temperatures. Opaque, all types of Horse Pilot white riding pants protect against the sun's harsh rays. They are as pleasant to wear in spring as in summer.
Good quality white technical riding breeches for horseback riding (with grip, comfortable, seamless)
White designer riding trousers for riding (pocket, high waist)
The design of the range's white riding trousers makes them great to wear on any occasion. Both practical and aesthetic, you can use them both in training and on competition tracks. The different models of saddlebags in the range are cut according to pre-formed cuts. They are not only elegant but also very comfortable. Cut high in the back, low in the front and raised on the sides, they model the pelvis without compressing it.The Horse Pilot white riding breeches also have small pockets with hand closures. Discreetly positioned on the lower hips or the thighs, they emphasize the pure lines of the design. Take horse candy, mobile phone or keys with you, thanks to the smart closures of your Horse Pilot white riding trousers. Equipped with an auto-lock zip, the pockets stay securely closed, whatever the activity.
How to choose your white riding breeches? (level, discipline, size guide)
White jodhpurs are suitable for all levels, from beginner riders to Olympic competition participants. They are also worn in all mounted disciplines, from dressage squares to fixed or mobile obstacle courses. They are worn during class, training or hiking sessions for more distinction. And above all, we associate them with jackets and shirts of different colors. Or even gloves, saddle pads and white pawn elastics for the competition.
Made of Elastane and Polyamide, Horse Pilot riding breeches perfectly shape the leg, from the hip to the calf. Thanks to a pre-formed cut, they adjust to the movements of all body types, men, women and children. You will find low rise models and standard sizes. Whatever the cut, the pants will be easy to put on with the elastic waistband. Stretchy, the brand's white riding pants are as resistant as they are breathable. Compressive at the calves, these riding trousers are cleverly made to prevent the fabric from riding up. They are suitable for wearing with knee-length boots as well as ankle boots, chaps and high socks worn for competitions.
Horse Pilot white trousers are available in many sizes, from XS to XL. To choose your riding breeches, you just need to know your height and waist circumference in centimeters. These measurements are to be reported on a table specific to your type of male or female morphology.
How to wash white riding jodhpurs?
The Horse Pilot white riding jodhpurs are machine washable up to 30°. We recommend using a gently synthetic program with a low temperature to preserve the fabric's elastic properties. Improve the durability of your competition riding trousers by cleaning them with suitable products. Detergents made from non-aggressive organic products, such as Horse Pilot brand detergent for technical clothing.
For stubborn stains, particularly foot or leather grease, cleaning with soda crystal is possible. However, it is better not to immerse the fabric completely. And never tumble dry them! A simple sponge dab of encrusted dirt will be enough to make your white riding trousers look as good as new. Designed in a quick-drying material, all you have to do to dry your trousers is to air-dry them on a hanger. For more information, refer to the instructions accompanying your riding breeches. You can also find all the maintenance advice for Horse Pilot products on the brand's website.