THE HORSE PILOT GUIDE TO RIDING COAT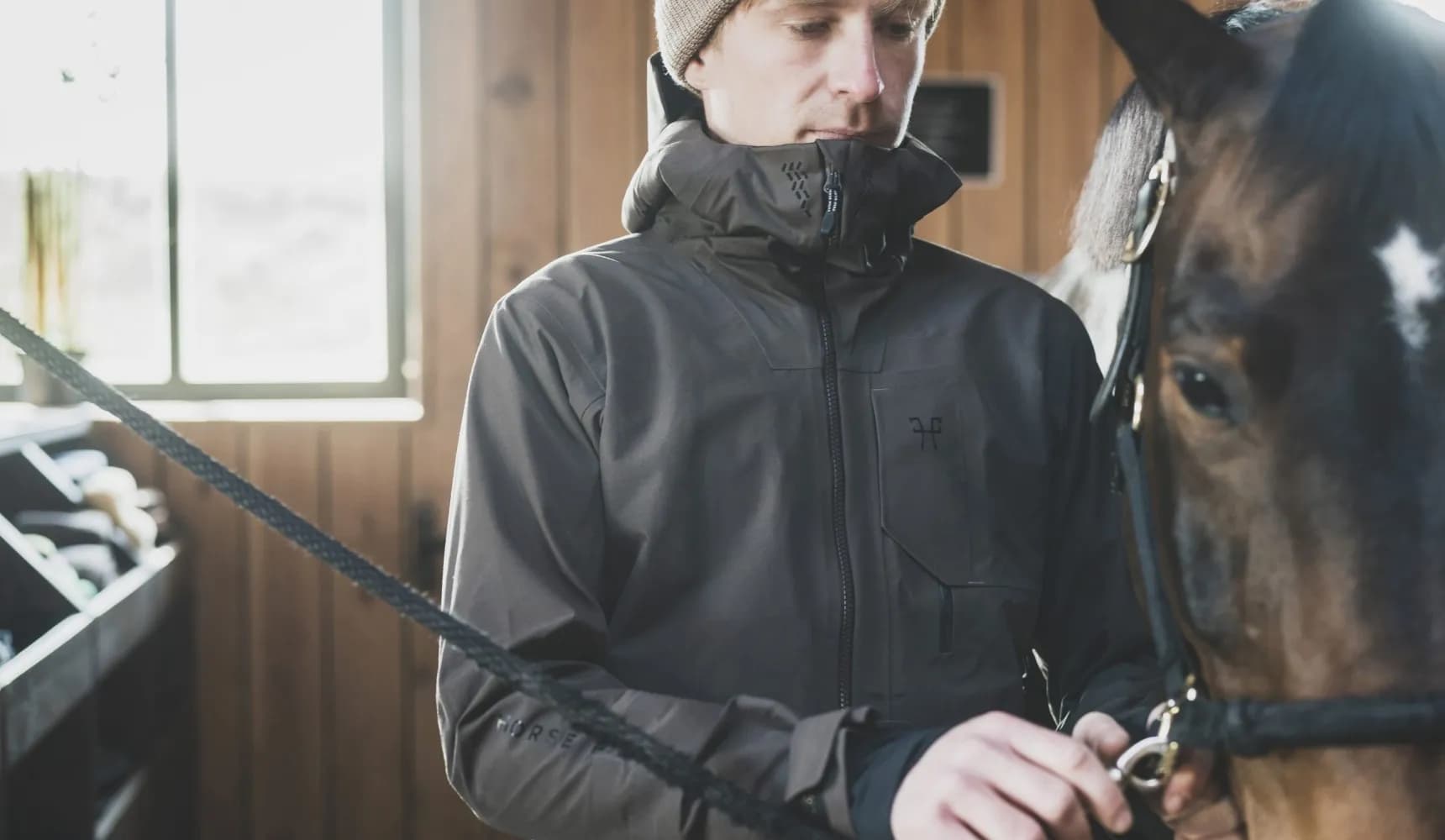 RIDING REQUIRES CONSISTENCY, REGULARITY & PRECISION
If it is the same for many sports, ours requires to be practiced totally or partially outdoors, in sometimes extreme conditions. Wind, cold, humidity or even deluge, winter does not do any favors; neither to the riders, nor to the horses.
Since its creation, Horse Pilot has promised to guarantee riders the best possible conditions for practice, whatever the season. To that end, we've surrounded ourselves with textile engineers, hard-core athletes, and determined product developers.
The result is the line of winter jackets and blousons we're offering today. Before you jump into buying a winter jacket for riding, here are some essential explanations about our products.
FACE THE WEATHER WITH HORSE PILOT RIDING JACKETS
Riding in winter has its share of sensations that we, riders and athletes, would like to do without. Getting out of the car and feeling a cold gust of wind blowing in your face, feeling the wind in your sleeves... To be active around horses, to suffer a first sweat after a good grooming, to take off a layer, to try to forget the feeling of your sweat which has turned into a cooling film while you were chatting with the neighbor in the stall, to cover yourself, to get on the horse, to sweat again and not to be comfortable in your riding jacket... Does this experience speak to you?
Horse Pilot offers a complete range of riding jackets and coats for the windy mid-season or for the harshest winters. In terms of ergonomics, each of our pieces are preformed and have self-locking zippers. Pockets are zippered or have magnetic closures. The "last layer" jackets have inside pockets to carry your phone safely.
THE THREE-LAYER PRINCIPLE
To perform well, winter clothing for 3.0 riders must meet simple objectives: keep dry and maintain a comfortable temperature.
And this, at all times of the day of a rider. Adapting a garment to all this is a challenge we want to take up. It must be warm and waterproof, but also allow the body to regulate itself. If it is not possible to stop sweating; avoiding the "Sauna" effect is essential; the dangers come as much from the outside (the weather) as from the inside (your body temperature!). The principle of three layers is a formidable weapon of effectiveness to overcome these constraints.
As a team with the air between them, each has its own distinct role:
The first layer provides breathability. It keeps you dry by absorbing perspiration and then wicking it away to the upper layers.

The second layer provides warmth. It retains the body heat that we release during the effort while evacuating the moisture produced by the rider.

The third layer provides protection and insulation. It protects from rain, even fine, wind, snow, but allows moisture from inside to escape.
THIRD LAYER: PROTECTION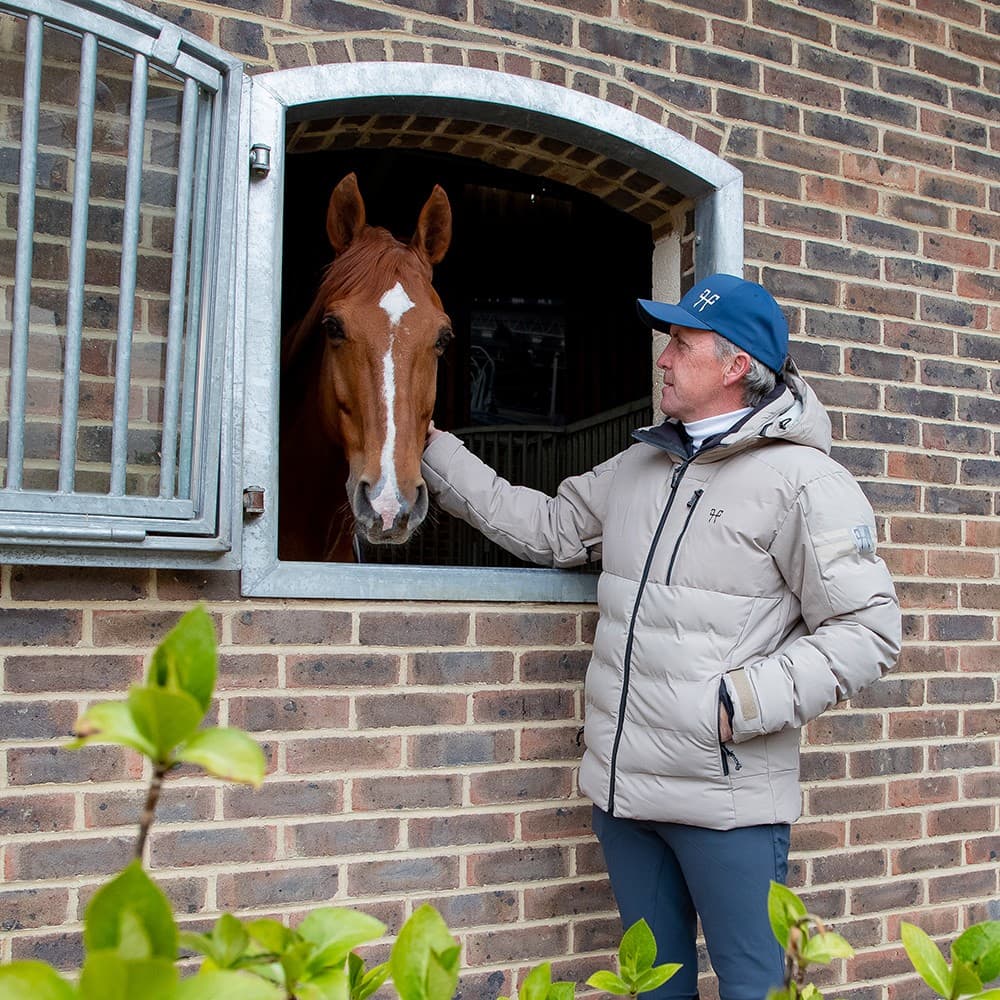 DISCOVER OUR RIDING JACKETS FOR RIDERS LOOKING FOR WARMTH
For riders who ride on cold, windy winter days and are looking for a warm, insulated Horse Pilot riding jacket to create the FAHRENHEIT down jacket and HIGH-FREQUENCY jacket.
Thanks to a heat-sealed padding and a flap on the front of the zip, the HIGH-FREQUENCY jacket limits heat loss and acts as a real barrier against the cold. Inspired by the cut of sweaters, this contemporary jacket is quick and easy to put on. A smart ergonomic pull tab that makes it easy to open and close the pockets with one hand makes this jacket an ideal winter ally when our hands are frozen or hidden under gloves.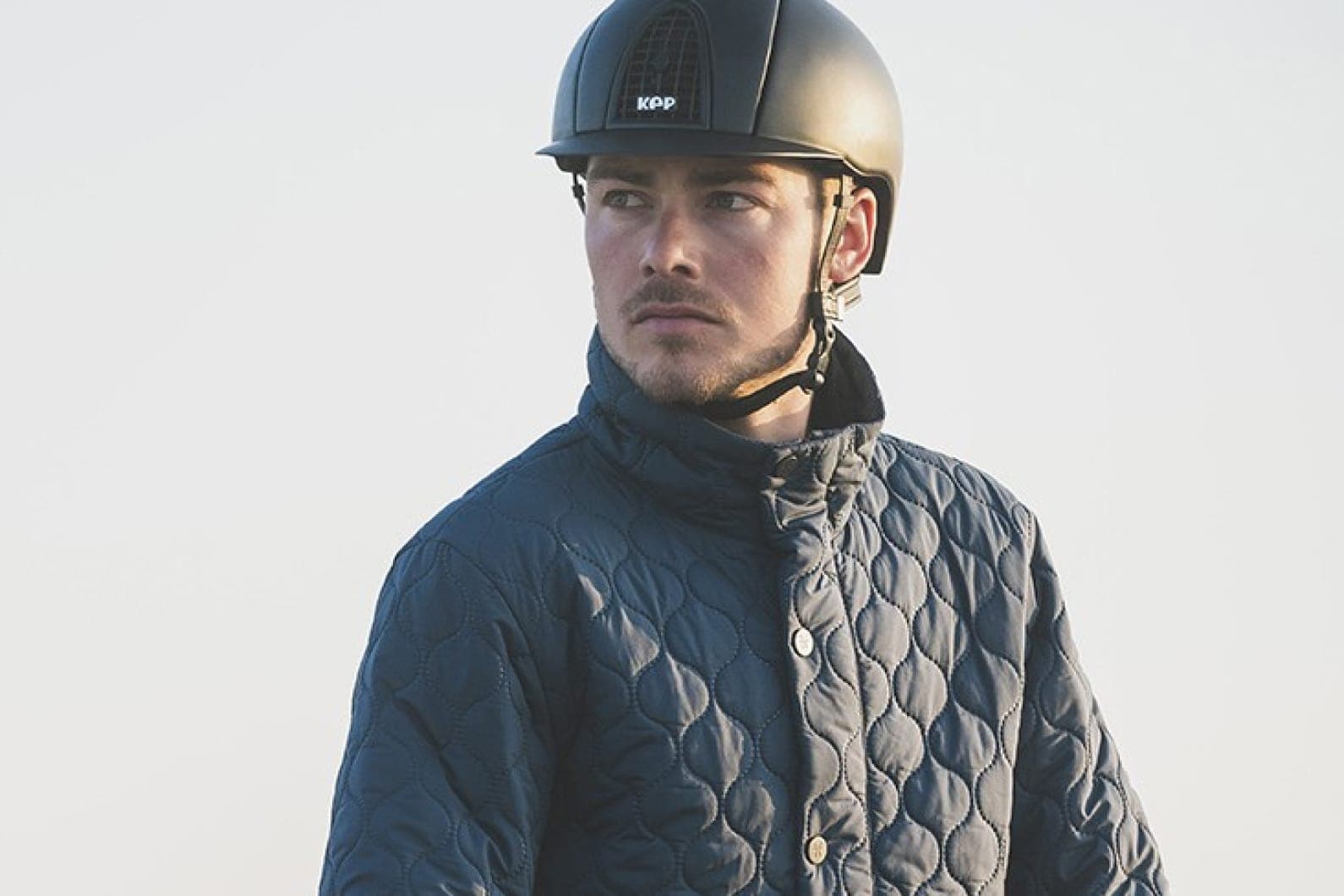 Insulation distributed according to the body's need for warmth, a fully quilted lining and a longer back make the FAHRENHEIT the best thermal protection on the coldest winter days. Its stand-up collar, ergonomic sleeves and tight waistband are a barrier anywhere a conventional garment would let in unpleasant cold drafts.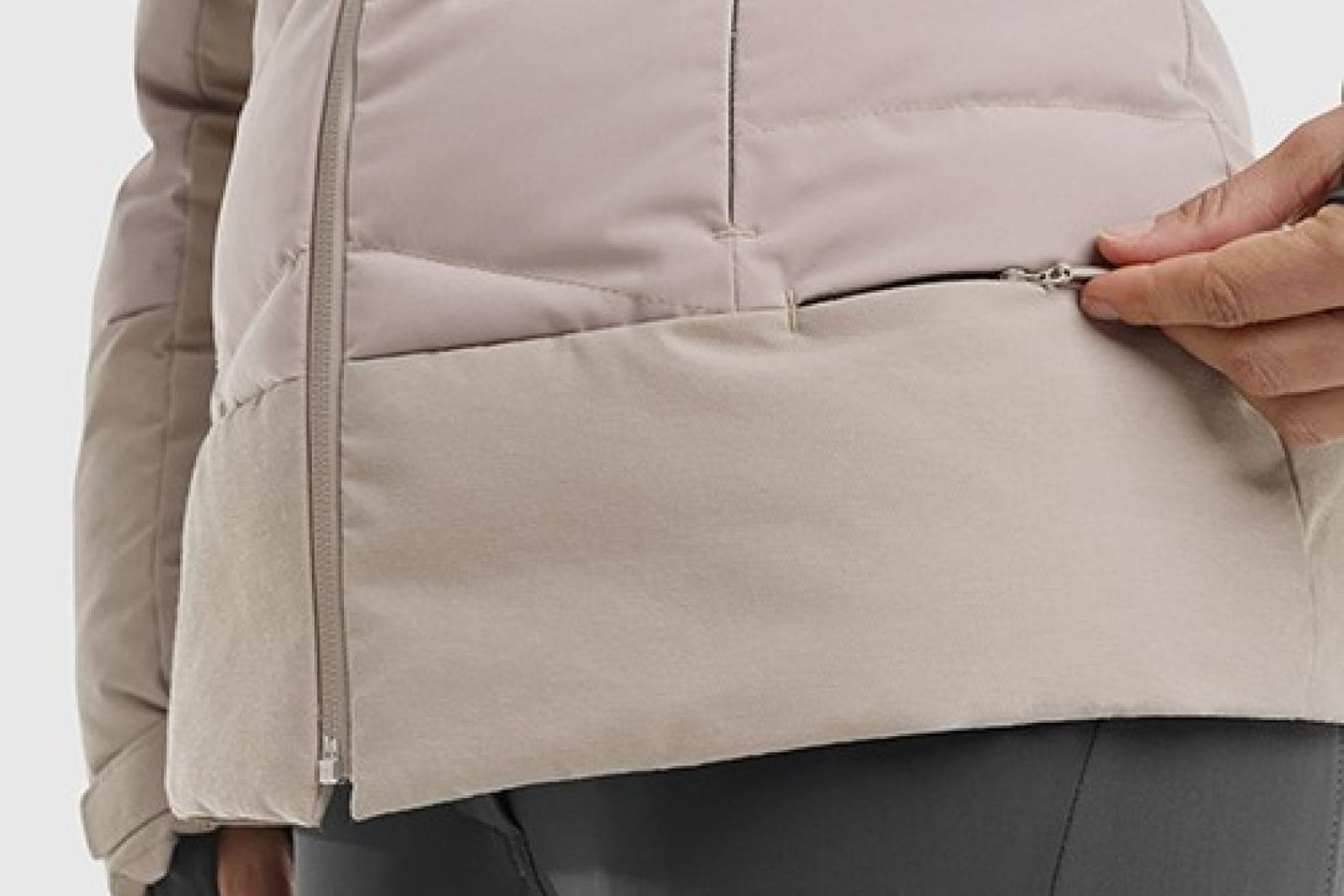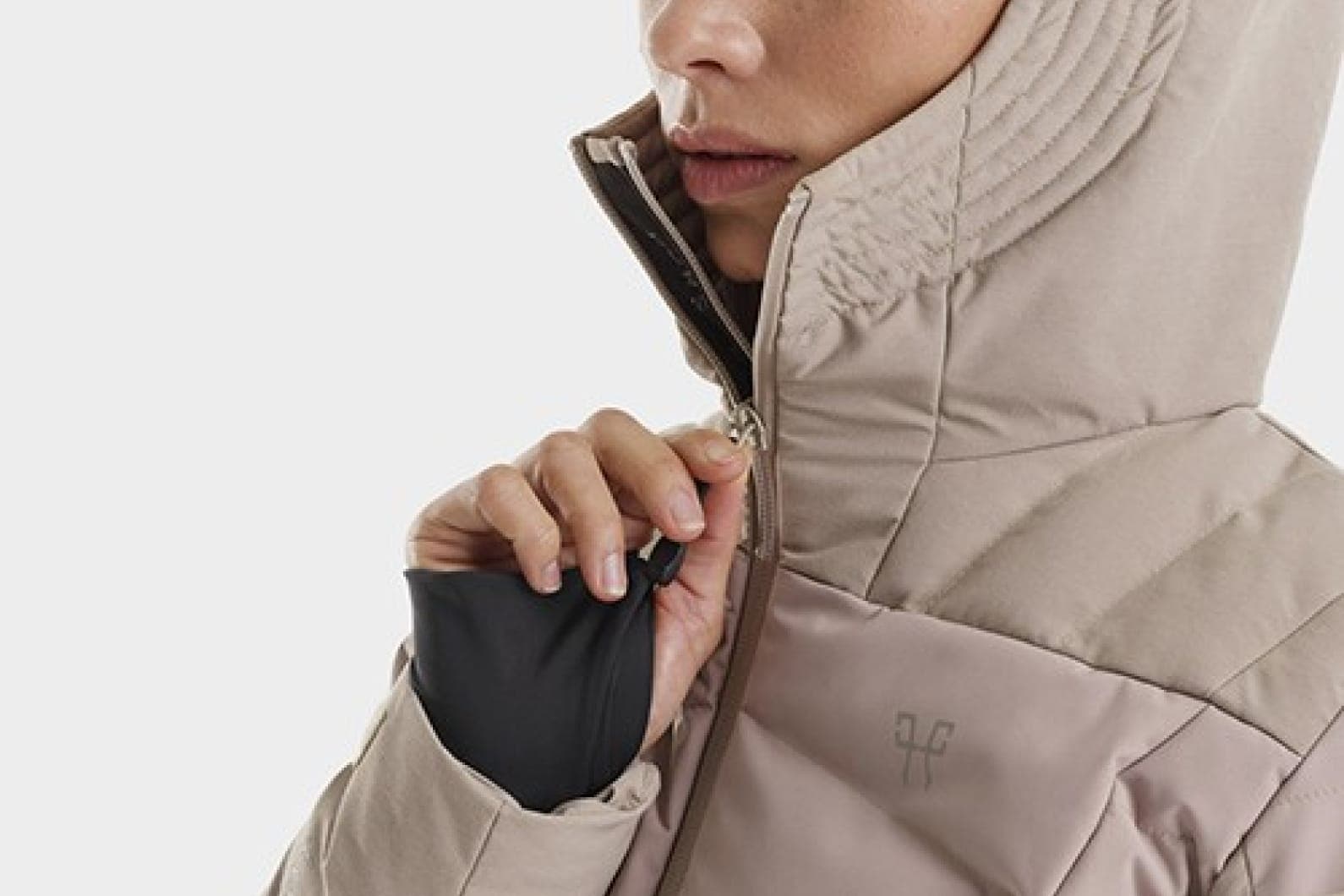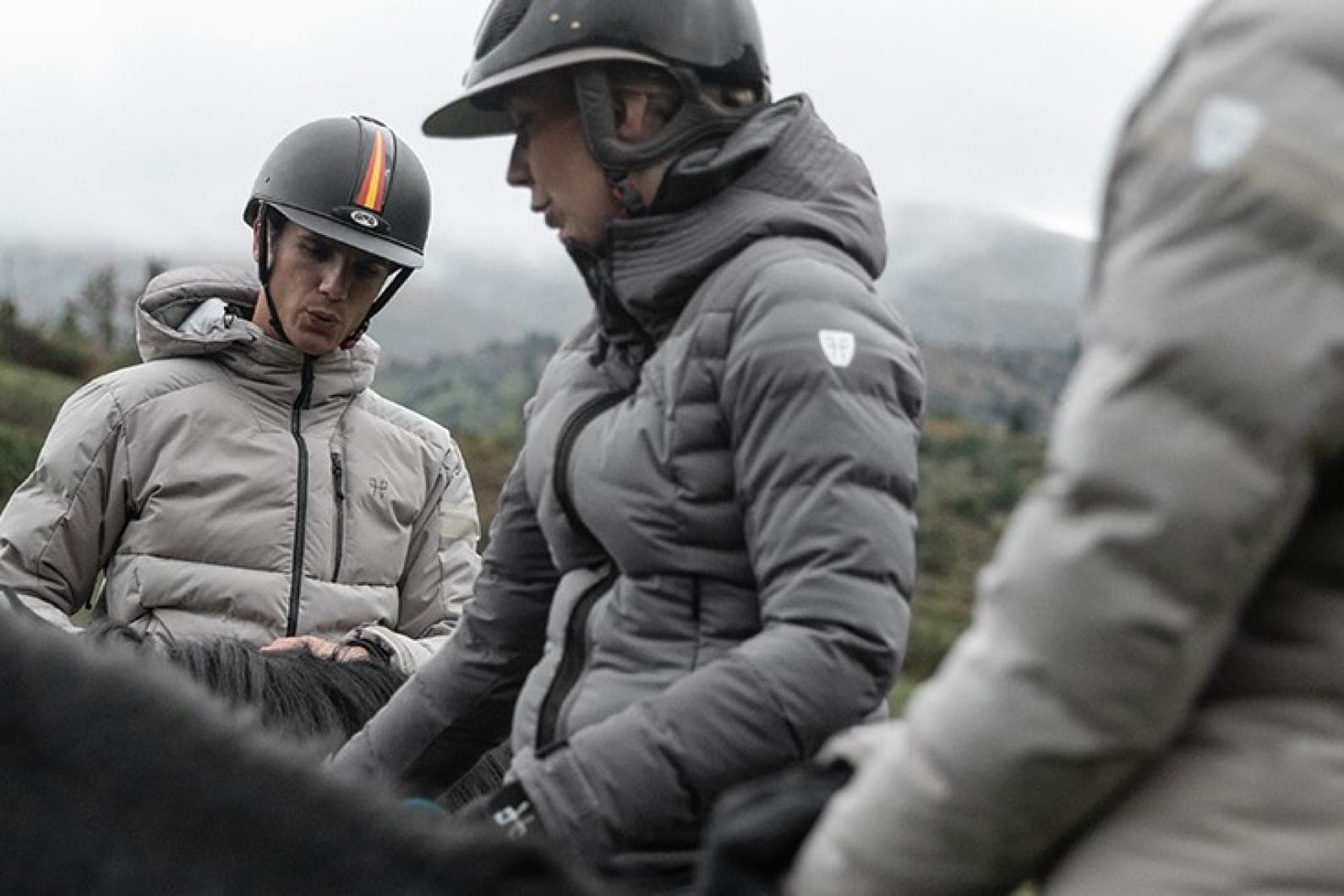 OUR RANGE OF RIDING JACKETS FOR RIDERS LOOKING FOR WATERPROOFNESS
From light rain to heavier downpours, Horse Pilot has designed jackets for riders looking for waterproofing above all else. RAIN FREE, ELEMENT and INTÉGRAL will be the perfect allies for tackling rainy days.
Are you looking for a lightweight, breathable rain jacket? Horse Pilot has designed RAIN FREE. Cleverly designed, this rain jacket consists of two parts:
A highly waterproof upper part, with its 10K/10K material, which helps protect the areas most exposed to rain.

A lower part designed in a lighter material, but which does not lose its water repellency.
The advantages of this jacket: a smart ventilation placed on the flap of the upper part of the jacket and a 3D hood thought not to bother.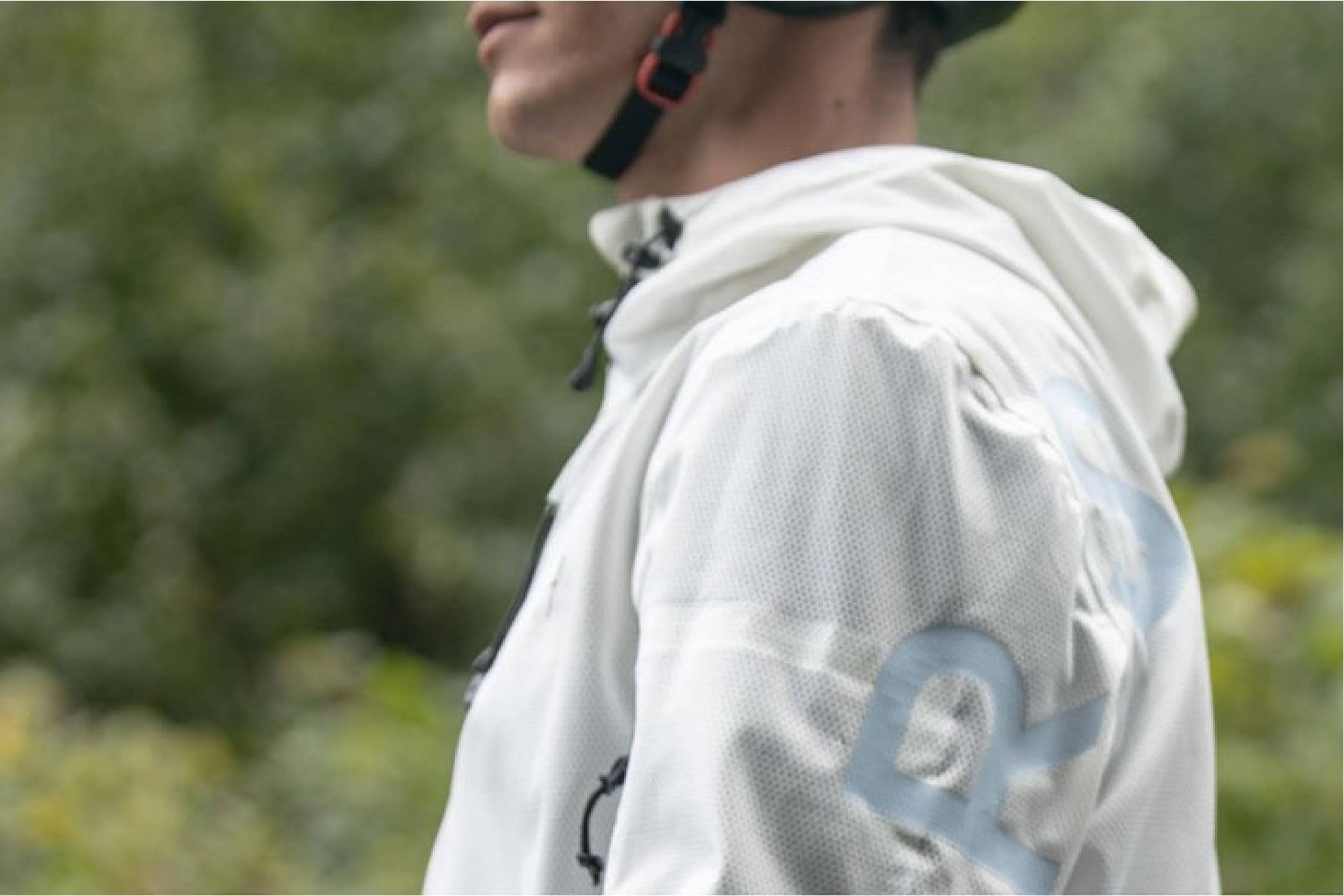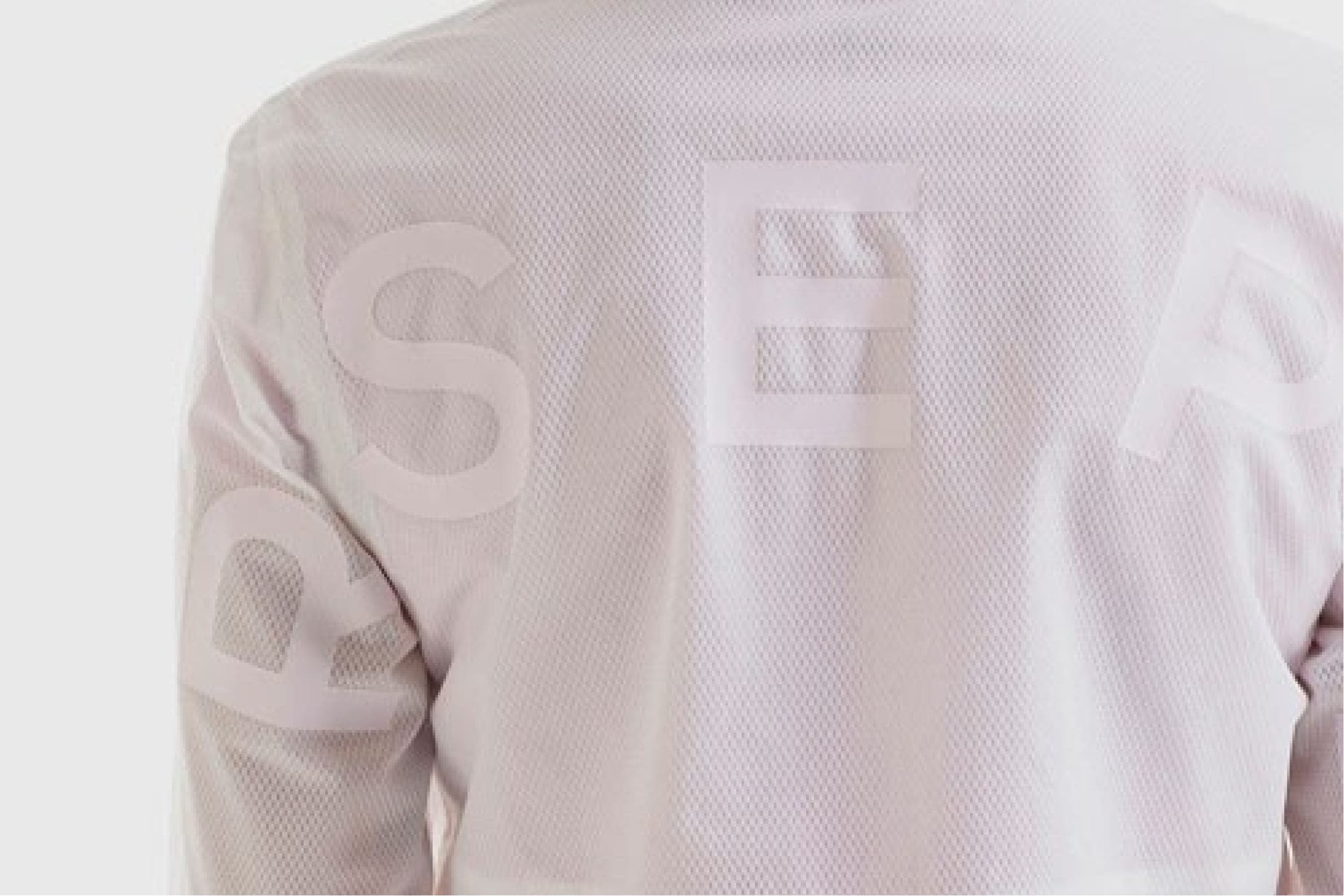 The ELEMENT jacket, it is the condensed Horse Pilot technology par excellence: 100% Waterproof and at the same time breathable, it is THE reference waterproof windbreaker for horse riding. To this, add details that make this jacket indispensable: a waterproof and ergonomic zip that does not rub the face, tightening tabs at the handles that do not retain hair and the possibility of combining this jacket with the RIDER VEST thanks to an ingenious system of clips.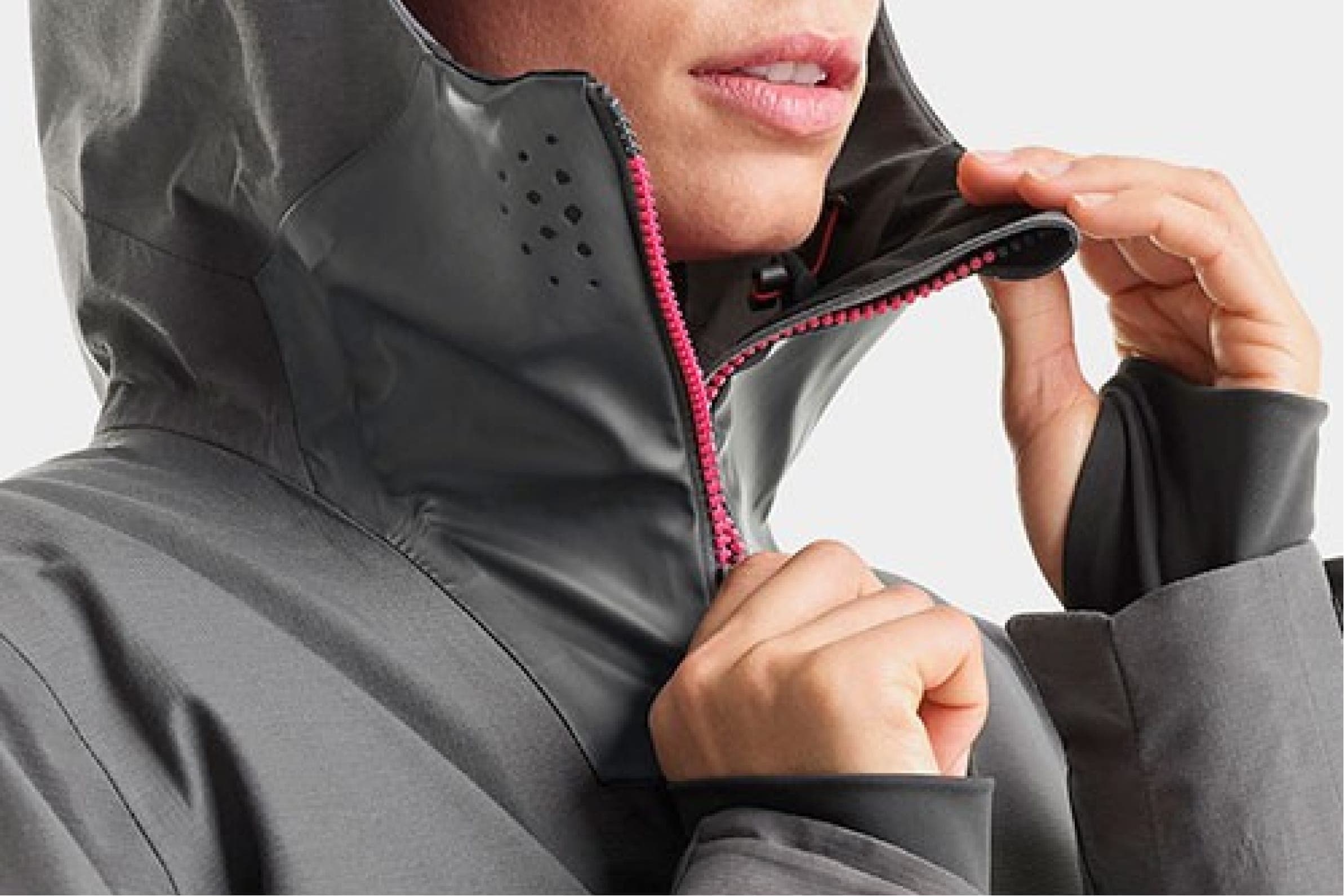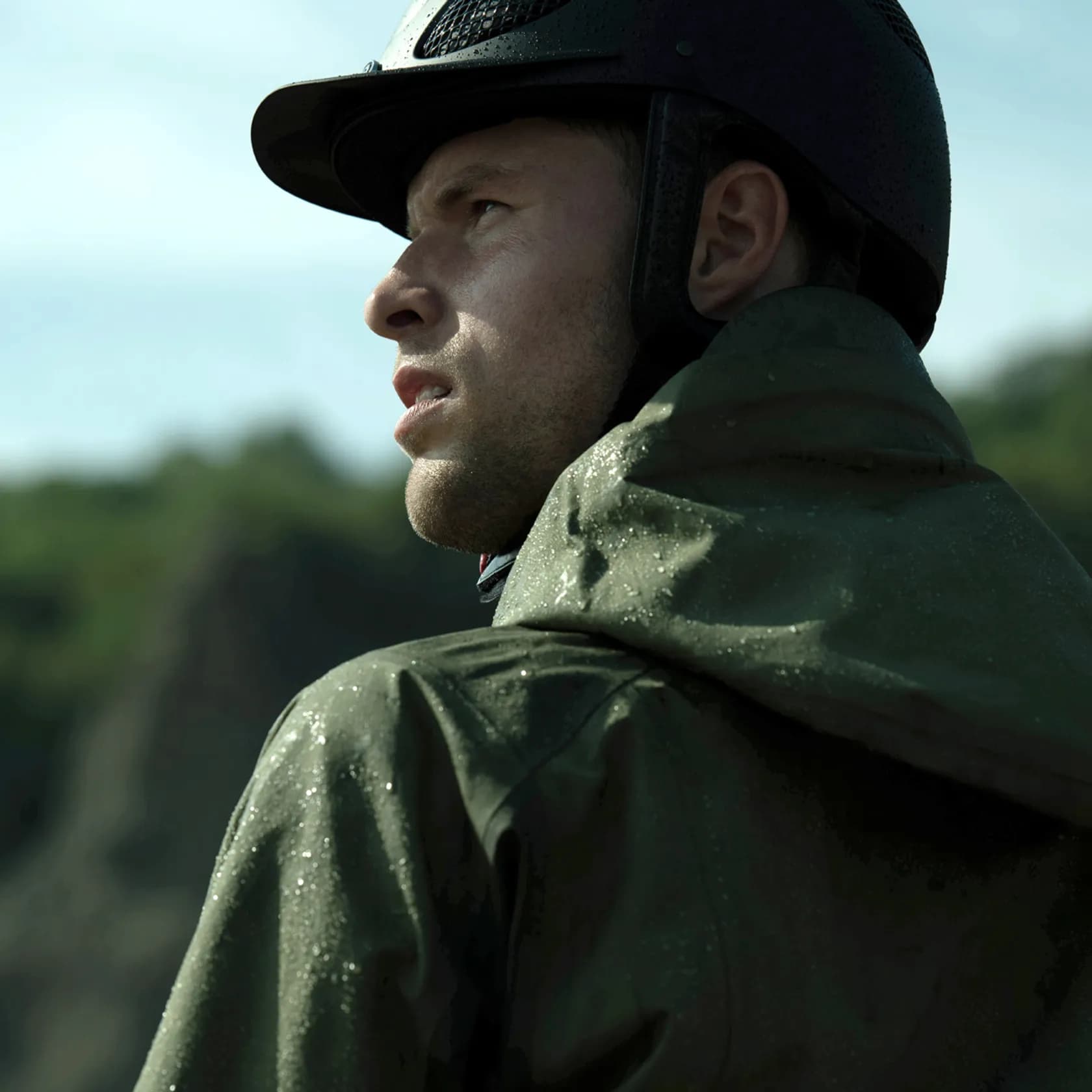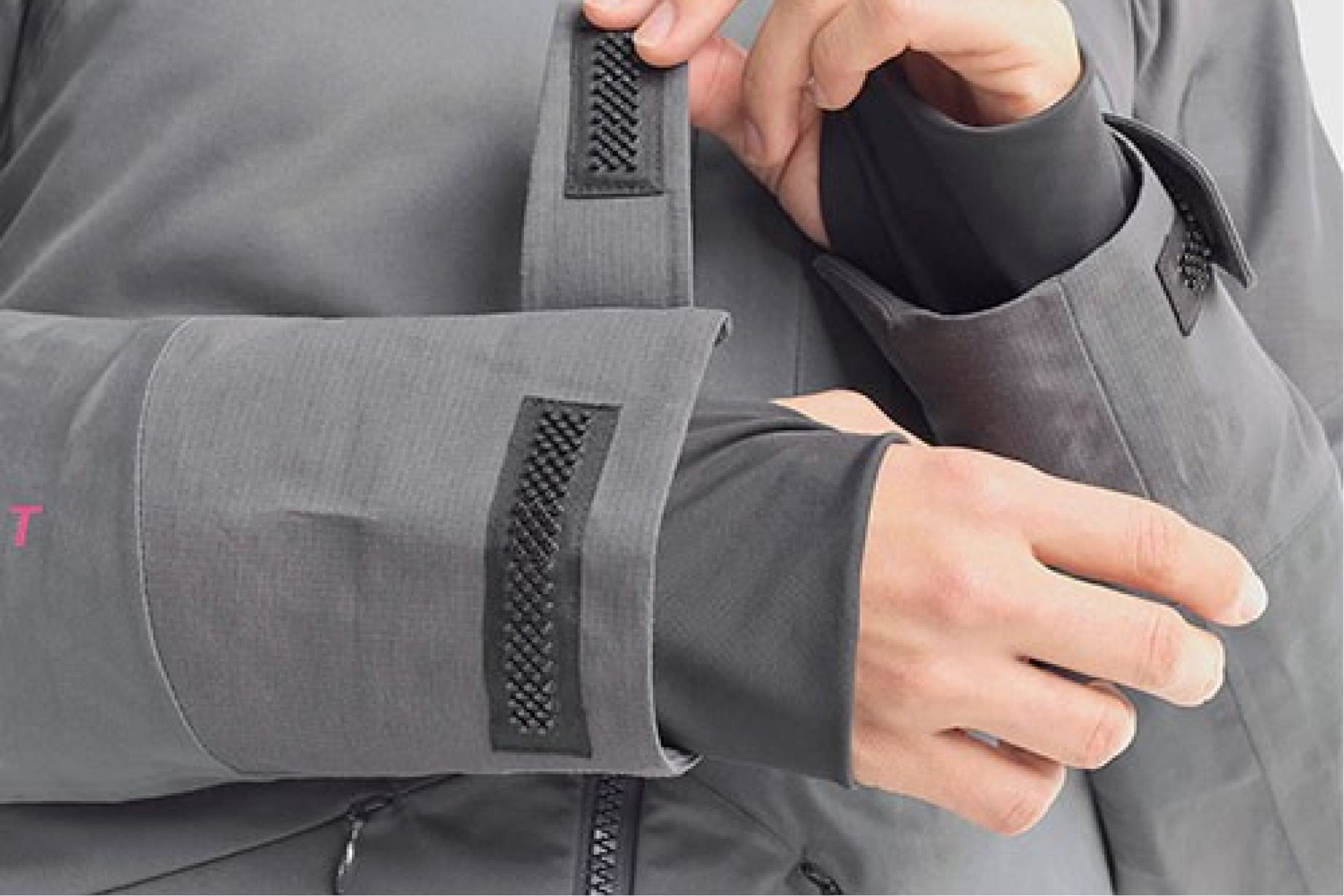 INTEGRAL, a long, functional riding jacket can be worn on foot or horseback thanks to its side zippers. Its waterproof-breathable membrane in addition to offering protection against wind and wet weather, wicks moisture away from the body. A protection up to the chin and ingenious flaps on the outside pockets make this riding coat completely waterproof. The plus to gain warmth: the possibility to combine it with the RIDER-VEST thanks to the clip-on system.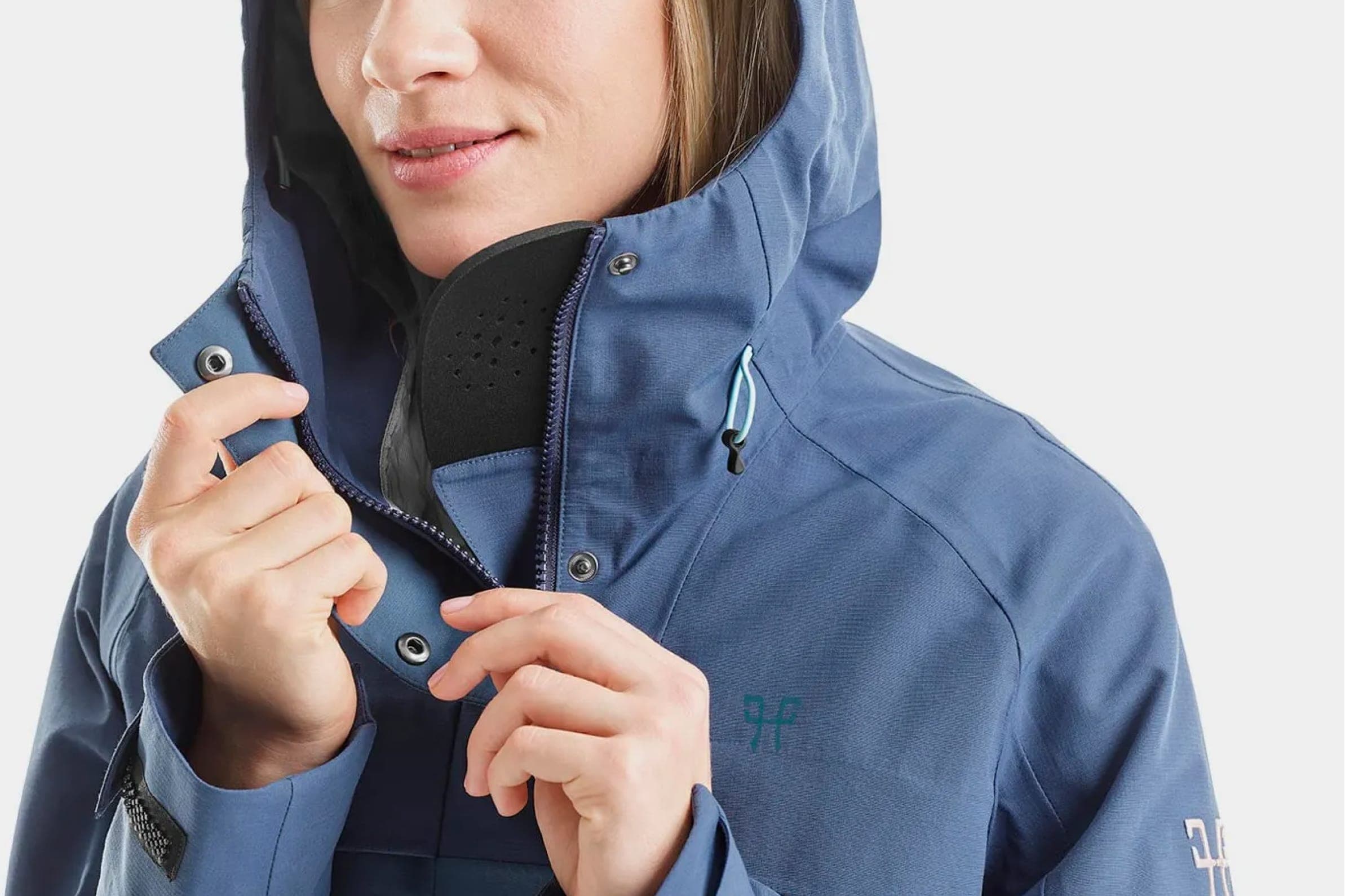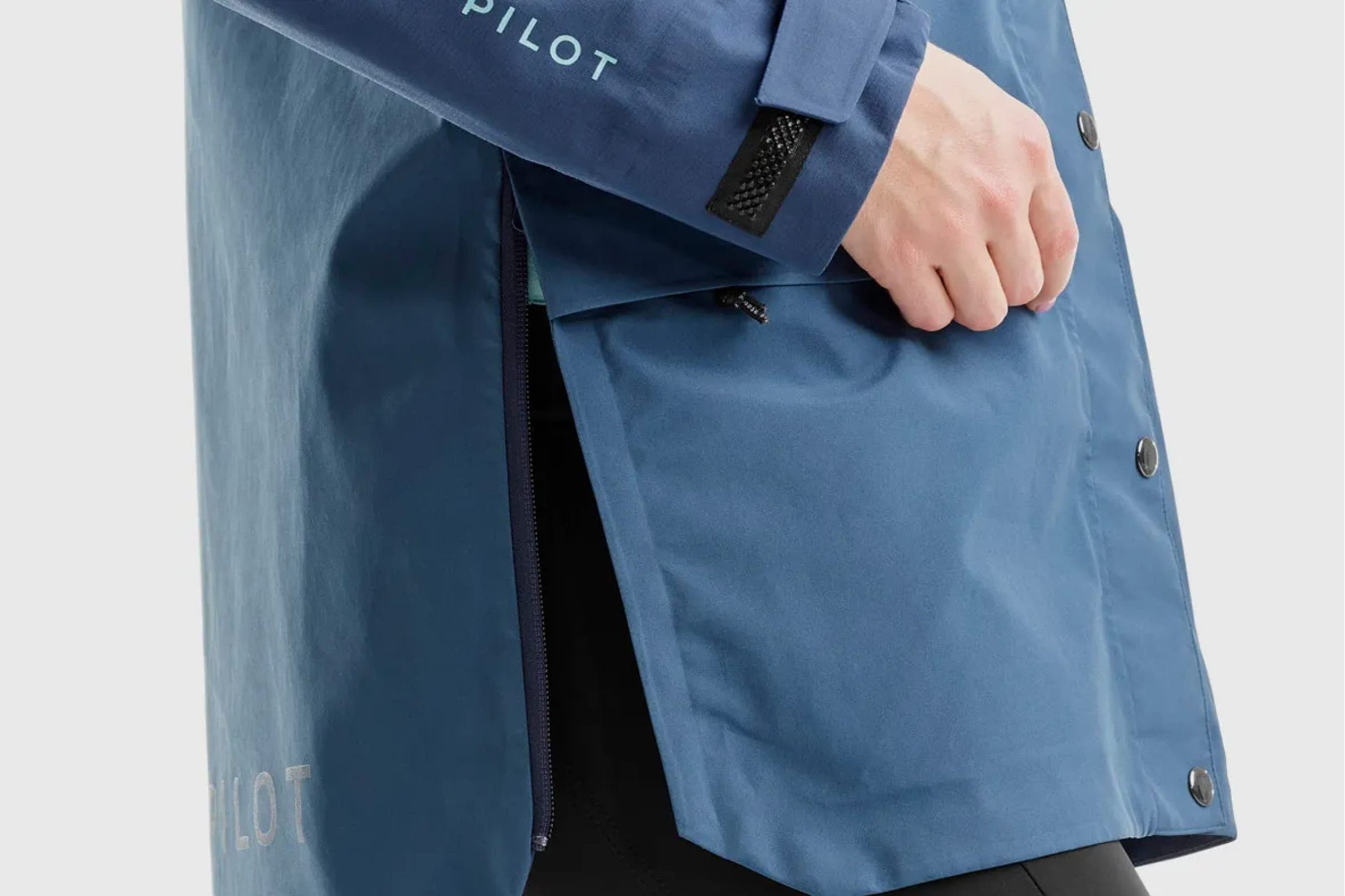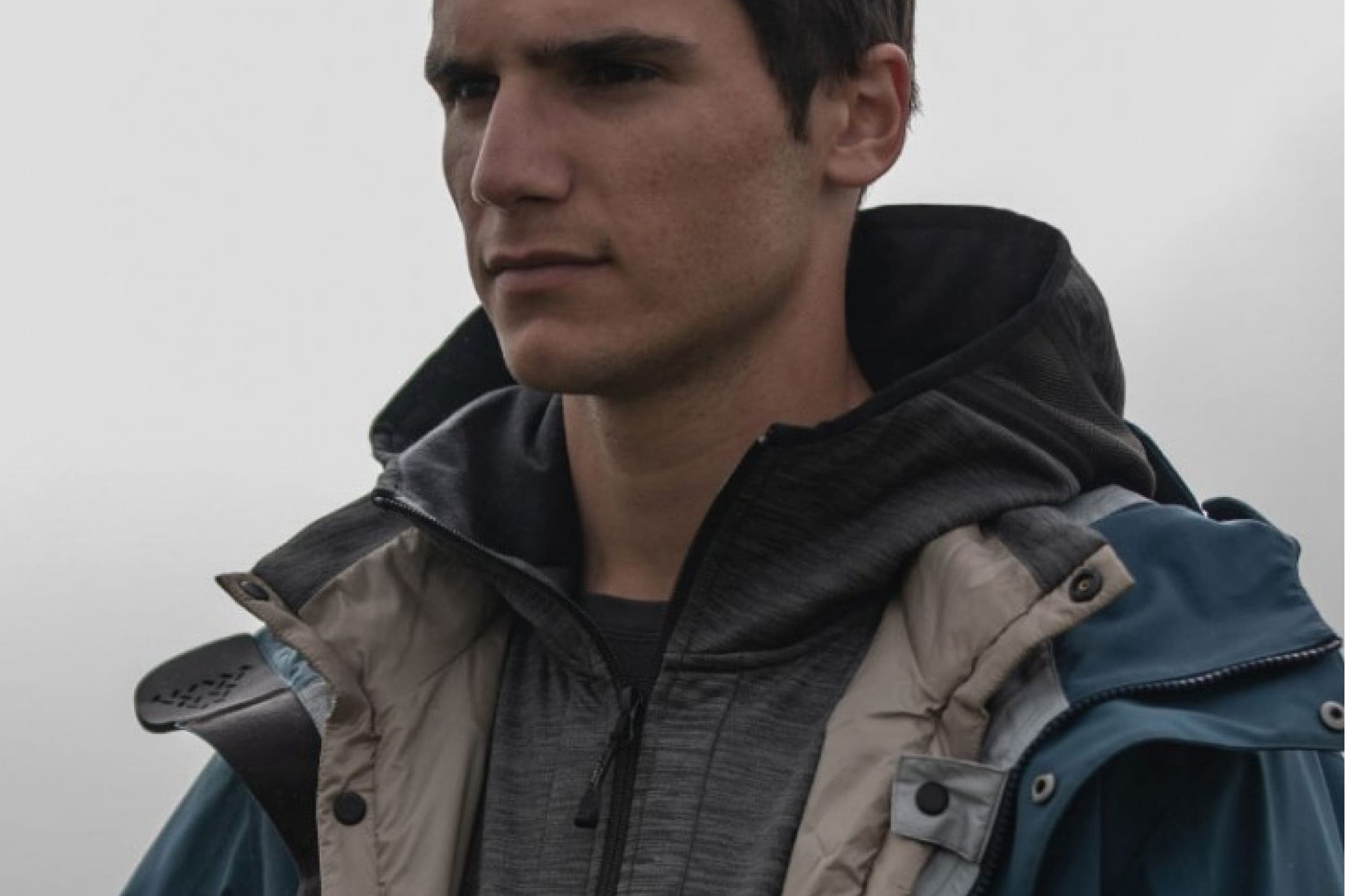 DISCOVER OUR MOST VERSATILE RIDING JACKET
You run all day at the stables and you need a practical riding jacket, able to bring you warmth and protection. Horse Pilot answers this need for versatility with the ESSENTIAL jacket, capable of following you throughout your day at the stables.
The ESSENTIAL riding jacket meets all the requirements of the rider: protection against wind, rain and cold. Its waterproof and windproof membrane remains stretchy and light to offer the freedom of movement that riders need. Everything has been thought of: a hood that can be fastened to avoid embarrassing the rider, ventilation zips at the back and under the armpits to evacuate perspiration and a collar that goes up high to protect from the cold.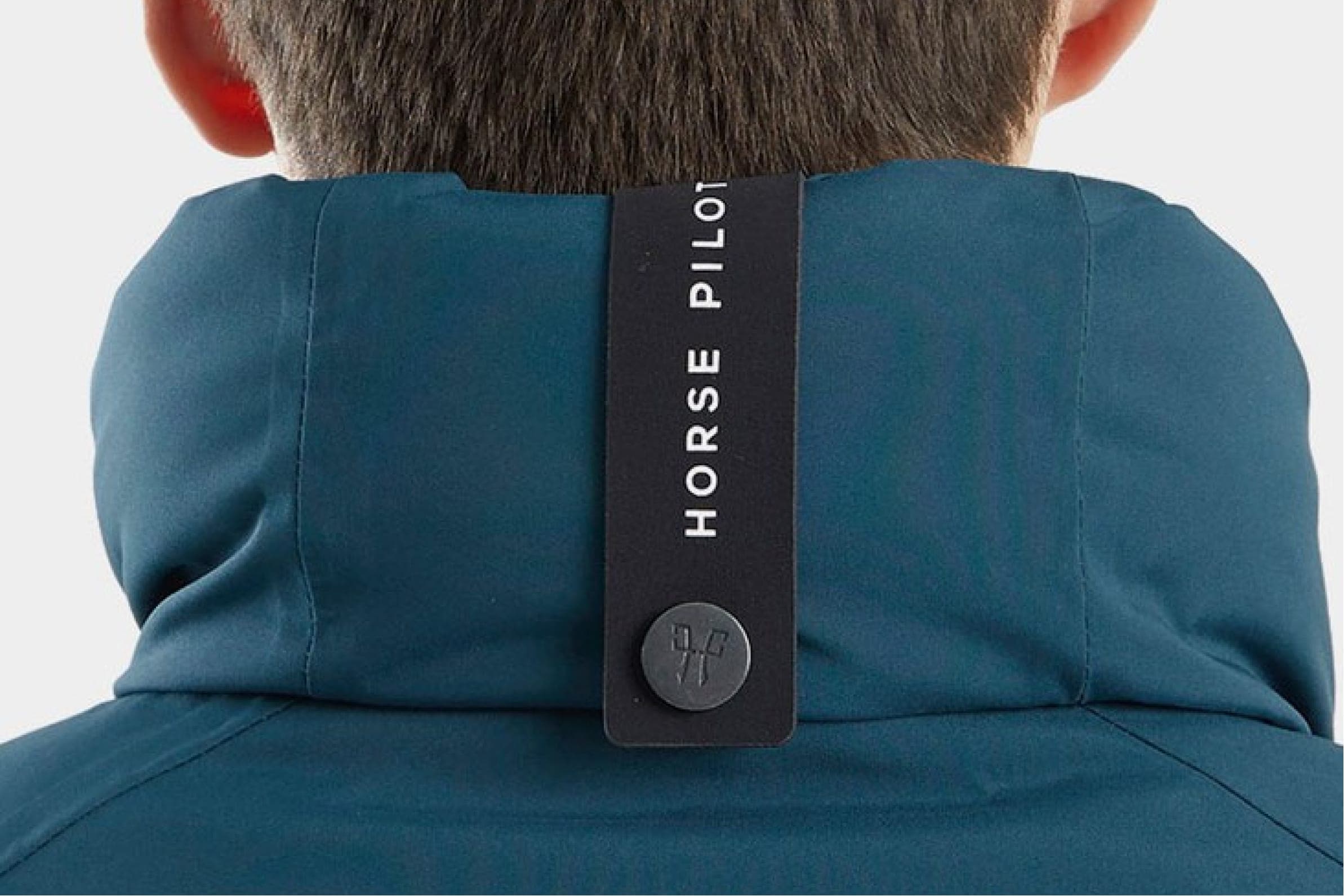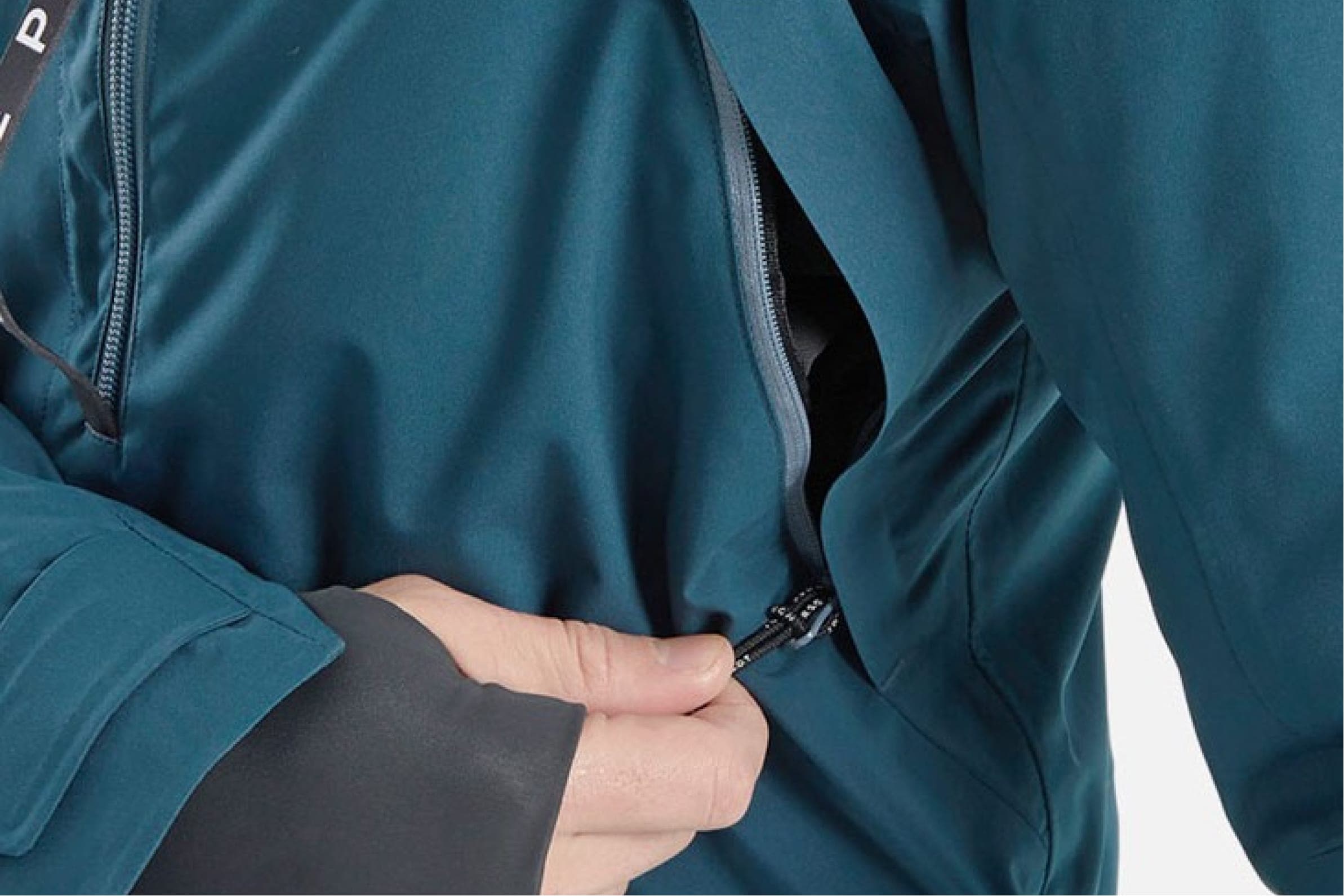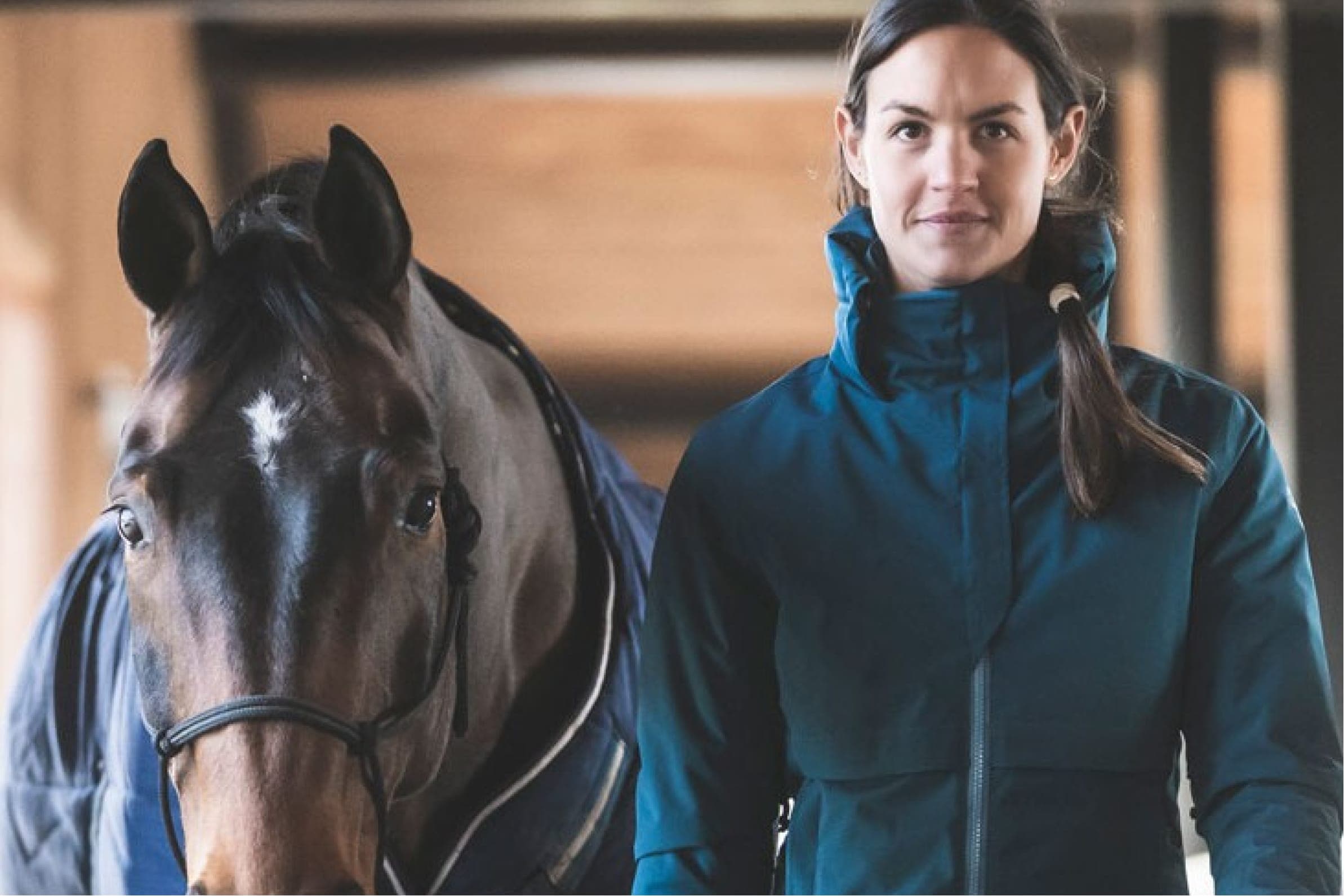 SECOND LAYER: HEAT AND INSULATION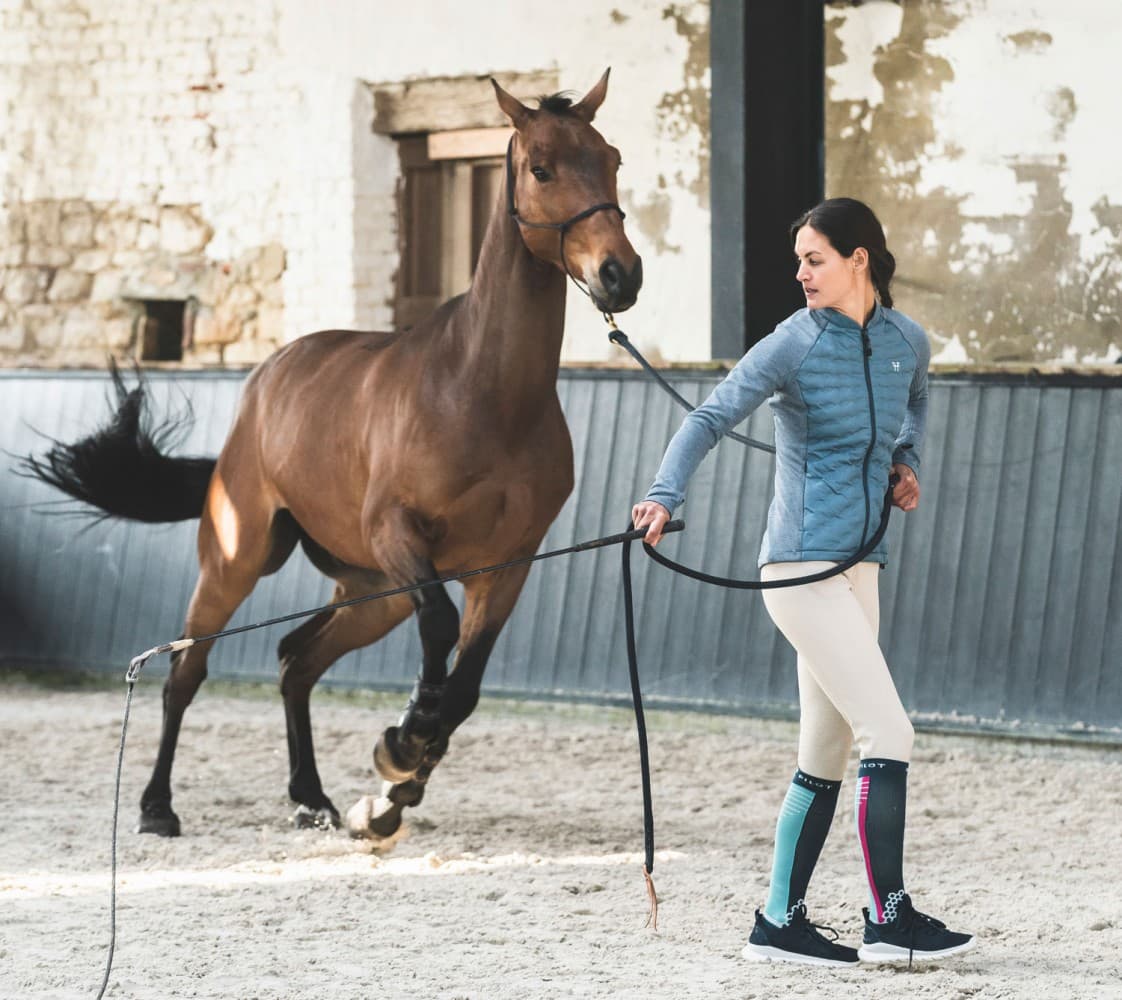 RIDING JACKET TO GAIN IN INSULATION
The primary function of the second layer is to retain the heat released by the body while wicking away sweat. For this, Horse Pilot has created three riding jackets STORM,TEMPEST and HYBRID TEMPEST.
Hybrid and thermo-regulating the STORM jacket consists of two materials. A padding on the chest to maintain body temperature and a more stretchy, breathable material on the sides and arms to wick away perspiration and allow the rider freedom of movement. Perfect under a protective jacket in wet and cold weather, this versatile jacket is lightweight and can also be worn by male and female riders alone over a tee shirt.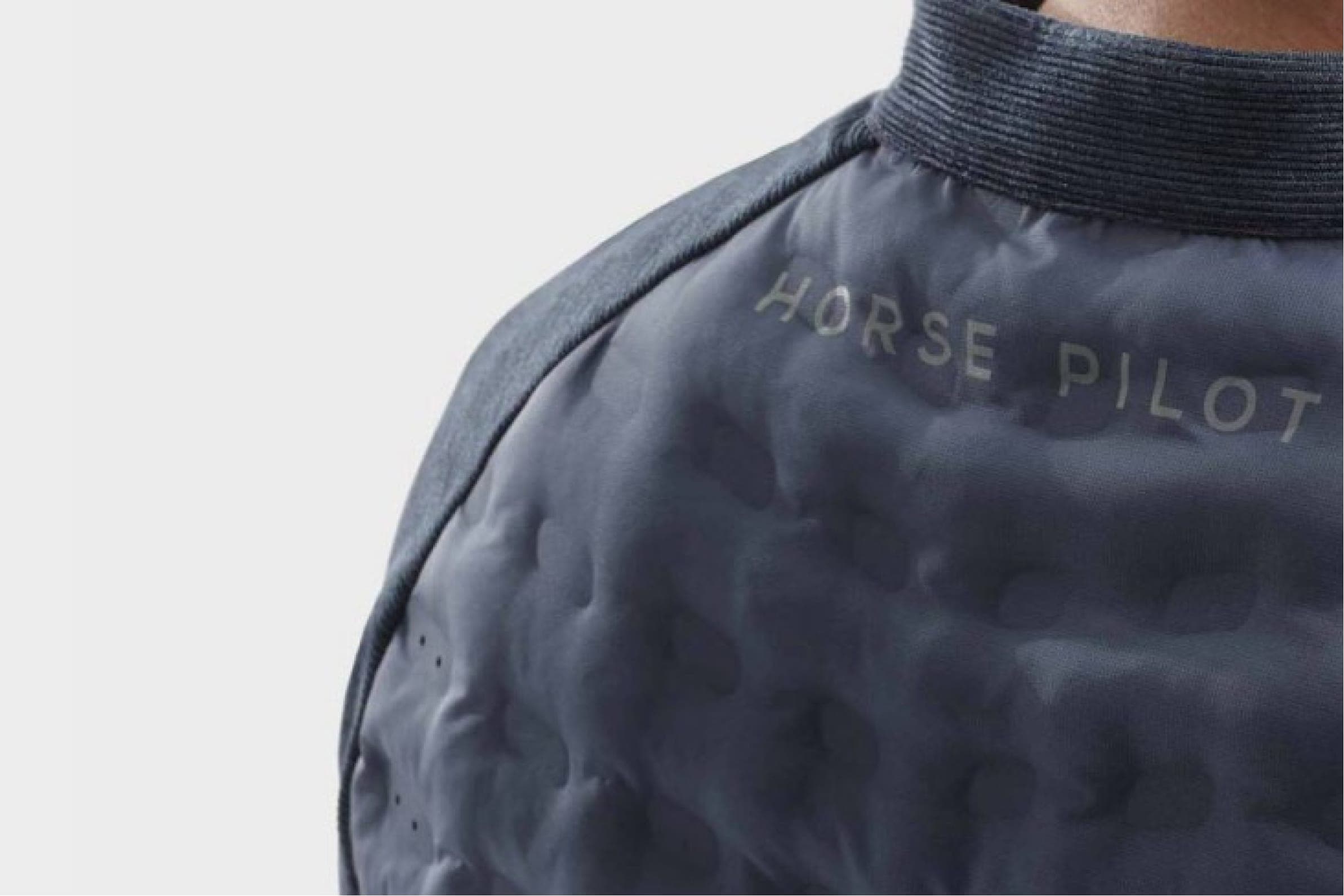 The TEMPEST riding jacket is our quintessential revamped sports sweatshirt. It's the perfect insulation against air infiltration for cool weather riding. With its mitt-sleeves and adjustable stretch bottom, no drafts will get through. Constructed from a brushed fleece material, it will keep you warm and soft during your workouts.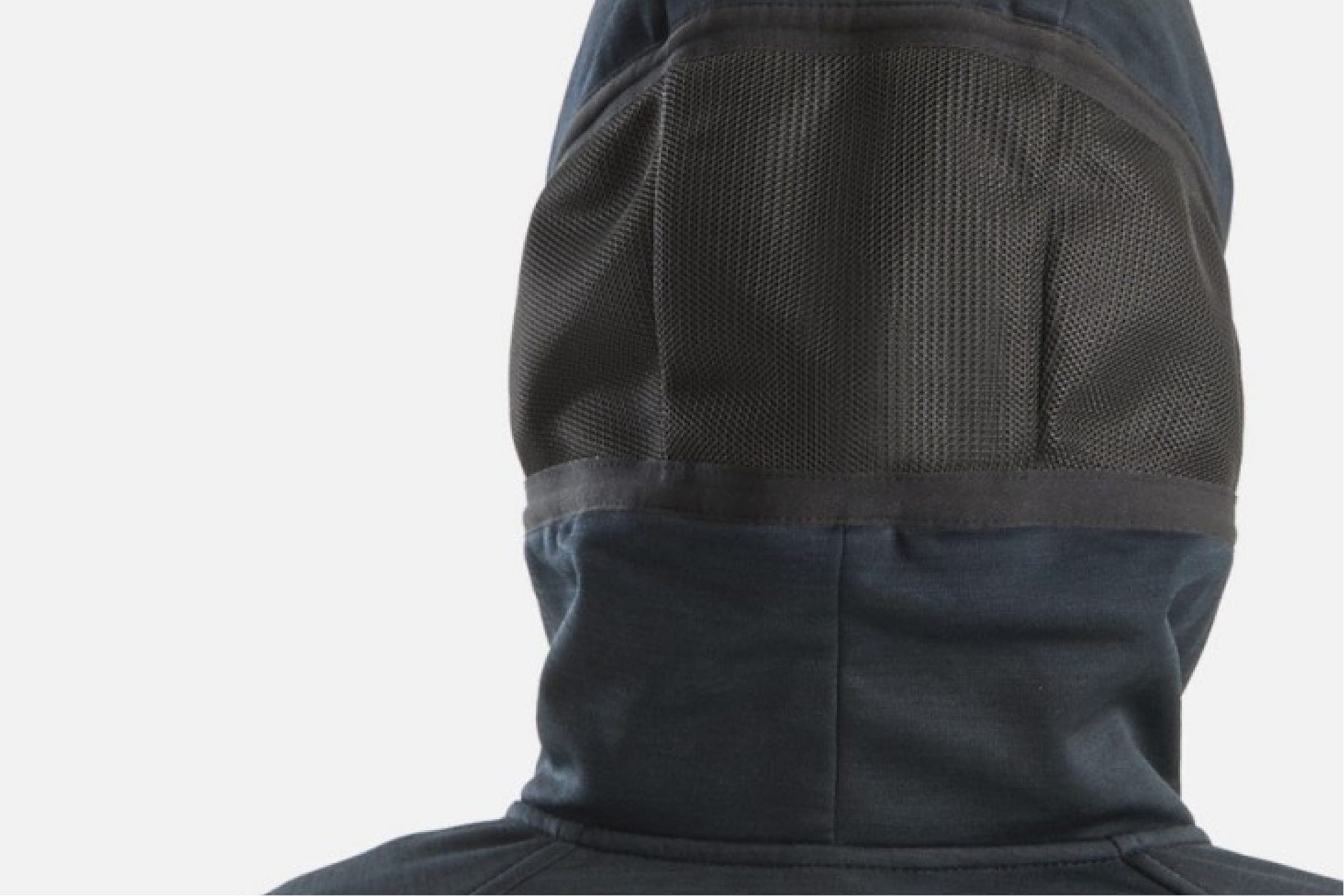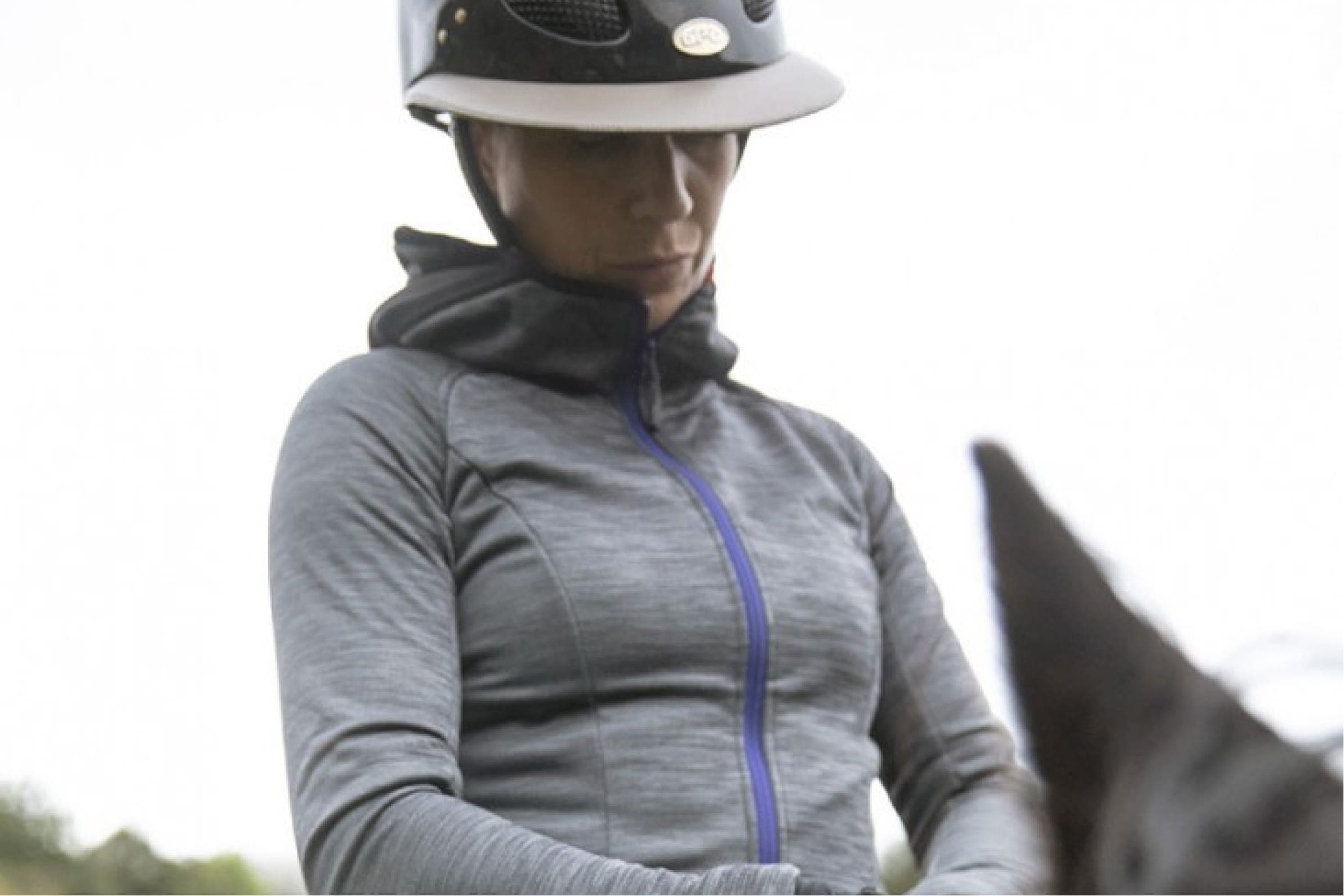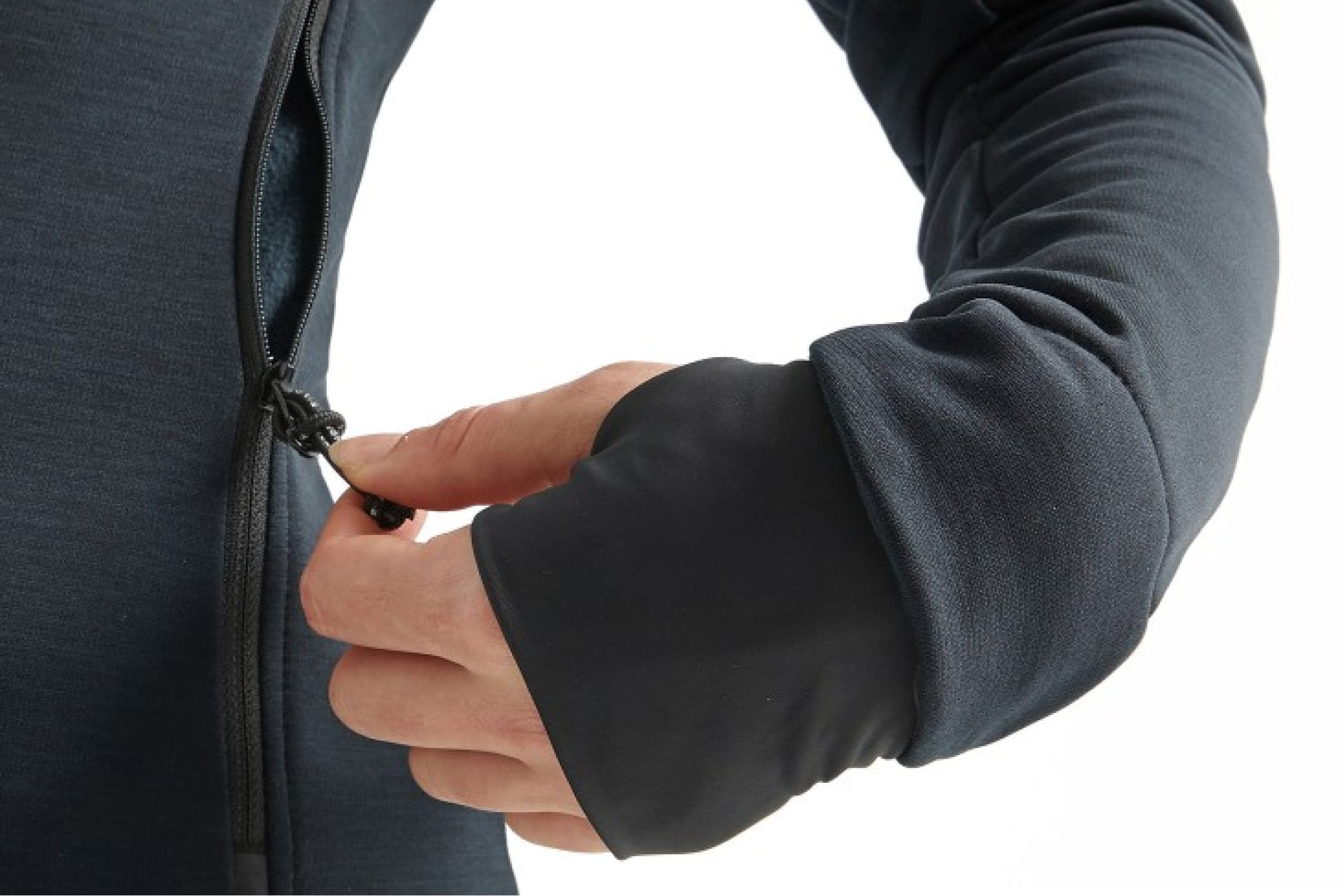 In the same line as TEMPEST, our HYBRID TEMPEST zipper sweater is a perfect insulator against air infiltration. The main difference is that it is much more breathable than TEMPEST. In fact, with a highly breathable fleece panel in the back, the HYBRID TEMPEST ensures good thermoregulation power.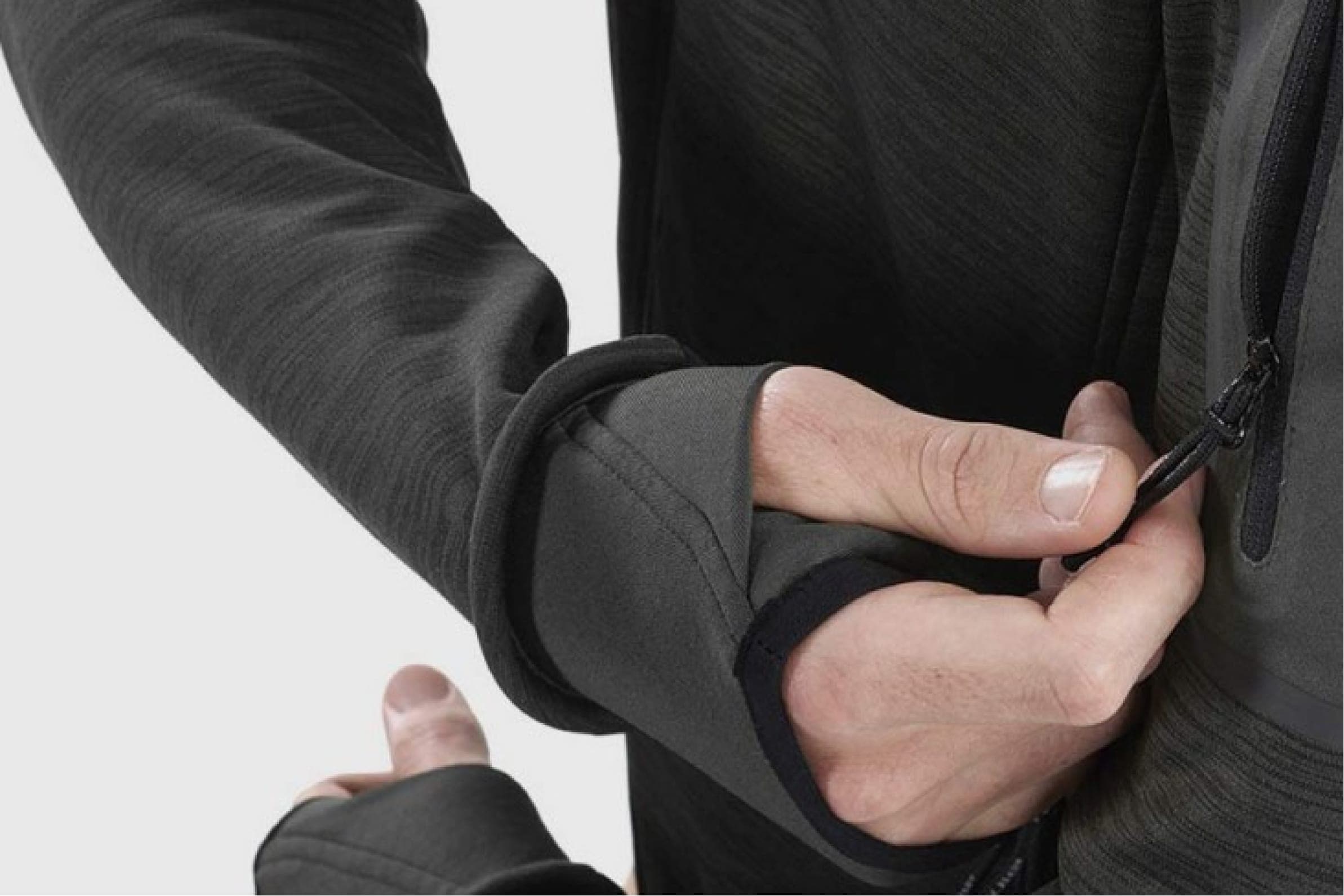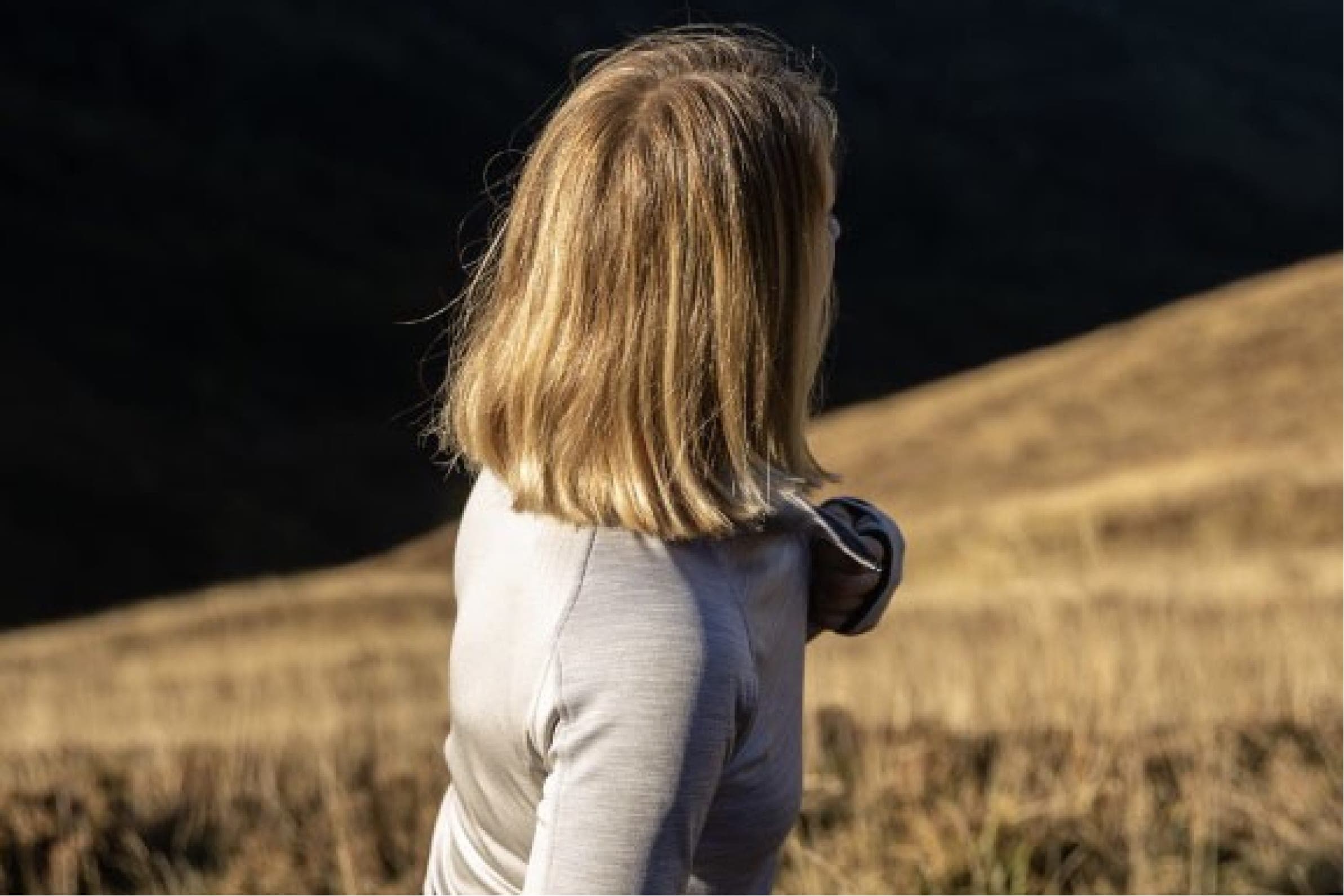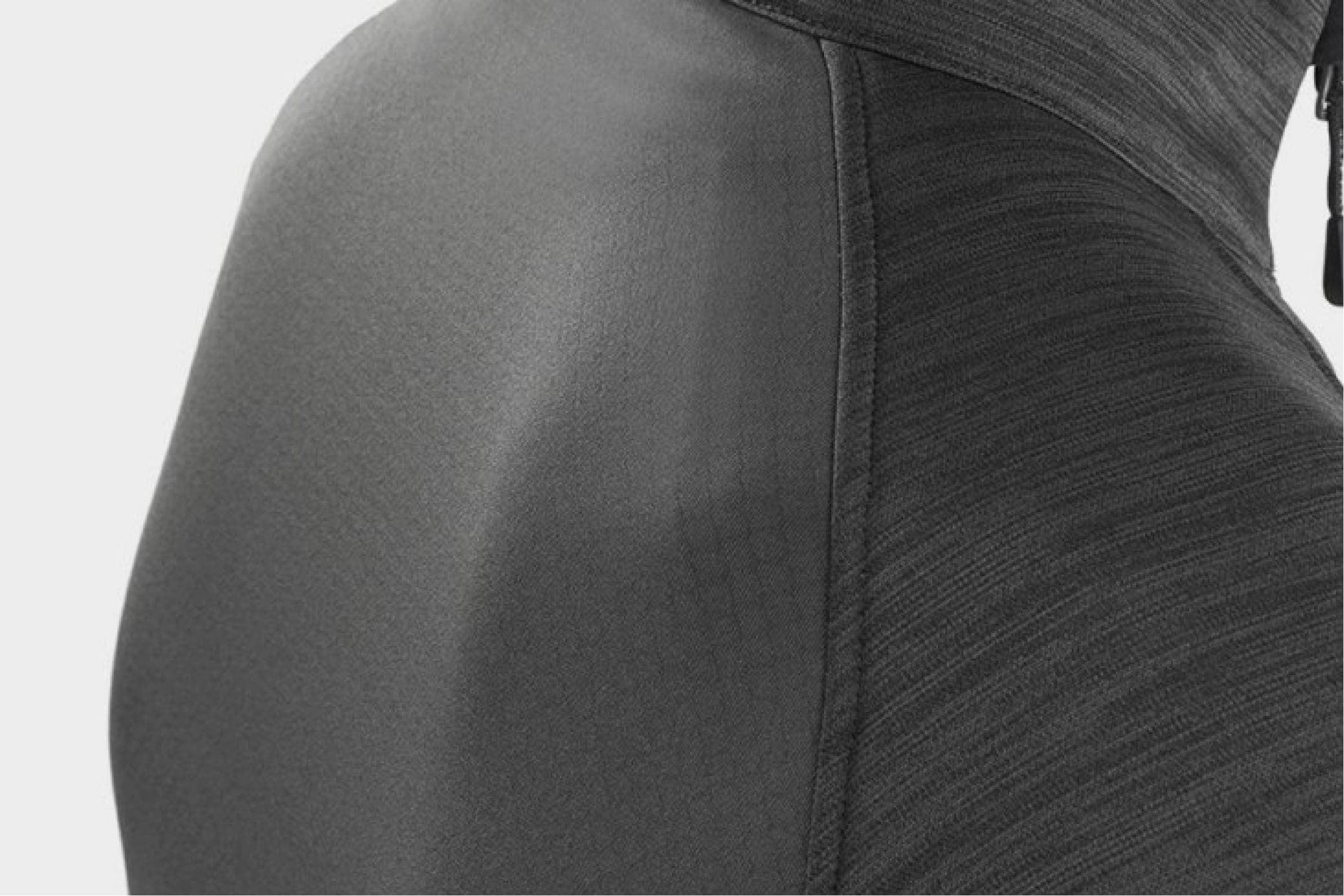 SECOND LAYERS FOR RIDERS WHO WANT MORE WARMTH
For riders who, in addition to gaining insulation, are looking to gain additional warmth, Horse Pilot has created a whole line of sleeveless down jackets that are as comfortable as they are ingenious: CELSIUS, RIDER VEST and E-KELVIN. 
CELSIUS, our must-have sleeveless riding down jacket will protect the female, as well as the male rider from the cold. Made of down and polyester, it provides warmth in strategic areas: the chest, shoulders and back. Thought as a real barrier against the cold, it has a longer back to cover the hips when riding and a drawstring so that no draught passes.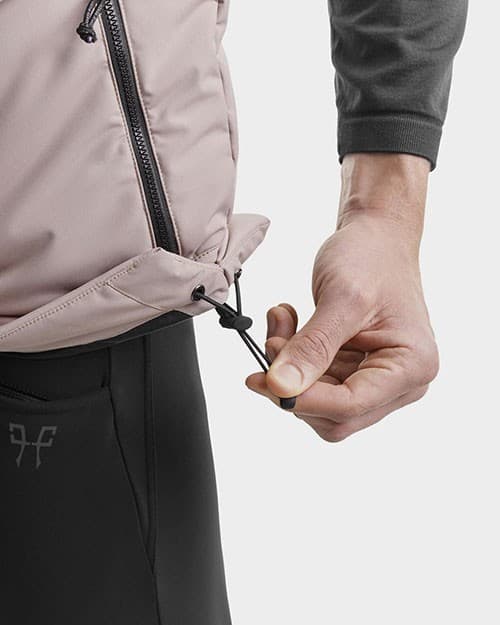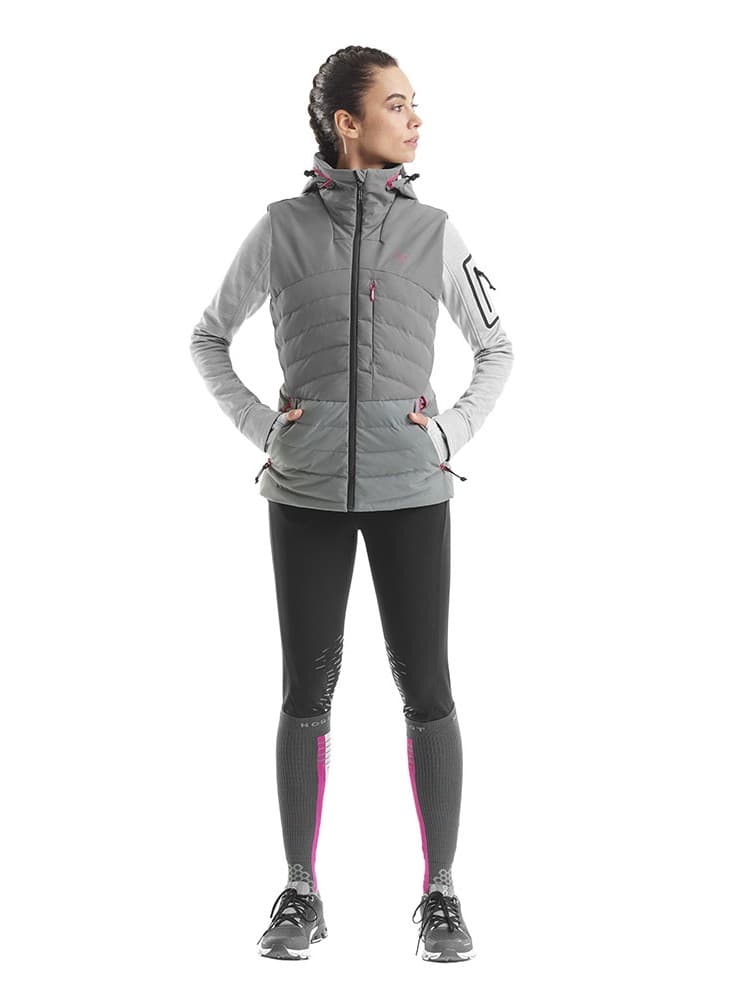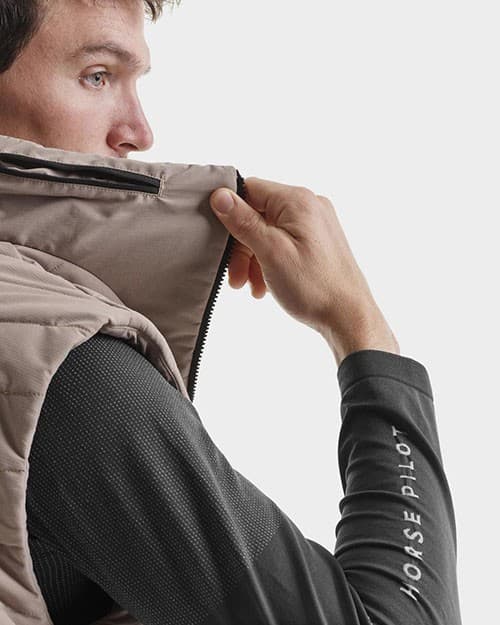 RIDER VEST, our hybrid riding sleeveless down jacket, will provide the versatility riders need. Warm and lightweight thanks to its two-material construction, it adapts to the body movements of both male and female riders when riding. It can be worn alone or under INTEGRAL or ELEMENT riding jackets thanks to an ingenious snap system.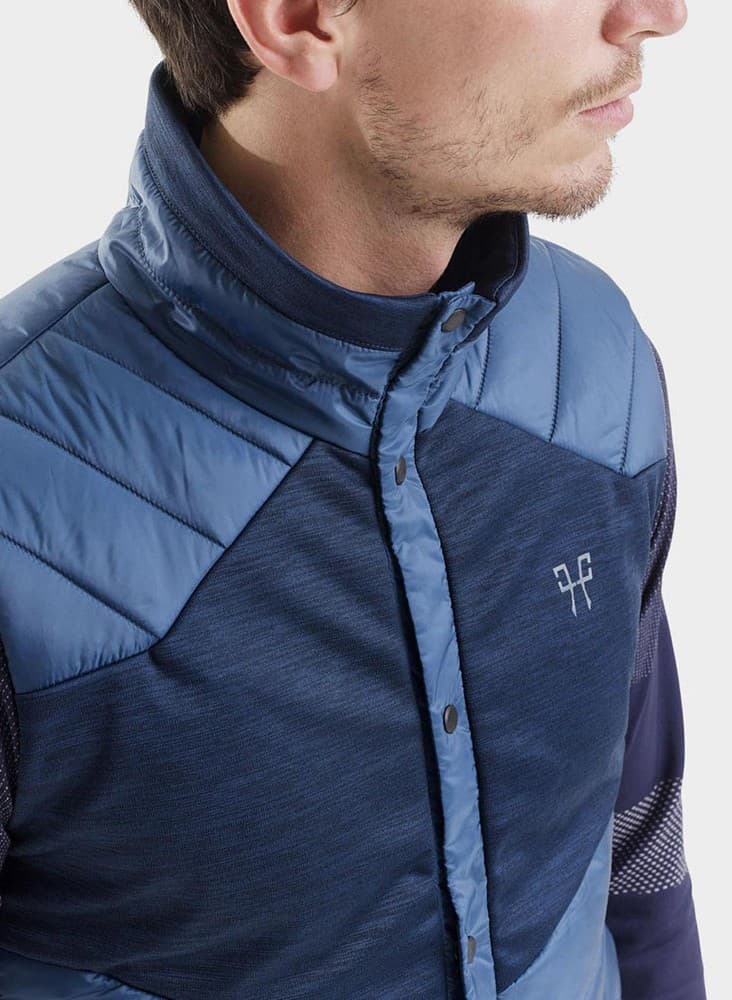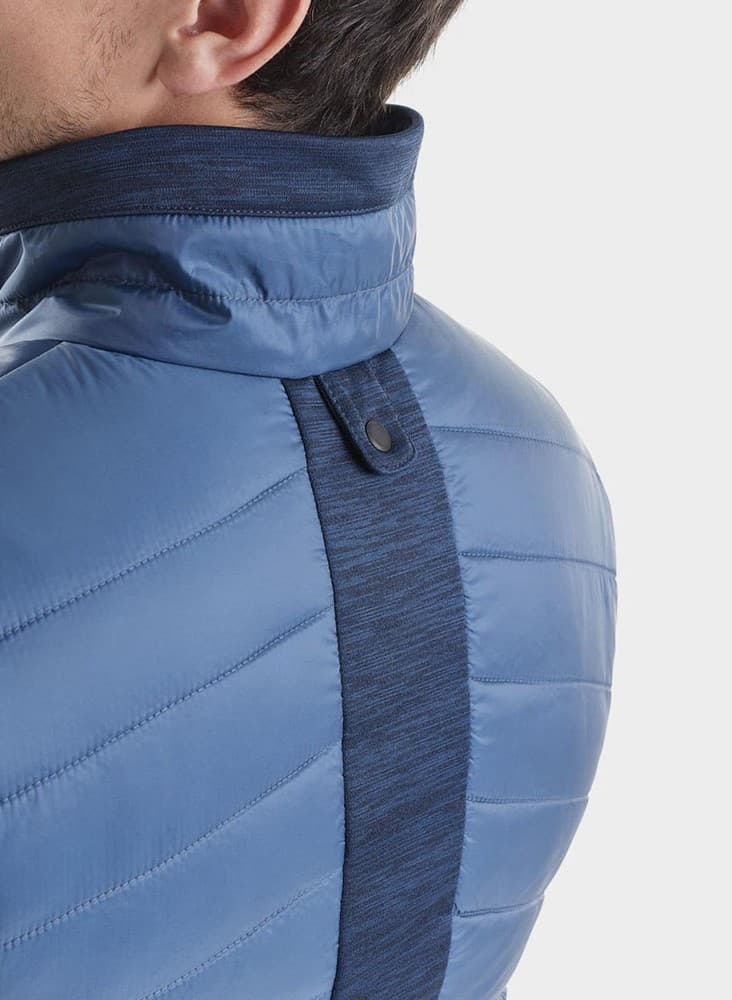 Spending your day at the stables in the cold, looking for a jacket that helps keep you warm and doesn't hinder your movement? The E-KELVIN sleeveless down jacket is for you! Innovative, this down jacket is equipped with the I-Warm heating technology: with 3 levels of heat it will know how to bring you a diffuse and continuous warmth throughout the day. This women's and men's riding sleeveless down jacket brings you innovative and smart protection against the cold.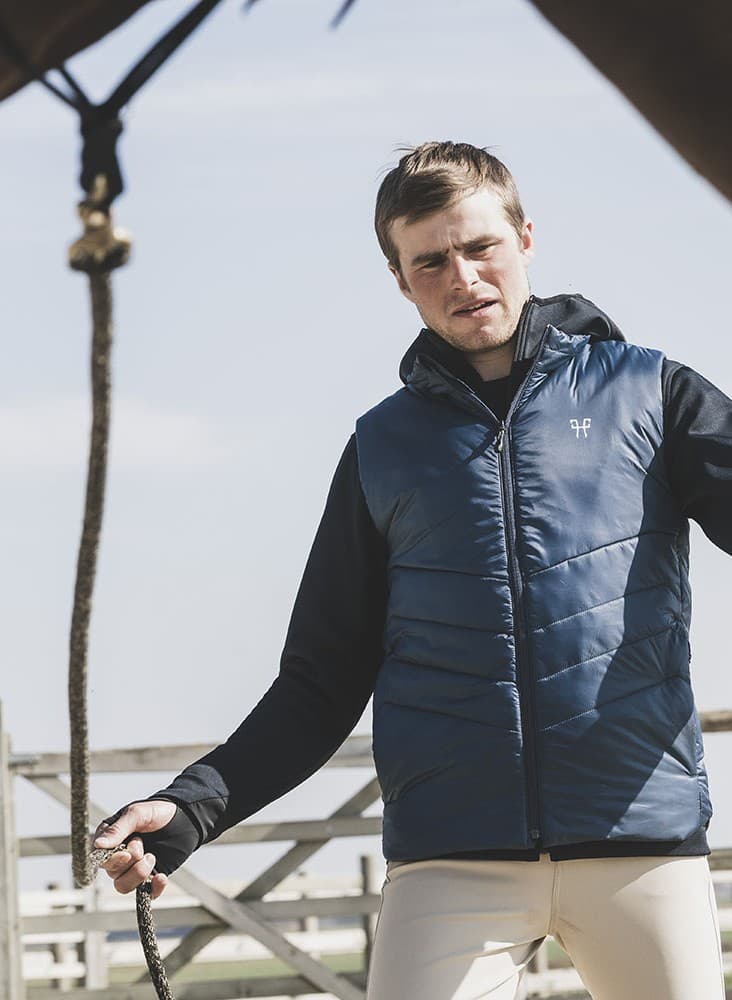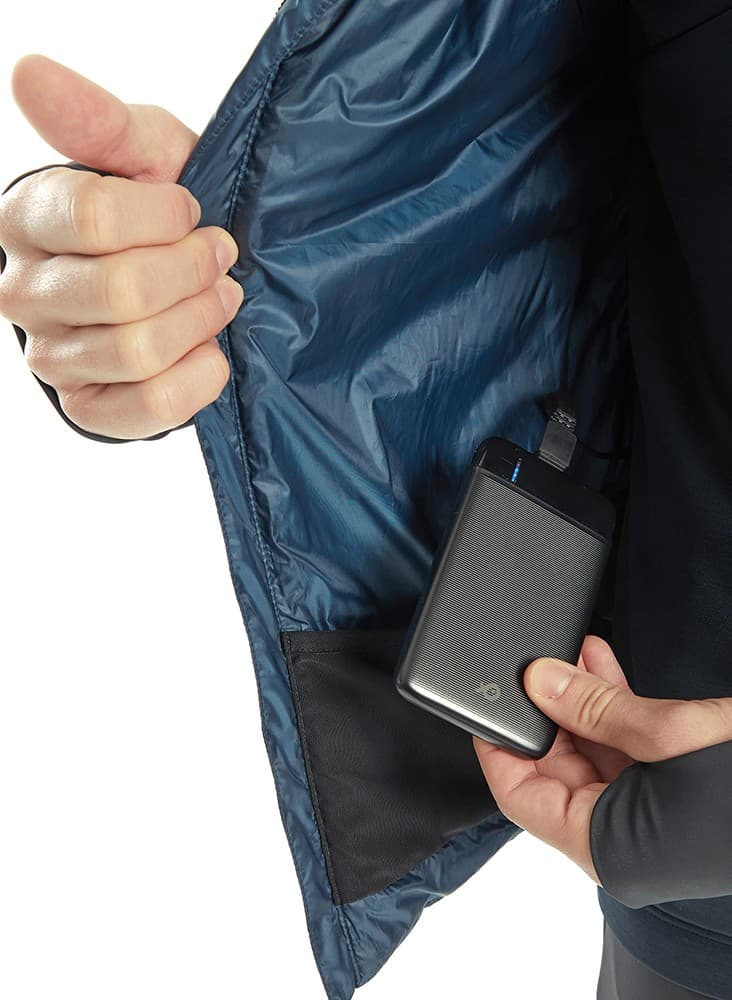 FIRST LAYER: BREATHING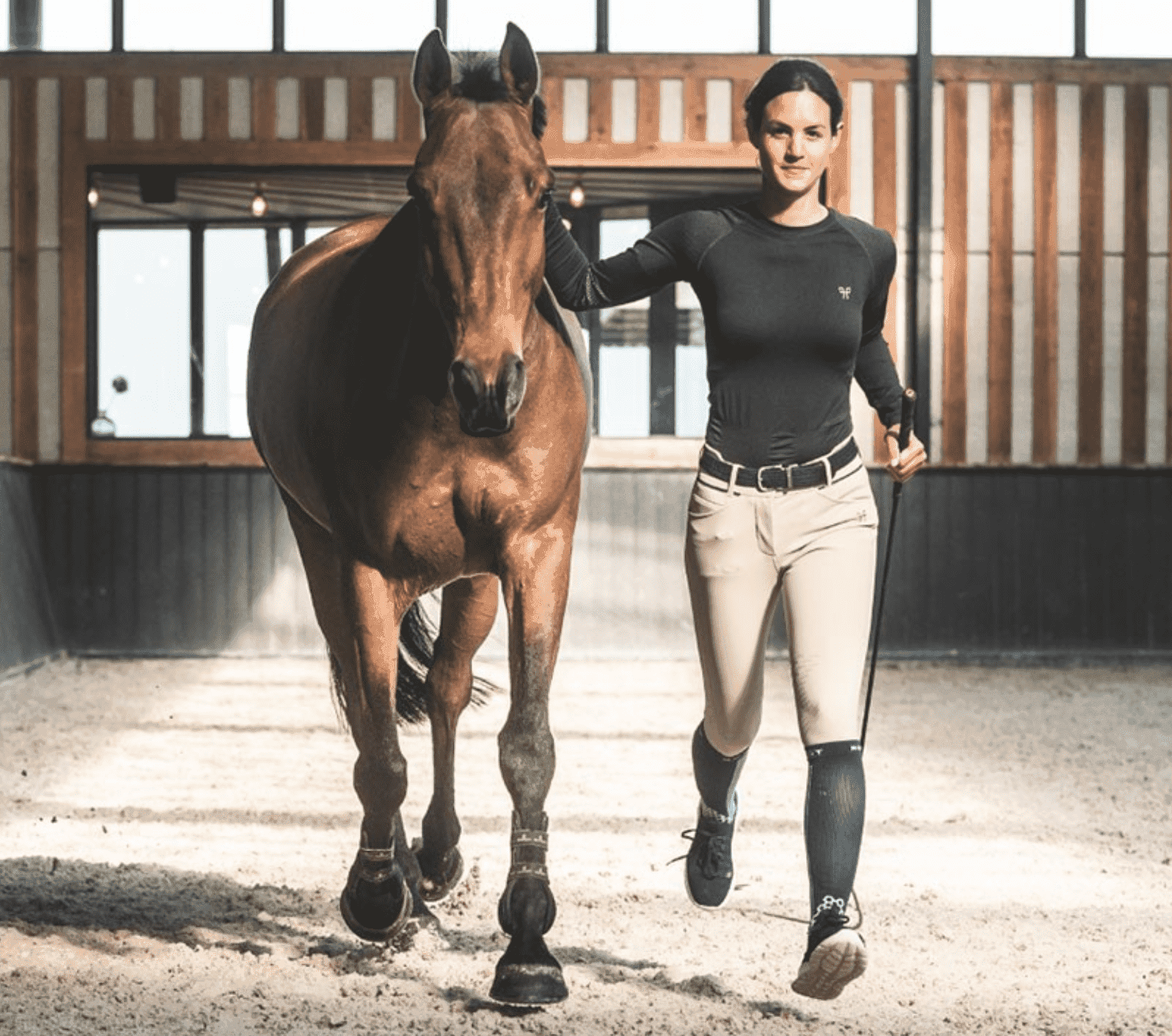 As a reminder, the first layer should keep the rider dry with a garment that absorbs sweat and then wicks it away to the upper layers. This is when riding jackets will be able to do their job.
So Horse Pilot has designed a series of first layers that can be worn alone or under jackets in cold weather. This is the case with OPTIMAX , which not only helps wick moisture, but also improves the rider's body support on horseback.  In a short sleeve style, ATLAS, our innovative polo shirt is designed in a stretchy, highly breathable material. Finally, TEAM SHIRT a comfortable and simple t-shirt will slip discreetly under any of your riding outfits.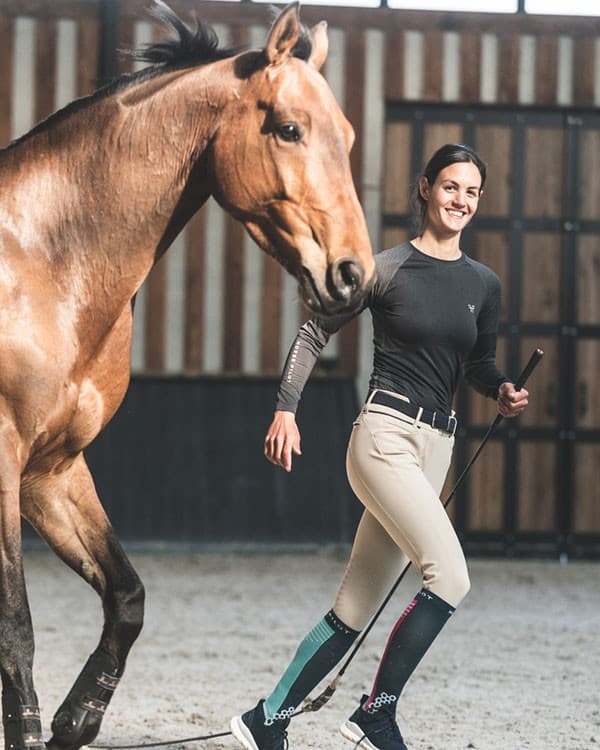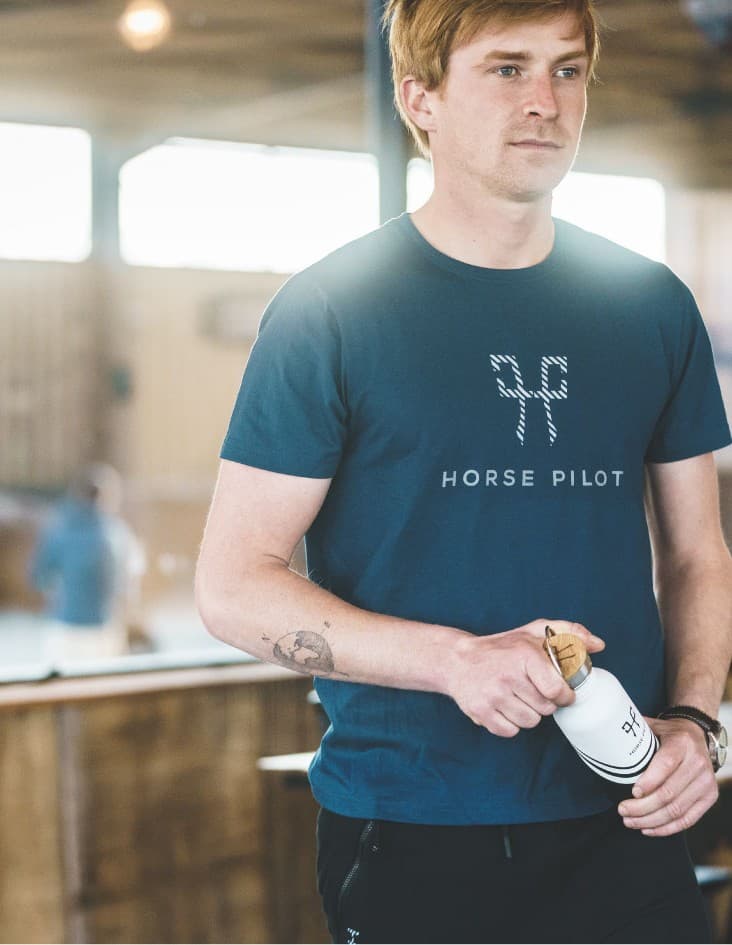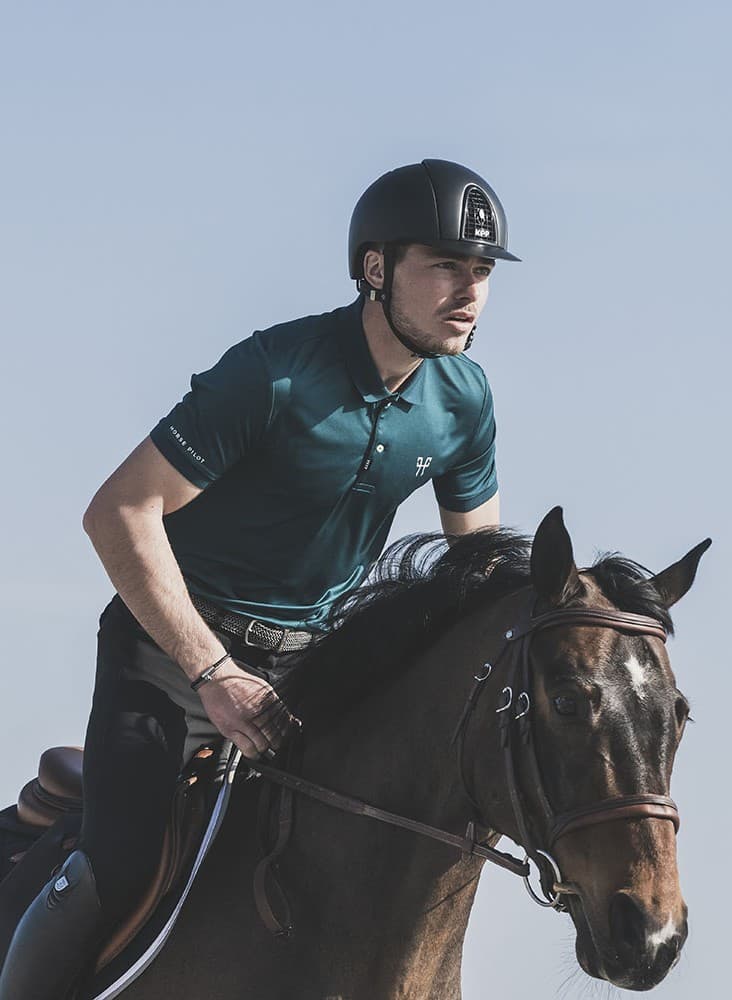 YOU MAY ALSO BE INTERESTED IN OUR OTHER GUIDES