Custom-made riding boots for women and men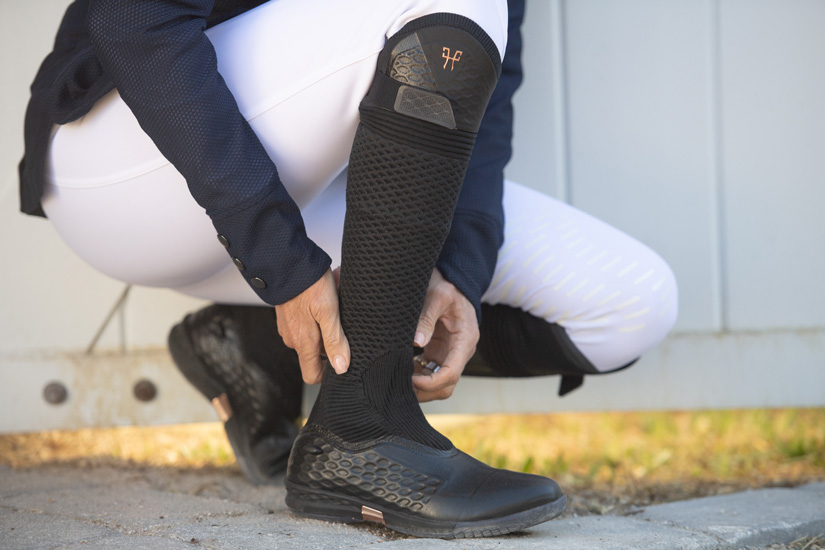 Horse riding with suitable equipment is essential. One such piece of equipment is riding boots. They bring comfort and safety to the rider's foot. Sometimes there may be a difference between women riding boots and men riding boots on models of competition riding boots in particular. This is why it is important to choose them well. Only, the morphology is specific to each one. Acquiring the perfect shoes for your foot can already be laborious. Buying riding boots is even more so, because it covers the foot, ankle and up to knee height. Which means more metrics to consider. A standard sized rider can find his pair quite easily in the self-service riding boots. While others find it much more difficult to equip themselves. In this case, the half-measure boot can be a good intermediary. Unless the custom-made riding boot is the best solution. Here are some explanations.
Standard riding boots
Classic in leather or rubber, with laces or elastics, you can find ready-to-wear boots in all styles. Huge choice and as many fittings to find the boot that comes closest to your ideal. Measurements are often based on standard shoe sizes, calf morphology and boot height. You have a long thin or voluminous foot, or calves of cock, you have an additional difficulty to find a fitted boot cut.
Moderately comfortable riding boots
The last thing you want while riding a horse is to wear a pair of boots that pinches or irritates you. In addition, the leather works. A boot chosen too loose ends up falling off because it has widened, or creating annoying and unsightly creases during use. Conversely, a boot that is too tight will compress the leg and end up wearing out prematurely. As a result, you are more focused on the discomfort of your boots than on what you are doing with your horse. This is why it is essential to pay attention to choice horse riding boots size and the right fit for you. Riding boots with measurements as close as possible to yours avoid all these discomforts.
Be careful when taking measurements
The ideal way to take your measurements correctly is to have someone assist you. Take them in a seated position, with your feet flat, equipped with your riding pants and socks. The length of the legs is to be measured, because we are generally asymmetrical. With a measuring tape measure, without tightening, the height from the ground to the mouth (the fold at the back of your knee) and the strongest part of your calves. Pay attention to the time of day. In the evening, the legs and feet are more swollen than in the morning. Then base yourself on the measurement of the strongest calf to choose your riding boots. It should also be taken into account that, if they are made of leather, the upper drops by 1 to 2 cm when the boot is made.
Half-size riding boots
You have a combination of shin size and calf thickness that is difficult to fit. Either the upper is too high or you don't tuck your calf in. With the half-measure or half-size boot, you can adapt the width of the boot or the height of the shaft. Depending on the model, you can find between 2 and 15 combinations per size. Thus, a tall person with a thin calf and a small person who requires a short upper can find what they are looking for. This method is often sufficient for many riders.
Bespoke riding boots
For riders who are desperate to find their ideal model of boot, all that remains is made-to-measure. It is a more expensive solution. But you get a riding boot that hugs your riding leg perfectly.
The advantages of made-to-measure riding boots
You have a thin calf with a large shin or, on the contrary, a thick calf and a short shin. Whatever your physical particularities, your bespoke riding boots are handmade by a bootmaker and therefore customizable at will. The choices of colors and appearance are vast. Depending on the manufacturer, you can choose the color (black, burgundy, brown, etc.) of your leather, or even use several colors, choose your type of soles and your finishes (zipper, straps, laces, etc.). In short, you can opt for the classic cut in black leather, a croc boot, Spanish cut, Saumur or high-top riding boots.
High-end riding boots
The quality of the tailoring and the quality of the products make the quality of the custom-made boot. At the entry level, ready-to-wear leather boots are made with all parts of the skin. While a top model is made of top grain leather with strong stitching. From riding boots to leather polo boots, your made-to-measure riding boots are made especially for you and your horse to enjoy the pleasure of riding.
Prices of made-to-measure riding boots
The quality of leather and craftsmanship comes at a price. You usually have an indication of a price for the basic model, which varies according to the options you choose. You also have a waiting period before getting your custom-made riding boots, which corresponds to the manufacturing time in the workshop.
The Horse Pilot riding boots in 3D Knit
What if you got a boot that has all the benefits of custom riding boots at the price of a classic boot? This is the challenge that Horse Pilot has successfully taken up. We spent 3 years developing a unique boot for uncomplicated riding. We have used the best of the most innovative running, cycling and swimming technologies to adapt them to equestrian sport. No less than 6,000 hours of testing went into fine-tuning the details of this boot.
An alternative to made-to-measure riding boots
The Teknit Boot, as it is called, is a revolutionary boot. You get the comfort of a pair of sneakers. Its cushioned sole stabilizes the foot to guarantee its support. And the boot adapts to your morphology in height and width. With the Teknit Boot, a single boot is enough for your practice of dressage or show jumping.
Performance and comfortable riding boots in 3D Knit
Thanks to its 3D Knit mesh, the Horse Pilot riding boot is stretchy and breathable. Regardless of the morphology of your calf, the mesh tightens or stretches to wrap your leg without compressing it. Beyond the calf, a Stretch Accordion Knit is located on the top of the boot. Thus, the boot also adapts to the height of your leg. It slips on like a sock for optimal comfort on foot or on horseback.
Riding boots comparable to made-to-measure at an attractive price
The stretch capabilities of the 3D Knit allow you to get custom-fit boots, even with one leg shorter than the other. And unlike other boots, the size is enough to choose it. While you would need at least the leg shank height and calf circumference for a standard boot. No need to ruin yourself for a custom-made riding boot.
How to choose your standard, half-size or custom-made riding boots?
The purchase of your boots is made according to your needs. A rider who rides once a year does not have the same needs as an experienced rider who trains very often to go out jumping. It's up to you to see what suits you the most.
Depending on your budget
The price of standard riding boots ranges from 40 to 900 euros on average. For 40 euros, you get entry-level rubber, which is suitable for your first attempts at equestrian leisure or for very occasional wear. You have to bet on a minimum of 200 euros for a leather boot of significant quality. In half-measures, prices range from 500 to 900 euros on average. For custom-made riding boots of good quality, the average is 600 to 800 euros. But the purchase price can go much further depending on your choice.
Depending on your morphology
You have a strong or thin foot, a very thin ankle, a thick calf with a small leg or a thin calf with a large leg. Your riding boots must be as close as possible to your morphology to ensure good comfort and good contact with your horse. A so-called "standard" morphology will find its happiness in the choice of standard, half-size and made-to-measure boots. While others will have to bet on half-made or even made-to-measure boots to find their ideal boots.