The different types of riding boots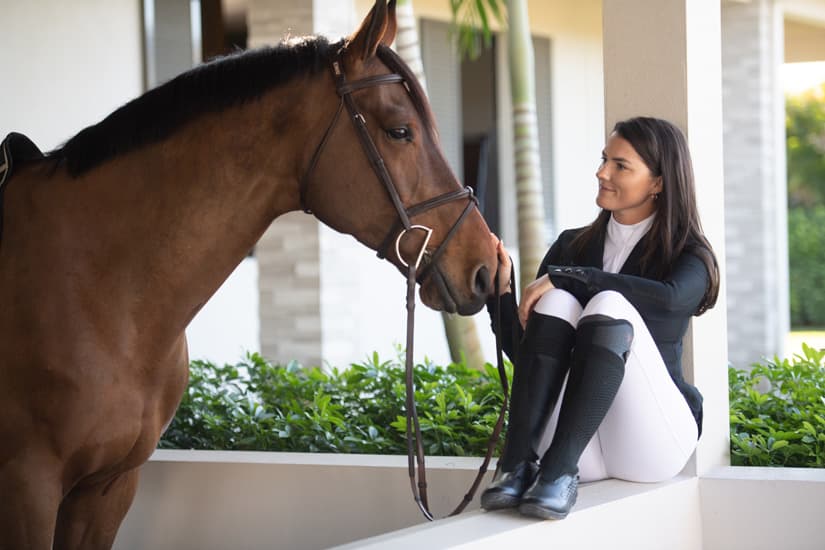 Riding boots are essential for riders: they support the leg and prevent chafing. There are different types of riding boots: high boots, ankle boots, for lessons or competitions with competition riding boots, adapted to the weather and even state-of-the-art.
Classic riding boots
Unlike tailor made riding boots, the manufacture of which is adapted to a particular person, so-called half measure. These, of more standard manufacture, are available in several upper heights and calf sizes.
Riding boots
Traditionally, riding boots slip on like socks because they do not have zippers or laces. They are equipped with external or internal boot pullers in order to be able to put them on more easily. However, this type of boot is not suitable for calves or kicks that are too strong.
Riding boots
Riding boots are usually worn with a pair of half-chaps. Ideal for classes, they offer a casual look while being elegant. Generally equipped with laces, they are thus adjustable to the foot of the riders.
Riding boots
Like boots, riding boots are worn in combination with half-chaps. Also equipped with laces or a closure, they are ideal for casual riding outside of competition.
Riding shoes
Riding shoes, like stable boots, are versatile and suitable for stable work and horse care. Generally equipped with a thick sole, they are sometimes padded to protect the feet from the cold. However, they cannot be used in competitions.
Different riding boots depending on the practice
It is important to adapt your boots to the disciplines practiced. Indeed, different types of boots exist to best adapt to the practices of each rider.
CSO boots
Boots suitable for show jumping are made of soft leather. This allows the boot to adapt to the position of the leg and ankle during balance, and to accompany the horse's jumping movement.
Hiking boots
Hiking boots have a thicker sole than traditional boots, which helps to gain grip on the stirrups. Often in leather, they are resistant and durable and protect against bad weather.
Polo boots
The polo boots have reinforcements at the shin and ankle. This protects these sensitive areas from a possible hammer blow.
Dressage boots
Dressage boots are made of stiff leather. This allows a very good support of the leg on the sides of the horse. Thanks to their zipper, they are easy to put on and take off.
Stable boots
A good pair of stable boots is often appreciated by riders. Versatile, they are suitable for cleaning the stable as well as for outdoor walks or horse care. Waterproof, durable and resistant, stable boots are more rigid than leather boots and cannot be used in competitions.
Boots in different types of material
The boots can be adapted thanks to their material: rubber, plastic, leather or even revolutionary 3D mesh.
3D Knit riding boots
The Teknit Boot in 3D Knit are made of a flexible and stretchy 3D mesh. The result of long research, they promise the rider comfort, performance and elegance. Thanks to the 3D Knit, they adapt perfectly to each morphology.
Leather riding boots
Leather riding boots, popular with riders, are tough, durable and stylish. The soft material is comfortable to wear and provides perfect support for the leg. More expensive than plastic or rubber boots, this investment is nevertheless profitable by their lifespan which can go up to several years. However, they require regular leather riding boots care and are not suitable for stable work.
Plastic riding boots
More resistant than leather boots, plastic riding boots are ideal for children or adults who spend long periods of time in the stables. They are suitable for stable work and are sometimes equipped with a closure at the back of the leg to put them on easily.
Winter riding boots
During cold and/or wet periods, it is important for a rider to wear a good pair of boots that can prevent him from having wet or frozen feet. Thus, the winter riding boots are waterproof and have thin, warm padding that will not interfere with the contact of the leg with the horse. . Some also have non-slip soles.
Rubber boots
Ideal for beginners and/or children who want to learn to ride, rubber boots have many advantages: at a very affordable price, they are very resistant and easy to maintain and clean.
Riding boots that differ in style
There are a lot of different riding boots, both in material and use. They can also be differentiated according to their design and the accessories they include. The toe of the boot can be square or round, depending on individual taste and the comfort sought. Ditto for the heel, which can be more or less pronounced. Sometimes equipped with zippers or laces for easier donning, riding boots can also be black or colored (brown or with small colored touches). Finally, the boots can be equipped with accessories, such as spur cleats, a tongue to protect the zipper or pressure to prevent it from slipping and opening.
Types of horse riding boots