Horse Pilot winter riding boots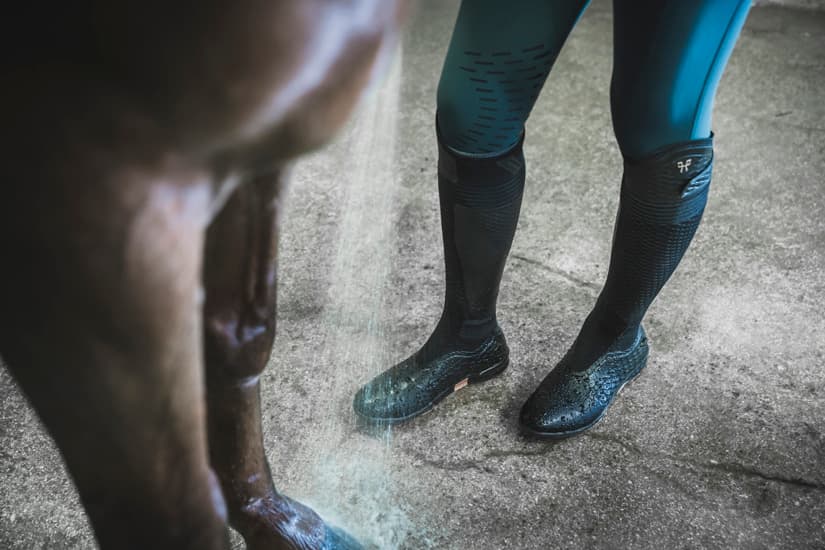 Horseback riding is a sport that is practiced largely outdoors. Summer and winter alike, this activity leads riders to suffer from the weather. They must therefore be prepared to face the climate and temperature changes. One of the most important things to consider is the quality of the riding boots. These are essential for horse riding: they protect the lower leg from repeated rubbing. In order to face the cold with confidence, Horse Pilot offers winter riding boots specially designed to keep riders' feet warm and dry.
Why buy winter riding boots for horseback riding?
Wearing riding boots in winter is essential. In addition to keeping the lower leg and the foot warm, the boot prevents the rider from suffering from repeated friction that the legs are subjected to, and even sometimes from injury. In addition, unlike other shoes, winter riding boots have a sole that adapts perfectly to the stirrups. Finally, wearing boots greatly improves comfort on horseback, thanks to the specific features of certain reinforced soles: they have a stability arch that distributes the effort over the entire arch of the foot.
Riding boots suitable for winter
For a rider, it is particularly uncomfortable to have cold feet. Indeed, horseback riding is an activity that is practiced both on horseback and on foot, it is important to protect them from cold temperatures. This allows riders to be more comfortable and no longer fear winter. Many brands offer a very wide choice of thermal boots and ankle boots suitable for cold winter temperatures. They are equipped with a lining to keep the feet and lower legs warm. They are also partly waterproof at the bottom to keep your feet dry. Thanks to these boots, it will be possible to face snow, rain, wind and cold with complete peace of mind.
A large selection of winter riding boots
Horse Pilot offers a wide range of winter riding boots suitable for all riders. There are indeed classic style models or rain boots, black or brown, rubber, leather, lined or lined, etc. Everyone can find the ideal pair of boots according to their tastes, needs and budget.
Technical winter riding boots for horseback riding
Particularly renowned for its techniques and innovative technological approach, Horse Pilot has designed the Teknit Boot, a boot that is elegant, comfortable and high-performance. It adapts perfectly to the morphology of each leg thanks to its 3D Knit technology. In addition, it slips on like a sock: no need for laces or Zippers® which are both painful and impractical. The Teknit Boot is available for all sizes, and becomes the ideal women riding boots . He cannot trade a version of the Teknit Boot in a version men riding boots.
The ideal pair of boots
The Teknit Boot is reinforced on several levels, including the ankle and toe. At the forefront of innovation, it is embellished with two layers of grip on the calf, which guarantees riders a leg protected from friction and well fixed. In addition, these riding boots are very comfortable and lightweight. They perfectly combine flexibility and resistance, to ensure riders incredible comfort in a high quality boot.
How to choose your winter riding boots?
To correctly choose a pair of winter boots, it is important to think about and take into consideration several elements. Indeed, for pleasant and comfortable boots, it is necessary to opt for a product adapted to the size of the rider, to his level, to the disciplines he practices and to his budget.
Winter riding boots adapted to the level of the rider
Riding boots should be chosen according to the level of the rider, just like the rest of the equipment. For example, a beginner rider will prefer a pair of rubber boots, which are inexpensive and easy to maintain. Conversely, an experienced rider will rather choose leather boots, which are more comfortable and aesthetic.
Winter riding boots according to equestrian disciplines
Each equestrian discipline has specificities, and it is more comfortable for a rider to adapt his boots to these specificities. Thus, for the practice of dressage, it is advisable to choose rigid leather boots that will keep the lower leg straight and well fixed. For show jumping, soft leather boots will be ideal, as they will accommodate the flexing movements of the ankle in a balanced position. For hiking, it is best to opt for sturdy leather boots, the thick sole of which adheres perfectly to the stirrup.
Size guide for winter riding boots
In order for each rider to choose a pair of winter riding boots in the perfect size, he must base himself on certain elements: his size, his leg height, and his calf circumference. To help riders in their choice, Horse Pilot provides them with a size guide. However, it is necessary to remember that the Teknit Boot should be chosen only according to its shoe size. Calf width and leg height are fully adaptive thanks to 3D Knit.
How to maintain winter riding boots?
The maintenance of boots is essential to guarantee a long life. Regarding synthetic or rubber boots, it is extremely simple to maintain them: a damp cloth or sponge is enough. In contrast, leather winter boots require more care. We can advise you to clean them with a mild agent; this will prevent the leather from drying out or being damaged. After use, it is best to let the boots dry before proceeding to their maintenance. Finally, there are shoe trees for storing the boots, to ensure that they keep their shape. The maintenance of winter riding boots is all the more important since riders have to use them in damp places and/or in the snow, which risks staining and damaging them, for example if the ground is salty.