Horse Pilot riding pants and breeches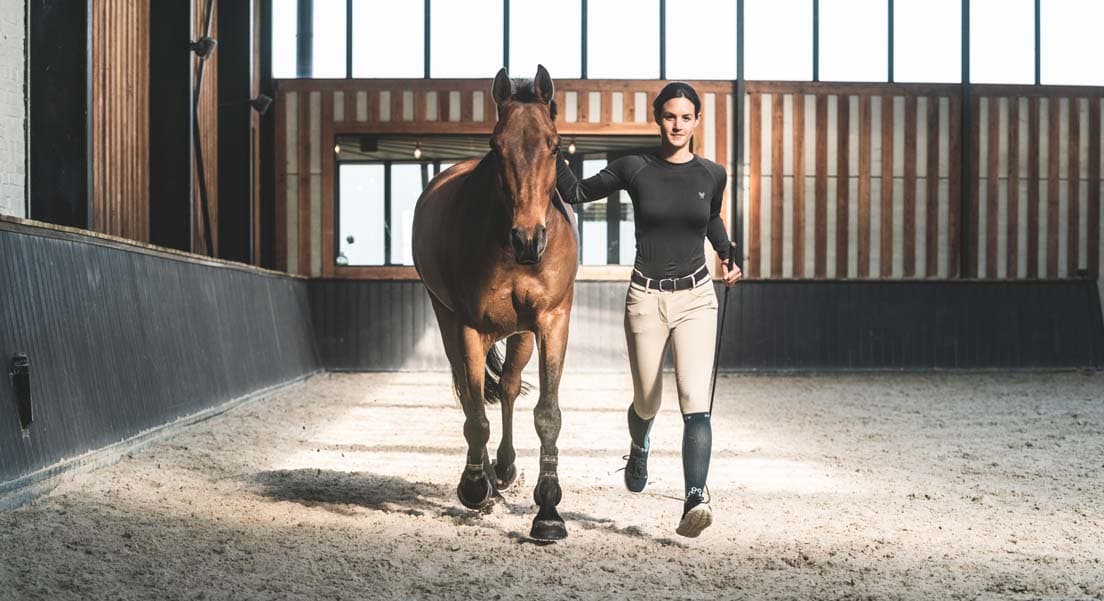 Riding pants, also known as riding breeches, are essential pieces of equipment for any lover of equestrian activities. Depending on the level of expertise, they offer many advantages to the rider, such as comfort and support. In addition, you can wear them with technical trousers adapted to horse riding for reinforced protection over or under the riding breeches.
Our women's, men's and children's riding pants
It is never too early to fall in love with everything horse-related - this is why we have developed a selection of riding breeches for riders of all ages. Horse Pilot allows riding pant for man, women, and children to find the perfect riding jodhpurs to practice riding in complete peace of mind.
Why buy riding pants for horseback riding?
Jodhpurs are equipment adapted to the movements of the rider. They protect against friction between your skin and the leather of the saddle or the horse with adapted seams. Did you know that many technical options exist: pants with knee patches, grips, full seat in silicone, leather, or leather? Each model has technical features that benefit the comfort and safety of the rider.
A top-of-the-range brand of riding pants and breeches
Many riding pants and breeches exist on the market, from cheap riding pants to designer pants. We understand that it can be hard to choose the right pants for you, so Horse Pilot has made a limited range of riding pant for woman, men's, and children's riding pants - accessible to all but of high quality. Like all the equipment of our brand, we have studied the technologies of a range of sports to bring you the best in technique, comfort, and modernity.
The Horse Pilot collection of riding pants
Whatever your level, riding practice, weather conditions, and figure, we have your solution. Everyone has their own X-Balance model, even in riding pant for kid. The X-Dress women's riding pants appeal to dressage enthusiasts, while the X-Tailor women's riding pants bring a new elegance to those who want to stand out with their tailoring. Meanwhile, protect yourself from bad weather and the cold with the X-Balance Winter. Slip the Optimax Tights Unisex under your riding breeches, or wear the X-Protech chaps. Finally, protect your white riding pants from dust with the Team Pants.
Colors for your Horse Pilot riding pants
Several colors are available for your breeches to ride with class in an equestrian club or your competition pants. Stay comfortable in CSO with totally opaque white jodhpurs. Change your black riding pants for the softness of beige. Stay on trend with blue riding pants or vibrant with red riding pants. You also have other colors, such as gray, to vary your pleasures.
Riding pants adapted to the seasons and the weather
Even with access to a heated arena, riding is often practiced outdoors. Weather-appropriate riding pants allow you to ride in any weather.
Waterproof and warm riding pants for winter
Stay warm with the X-Balance Winter model. Worn alone, you face the winter cold and humidity serenely, even if you're chilly. Perfectly invisible and comfortable, wear the riding legging Optimax Tights leggings as a liner under any saddlebags. Or make your riding pants waterproof with the X-Protech.
Lightweight, breathable riding pants for summer
In training, as in showjumping, perspiration is unpleasant and can be a source of irritation. The material of our pants gives you the effect of a breathable, light, and anti-UV second skin. As a result, heat buildup is limited in hot weather. Your perspiration wicks away quickly, and the fabric dries quickly.
Good quality technical jodhpurs for riding
We are committed to improving your athletic performance. Horse Pilot combines innovation and technology to create quality technical riding equipment. Including for your children, even if they often grow up too quickly.
Riding pants with grips and non-slip
Grips on the seat ensure your grip and a fixed position in your saddle in dressage, even if your saddle is slippery. Horizontal grips inside the knees help you secure your legs when jumping. These grips give your saddlebags extra protection against abrasion.
Comfortable riding breeches with a silicone bottom
Your silicone-bottomed riding breeches give you better posture in the saddle. It also increases the rider's comfort, even after a long time spent on horseback.
Performing riding pants
The bi-stretch Sensitive Fit material leaves you free to move, both on the ground and mounted. Oeko-tex certified it offers good resistance to abrasion and time with its anti-UV system. The bottom of the pants compresses the calf, which promotes blood circulation. As a result, your leg muscles are better oxygenated, and you recover faster after exercise. The pants also stay in place when you put on your riding boots or when you wear them with riding boots.
Designer riding pants for riding
Because comfort can rhyme with elegance, our Horse Pilot riding pants are modern and timeless.
Our riding pants with pockets
So you can keep your phone and a few treats for your horse close at hand at all times.
Our seamless riding pants
No misplaced seams will bother or hurt you. Whichever model you choose.
Our tight riding pants
Enhance your silhouette with the shaping effect of your pants without velcro at the ankle, like a second skin. Thus, no unsightly or unpleasant crease.
Our high-waisted riding pants
Move without worrying about your pants coming down on your bottom. Great rider or little rider, high-waisted riding pants enhance your silhouette.
How to choose your riding pants
In addition to the aesthetic aspect, saddlebags are chosen according to your needs related to your horse riding practice. It is also essential to opt for riding clothes in your size
Riding pants that fit your level
The beginner rider appreciates the comfort and freedom of movement of jodhpurs, which have a full seat for better stability. The needs of the confirmed rider increase with his regular, even intensive practice. Saddlebags should be hard-wearing and easy to care for. Technical options, such as well-located silicone patches or grips, are chosen to improve contact with the horse and the saddle's leather, both in competition and in training.
Riding pants for every equestrian discipline
Riding pants with a tight and elastic fit are ideal for everyday riding. Jodhpur pants are great for Western riding or hiking. Showjumping fans are adopting the reinforcements on the knees of riding breeches with knee patches. Riding pants with a full seat ensure good stability in the saddle with their silicone reinforcement or a faux leather insert, which helps you hold your position during training sessions. The pants will, of course, be white for your jumping.
Riding pants size guide
In general, the size of riding breeches is similar to that of regular trousers. However, some brands may have different standards depending on their origin - such as Italian or German brands. For your in-store purchase, try on your riding pants. For an online purchase, use the size guide published by the store. If you like the look of one of our breeches but are unsure which size to choose, don't worry - Horse Pilot makes your life easier. Simply click on "Find your size," located above the size indications of your model. Answer a few quick questions about your morphology, and you get the size to take.
Which riding pants for which figure?
The perfect pants are the ones that make you feel good. A slim figure can wear anything. A plump rider or one with wide hips may be more comfortable in riding pants with stretch fabric. A low rise in the front keeps little tummies from feeling cramped. If you are short in stature, avoid low-rise riding pants, while the high waist is suitable for both petite and tall. The jodhpur cut has a more flared bottom of the pants. It's perfect for feeling comfortable with a big calf or wearing riding boots.