Horse Pilot kids riding jackets 10 to 14 years old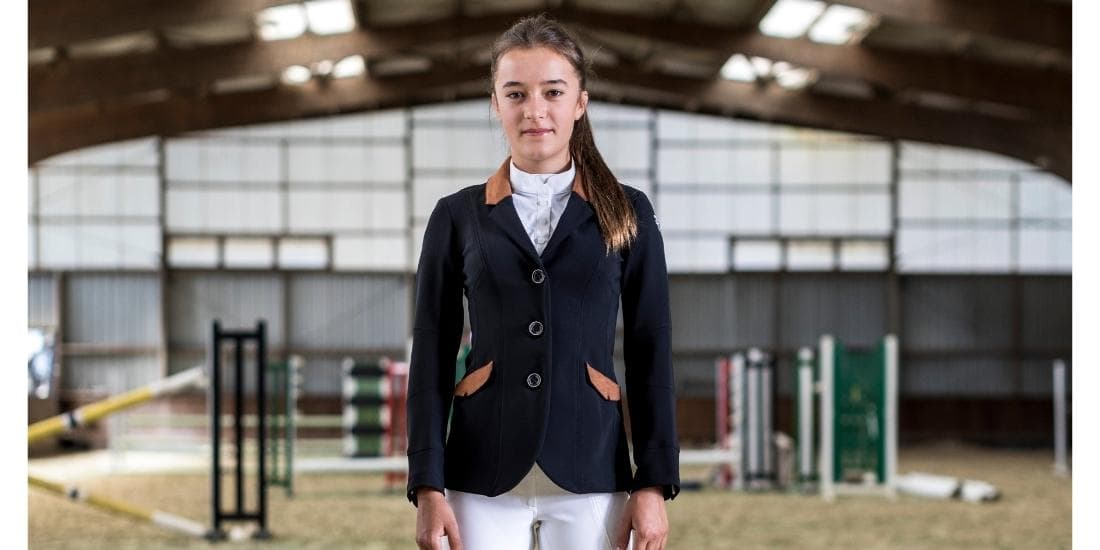 Your child loves to spend time at the equestrian center, no matter the weather or the season. Let him get some fresh air and exercise, yes. Let him get sick, no. Equip your junior rider with a girl's horse riding jacket or boy's horse riding show jacket Horse Pilot. Thus, well protected in the rain or snow, riding a pony or a horse remains a pleasure for him or her.
Our children's riding jackets suitable for pony or horse riding
Riding is an outdoor sport. It imposes certain requirements of clothing comfort, so that riders can progress without constraints. Horse Pilot designs riding clothes intended for sport riders and adapts them to our little champions.
A premium riding jacket brand for kids
Protect your child without confining them with lightweight, practical and durable horse riding jacket and riding coats. Your offspring is preserved like a jewel in an elegant jacket. Thus, she will be proud to show it off at the Pony Club or the equestrian center.
Horse Pilot child's collection of riding jacket
Horse Pilot starts its line for junior riders at size 10. This age marks the beginning of adolescence, and the desire to stand out in style, as much as adults. But with models just for them, like their first equestrian show jackets in blue or black.
Seasonal and weather appropriate riding jackets for kids
Your teen needs to be well protected. You want a rain jacket, windbreaker, or winter coat to keep him warm and dry in inclement weather and cold winter weather. Horse Pilot offers a varied range to meet his needs.
Summer and mid-season kids jackets
Find light and breathable jackets to adorn your teenager in case of summer rain or fall gale. Each situation has its own model. For example, the lightweight, durable waterproof and windproof jacket that fits in your pocket. Or the sleeveless down jacket, breathable and comfortable.
Softshell jackets for kids
What is a softshell jacket? Simply the perfect jacket to protect your child rider. In a nutshell, it's a warm zippered jacket with a windproof and water-repellent surface. It's both durable and breathable so you won't experience a sauna effect, even during exercise.
Kids' jackets for winter
To keep riding workouts fun, even in the dead of winter, opt for a versatile, ergonomic jacket like the Essential Girl. Both waterproof and warm, your child is wrapped up in effective protection against rain and cold.
Technical riding jackets for kids who ride
As a long rain jacket or a warm jacket, our selection of riding jackets and coats fit the rider for both foot and horse work. Easy to maintain, these garments are equipped with technicality to become performance assets for your riding athlete.
Comfortable riding jackets
From down jackets to parka jackets to lightweight raincoats, at Horse Pilot the fit is pre-shaped to the rider's position. Once in the saddle, there is no risk of the jacket riding up or getting in the way of sitting. This is thanks to the adapted short cut or to well placed openings at the bottom of the long jackets. The latter are adjustable by gussets, zippers or snaps.
Performing riding jackets for kids
Materials come together to offer tough and flexible dual-material zippered jackets. Junior riders retain their freedom of movement, both in the stable and while riding. Each jacket is waterproof, windproof and warm. All with excellent breathability so you don't sweat, even when the effort intensifies.
Designer riding jackets for riding
Be assured you're not investing in a jacket that will stay in the closet. That's the case at Horse Pilot, thanks to models whose design appeals to even the most discerning teen riders. The cut is practical for riding and putting hands or treats in the pockets. But whether quilted or not, a riding jacket from our brand is also trendy.
How to choose a riding jacket for a child.
Avoid the headache of choosing a kids' riding jacket or coat. Opting for Horse Pilot means choosing the ideal fit and soft comfort of versatile riding jackets and coats. You guarantee your child will have a functional technical garment tailored to their protection needs.
A riding jacket tailored to his level
Better than a classic ready-to-wear coat, a riding jacket participates in the evolution of the rider's sports performance. It accompanies the movements of the beginner rider as much as those of the experienced rider with a close-fitting cut. Make your child earn presentation points, at the pony club or in competitions. The pleasant materials used in perfect union enhance your child's appearance, including in a show jacket.
A riding jacket for every equestrian discipline
A multipurpose jacket has the advantage of being used in several equestrian sports. However, a rider does not put on the same jacket on the show jumping track and while riding. A short jacket is also more aerodynamic than a long jacket for winning a race. Whether your child is a show jumper, dressage rider, or just wants to go for a ride, there is a jacket that meets these requirements. It's not for nothing that great jumping champions trust us. With a stand-up collar, long sleeves that extend with a grommet or sleeveless, a short bomber or a long jacket that covers the hips, with a removable hood or without a hood, or a nice stretchy and comfortable show jacket... A wide range awaits you.
Children's size guide to buying a riding jacket
Is your child taller? Keep feeding him soup without fear. The solution lies in women's jackets. Models start in size XS. This makes it possible to find a perfect transition between the sizes of children's jackets and adult jackets, including boys.
How to care for your teen's junior riding jacket
Whether your teen is a girl who's careful not to get stained or a hyperactive boy with a passion for action, riding often leaves its mark. By doing the right things from the start, your child will enjoy their riding jacket for a long time. Generally, if your teenager comes home covered in dust, shaking the jacket will get rid of it. Slight traces of mud are easily removed once dry with a damp sponge or soft brush. So, no need to wash the riding jacket every time.
Don't use harsh detergent. Choose a special detergent for technical clothing or a mild detergent, and a suitable washing program. This way you preserve their breathable and waterproof function, shape and color. Fabric softener is not necessary to keep them soft. And leave your dryer to rest. Riding clothes prefer to air dry. When in doubt, refer to the riding jacket label or our care guides.
Bonus tip if you're not familiar with our site: look in Outlet Teens to see the deals of the moment to make. This is often an opportunity to give your child an extra gift at a discounted price.
Kids' horse riding jacket