Leather riding boots for women, men and children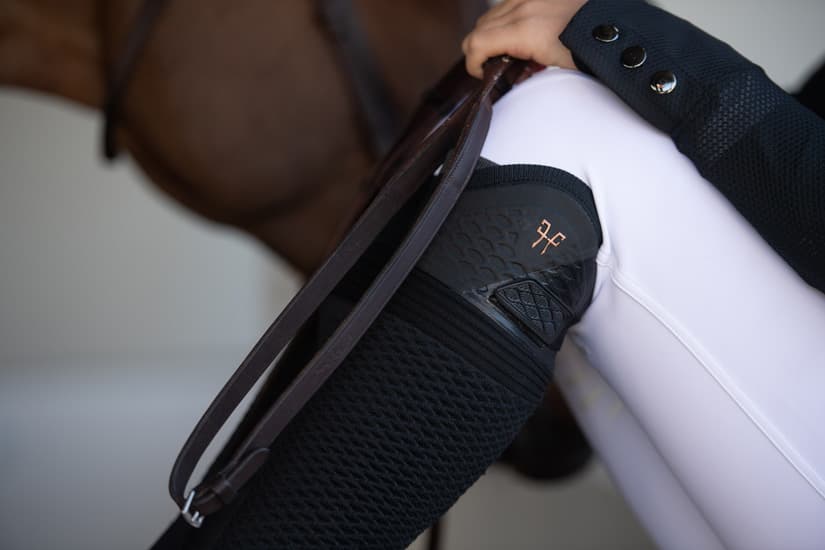 How do you get the perfect outfit for riding a horse well equipped? Riders and horsewomen fine-tune their style with leather riding boots. They bring together comfort, safety and class, making them a must-have.
Why get leather riding boots
In the same way as boots, riding boots and chaps or gaiters, equestrian boots protect the rider's legs. They avoid injuries due to rubbing against the saddle and prevent pinching with stirrup leathers. Leather boots are more expensive than rubber boots. But they are also more comfortable and aesthetic than PVC boots. Because leather is a natural, "living" material, your foot breathes better. And you get a better fixation of your leg with this material. The price varies depending on the model of riding boots, as well as the quality and material of the design. It also fluctuates depending on whether your riding boots are standard, half-size or custom. Leather riding boots are purchased according to your practice, level and equestrian discipline.
The 5 types of boots for classic horsemanship
Whether it is for the women riding boots or the men riding boots they exist several types of boots, here are five common ones:
The rubber boot
Although durable, these boots are not very comfortable. That's why they are used by beginner riders and juniors.
The synthetic leather boot
The vegan boot is made of a material similar to real leather boots. Its price point and anatomical shape place it between the rubber boot and the real leather riding boot.
The dressage boot
Its stiff leather helps the rider keep his leg straight and fixed while riding. A zipper can be placed in the front.
The show jumping or eventing boot
Their soft leather facilitates ankle flexion in its movements when the horse jumps. You can opt for boots with pre-tied laces or with a zipper on the back.
The hiking boot
It's rugged leather allows it to stand up to any weather. And its thicker sole promotes foot grip in the stirrup.
How to choose leather riding boots
Horse boot materials range from synthetic materials, such as silicone, to cotton canvas. Leather boots can be expensive and require more maintenance. Especially when it comes to luxury handmade boots made by a bootmaker. Here's what you need to remember to choose your boots well.
Leather
The quality of the leather influences the comfort, price and quality of the boot. Cowhide leather is durable. Calf leather is more fragile, as it is thinner, with a smaller grain than cowhide. Full grain leather comes from the noblest part of the skin. For a soft and comfortable lining, calf or pig leather is often used.
The sole
The thin soles prevent the feet from getting stuck in the stirrup. The thickness of the soles of trail riding boots is designed for riding. Stitched and glued soles are more resistant and have a better quality. Technical rubber soles are smooth or serrated. Leather soles are made of thick, smooth cowhide. Lined or fully leather, your feet breathe.
The Heel
Small heels on your riding boots prevent your foot from getting stuck in the stirrup if you fall. The heel height is between 2 and 3 cm. The presence of cleats allows you to optimize the position of the spurs and their maintenance during your riding session.
With or without a closure system?
Color and decorations
Traditional black riding boots color for colorful designs like brown riding boots iced, burgundy, or even blue, red or camel. Plain or two-tone, find out about the authorized colors before wearing them in competitions. Because, unlike CSO, certain disciplines such as Hunter or dressage are more sensitive to colored boots and decorations. Dare to match your boots to your outfits with rhinestones, a differentiated grain of leather or bi-material boots.
Finishes
Guide to find leather riding boots to your measurements?
If your upper/calf/ankle measurements are standard, you have a wide choice of riding boots. You will easily find your happiness among the standard boots or the existing craft boots. If your feet or legs are off the charts, how do you buy the perfect leather riding boots for your measurements? The stem should be high, but not too high. A shaft that is too high can injure you, especially with dressage boots or show boots. A stem too low too, because the boot can pinch you with the saddle. Consider the fact that leather works by adding 2.5cm to your shaft height. Choose boots that fit your ankles and calves well. Fit matters for your comfort. When buying, take into account that the leather stretches. It is best to take your measurements, wearing socks and your riding pants. Options such as lace-up boots can meet the needs of a thin ankle or a more or less large calf.
The Horse Pilot alternative to leather riding boots
Why complicate your life with leather riding boots? Horse Pilot simplifies your life with a unique model of boots. Your shoe size is enough to obtain custom-made riding boots. This boot is the Teknit Boot.
Technology at the service of performance
The best of innovative technologies applied to equestrian sport results in a 3D Knit boot from the ankle to the top of the boot. Which makes it flexible on horseback and in stable work. And a shoe with a flexible sole with an arch that increases your stability, even in the sand of the quarry.
Designer and comfortable riding boots for horseback riding
The 3D Knit mesh, stretch in all directions, gives an original and elegant look to your boot. The Teknit Boot adapts to all body types and your movements. It slips on like a sock for hours of equestrian leisure.
High-end riding boots at an affordable price
Technology and design quality make the Teknit Boot a quality boot at an affordable price. All riders can buy the perfect boot. And invest in a reliable riding boot for many years of competitions and training.
How to care for leather riding boots?
Caring for your riding boots properly, especially when they are made of leather, allows you to keep them for longer.
Accessories for your riding boots
Face the weather, summer or winter, with your all-weather leather riding boots. Add liners for adult or child riding boots in fleece to protect you from the cold. Or opt for warm velcro or lined slip-on boots. Preserve the shape of your boots with shoe trees. And store them in a practical riding boot bag. Do you have riding boots without a closure system? Use a boot remover to remove them easily.
Care tips for leather boots
Glycerine soap should be reserved for your horse equipment (bridle, saddle, etc.). Let your wet boots dry thoroughly before storing them. Clean your boots after each session with a soft brush, then if necessary, with a damp cloth or sponge. A toothbrush is handy for removing dirt from the soles. Clean the nylon zippers to remove sand that could damage the zippers. From time to time, apply a special leather milk or a neutral grease to nourish your boots. And wax them to restore their shine. Once the shoe polish is dry, shine your boots with a soft brush stroke.