Tips for maintaining your riding boots on a daily basis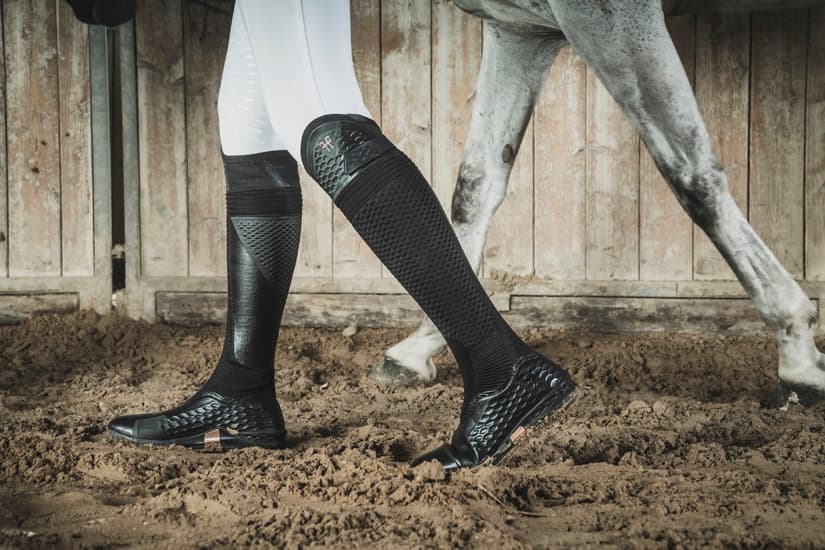 The maintenance of his riding equipment is an absolute necessity for any self-respecting rider. Whether they are made of leather, fabric or rubber, it is essential to maintain your riding boots for many reasons. A few gestures and tips can help you carry out a quick, simple and effective maintenance. Maintaining the leathers regularly also helps to ensure the durability of your boots over time.
Why take the right maintenance steps for your riding boots?
Like all equipment for horse riding, the maintenance of riding boots allows you to maximize their use.
Maintaining your riding boots to improve their durability
The lifespan of riding boots, boots and ankle boots largely depends on how they have been treated. Developed to adapt to the constraints of horse riding, they are generally designed in resistant materials. Using a range of products specific to your riding boots will preserve their elasticity, waterproofness and other practical properties.
Maintaining your riding boots to optimize their efficiency
Whatever they are, equipment for riders must be solid. Very often abused, they are subjected to extreme conditions likely to reduce their effectiveness. This is why it is particularly recommended to take good care of your riding boots. From the heel to the sole, proper maintenance will guarantee good functional condition, for safe use on horseback.
Care for your riding boots to improve their comfort
To progress and be comfortable on horseback, it is important to wear comfortable shoes for riding. Maintaining your riding boots also means ensuring more comfort on a daily basis. Sand, mud and humidity can damage zippers and leather. To extend the life of your boots, it is advisable to regularly remove dirt and dust that may accumulate on the boot. A good cleaning and the use of suitable products will help you to preserve all the flexibility of your riding equipment. Comfortable, the Teknit Boot provides good support and flexibility allowing you to work on your horse on the lunge. What's more, they are easy to care for and are excellent women riding boots and men riding boots.
How often should you maintain your riding boots?
The maintenance of riding boots should be as regular as possible. And above all, it must necessarily adapt to the constraints to which they are exposed.
Periodic maintenance of your riding boots
To maintain your riding boots properly, it is important to clean, polish or lubricate them regularly. Whatever the level of the riders, the intensity of the horse as a sport can be extreme. This is why periodic maintenance to be adapted to its frequency of mounting is particularly recommended. Rider child, adult, beginner or confirmed, cleaning his pair of boots monthly with a suitable product is recommended.
Care for your riding boots after each use
Whether you work a horse on foot or in the saddle, your riding boots, boots and ankle boots wear just as much. Subjected to multiple twists and pressures, they accentuate the shocks and reduce the impacts instead of your legs. Maintaining your riding boots well after each session will protect the smooth leather from dirt, scratches and bad creases.
Care for your riding boots according to the seasons
Like all outdoor sports, horseback riding can be practiced in all weathers. Unless you benefit from an indoor arena, men and women riders are used to riding in various climatic conditions. As for the riding equipment, it is designed to fit all seasons. However, maintaining your riding boots after an hour spent in the rain or in the sun remains essential. So your equipment will remain waterproof in winter and breathable in summer.
The right things to do for optimal riding boot maintenance
The maintenance of chaps, boots, ankle boots and riding boots is a simple formality when you know the good practices to follow.
Use specific products for the maintenance of your riding boots
To maintain your riding boots, it is essential to be well equipped. There are plenty of gear options to help you properly care for your horse gear. The majority of these products are of rather general use. Many of them are therefore accessible in supermarkets.
Whatever the material of your boots, you will need to bring a dry cloth, a brush, a sponge. And of course, glycerine soap and warm water. For the maintenance of your smooth leather boots, you will also need to provide more nourishing products. Like leather grease, polishing oil. And to perfect the maintenance of your pair of boots, shoe polish for black or brown leather. This will also make the leather waterproof to protect the boots from rain and various weather conditions
Follow the key steps to better maintain your riding boots
Caring for your riding boots is not a hassle when you follow the right steps. This is because the more regularly and properly maintained equipment is, the easier it will be to maintain it in the future. For rubber/plastic riding boots, clean with plenty of water before scrubbing with a brush and soap glycerine. Rinse thoroughly, let dry and rub with a dry cloth to remove all traces of water. Little trick, by using a little oil on the finish, you will make your boots shine and limit the adhesion of dirt.
For leather riding boots, it is recommended to first clean with water before using soap and sponge. More likely to be scratched, leather is a sensitive material that requires careful handling. After ridding your boots of dirt with glycerine soap, let them dry well. Massage your boots with your fingertips with oil or leather grease, to nourish them without saturating them. 24 hours later, polish your riding gear with a dry cloth. To obtain very shiny leather boots, it is essential to respect the drying times. You can also use a polishing cream for black leather or brown leather as a finish.
Refer to the seller's instructions for the maintenance of your riding boots
Riding equipment designers usually provide use and care instructions for their products based on types of horse riding boots. It is therefore advisable to refer to these prescriptions to properly maintain your riding boots. For example, the "Horse Pilot" pair of boots are designed in stretchy and breathable materials. From the heel to the sole, including the closure or the leather, these boots are machine washable.
Leather riding boots care