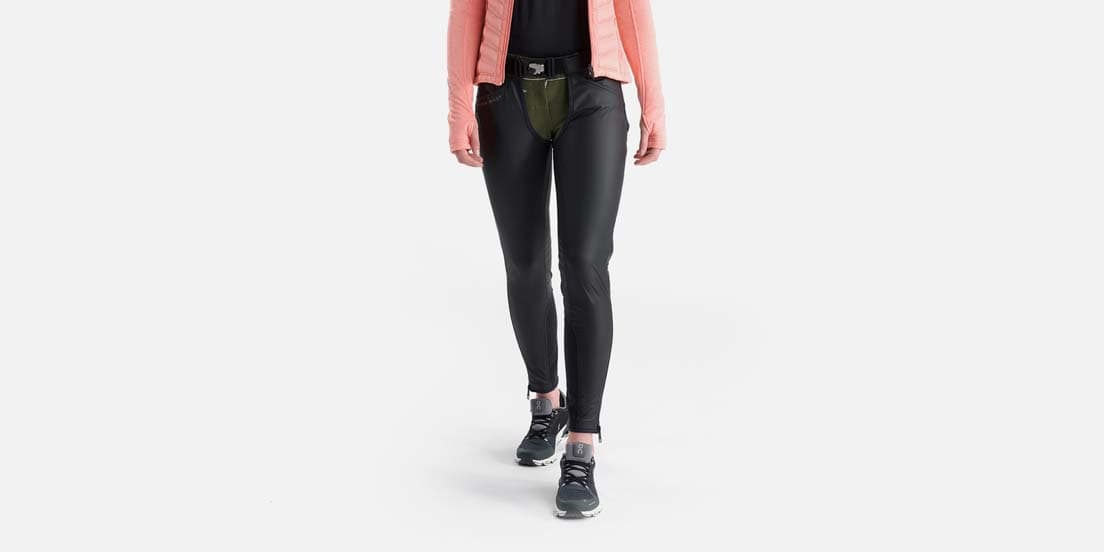 While out riding, riders will be aware that their sport is likely to take place mostly in the open air, or in an unheated arena. This means being subject to the vagaries of the weather, since it is unthinkable not to go out for a ride on your horse just because of bad weather, especially if conditions have been poor for some while. Even if it is not possible to avoid the cold and the rain, you can still equip yourself appropriately and stay warm and dry. To help you, Horse Pilot has developed a range of waterproof pants. Discover these products that would well become your new winter riding breeches essentials.
What are waterproof riding pants?
When we talk about protection against the rain, we may simply think of a riding rug for the horse and a jacket for the rider. If it is indeed required to ride in wet weather, no rider should also be without a pair of waterproof riding pants. Without these, any water that falls onto your jacket will inevitably run down and end up on your pants. There is really nothing more unpleasant than riding with wet and cold clothing that sticks to your skin, not to mention the lack of grip on the saddle that will result. This is where the waterproof riding pants come into play: thanks to their technical construction, they will keep your lower body protected from dampness and thereby allow you to stay warm, even during a long session in the saddle in the middle of winter. It is also important to protect your children with kid's breeches winter.
Everything you need to know about waterproofing
Waterproofing is a property that prevents a particular material from being penetrated by water, or by any other liquid. In order to better visualize this concept, we could refer to the must-have yellow sailors' oilskins which do such a good job of keeping out the rain, or to the famous K-Way®. In textile science, the waterproofing of a product can be checked using the Schmerber Test: a four-inch diameter column is placed against the fabric and gradually filled with water, in order to assess at what level the water begins to penetrate the material. When we discuss waterproof clothing, it refers to fabrics that have this intrinsic quality. This is especially the case for rubber, waxed fabrics, silicone, and even plastics.
The difference between waterproof and water-repellent riding pants
We often tend to confuse these two terms, but in fact they refer to two different things. As mentioned above, the material used in waterproof pants was chosen specifically for its ability to prevent water from penetrating the fabric.
A water-repellent product will have undergone a treatment that gives it protection against liquids, but only up to a certain point. The fabric is given a coating which creates a barrier, and the water will slide over this without passing through. This kind of technology is especially suitable for training sessions in light rain, since it ensures comfort and thermal protection for the rider.
Effective protection against rain
Because it is important to be able to practice your discipline with complete peace of mind, regardless of the weather conditions, Horse Pilot has taken care to offer riders ever more efficient equipment. Even when caught in a downpour, it is now possible to get into the saddle with a waterproof outfit made from water-repellent textiles. This will remain breathable and avoid any uncomfortable sweatiness.
Horse Pilot waterproof riding pants
Whether your horse riding takes place in winter or summer, or in dry or wet weather, it seems to us essential to possess equipment tailored to the needs of the rider. A good outfit needs to combine comfort, technical qualities, practicality but also elegance, especially when it comes to competition. In order to do this, we have worked on the design of waterproof and warm riding pants with the key Horse Pilot features.
Technical and high-performance pants
Riding pants optimized for winter
All riders have known, at least once in their lives, sessions in midwinter in an unheated arena. Equipped with a good jacket and gloves, but still with the usual pants, worn in all weathers. The same pants that become freezing cold over the course of the session, sometimes even soaked and with a slightly cardboard-like texture. Every horse owner has probably said to themselves that they would not ride on particular days, because simply going to the stable conjured thoughts of hours of shivering, rather than a good time spent with their mount.
At Horse Pilot, we believe that our sport and our passion must be able to be practiced without any limits. This is why we are committed to offering equipment adapted to less favorable weather. Especially in winter, it seems to us essential that your waterproof riding pants become second nature by perfectly following the contours of your body, without causing any friction from contact with the saddle.
Thanks to our products designed especially for cold and wet conditions, the weather will no longer be a barrier to you!