Riding tights with phone pocket: a practical guide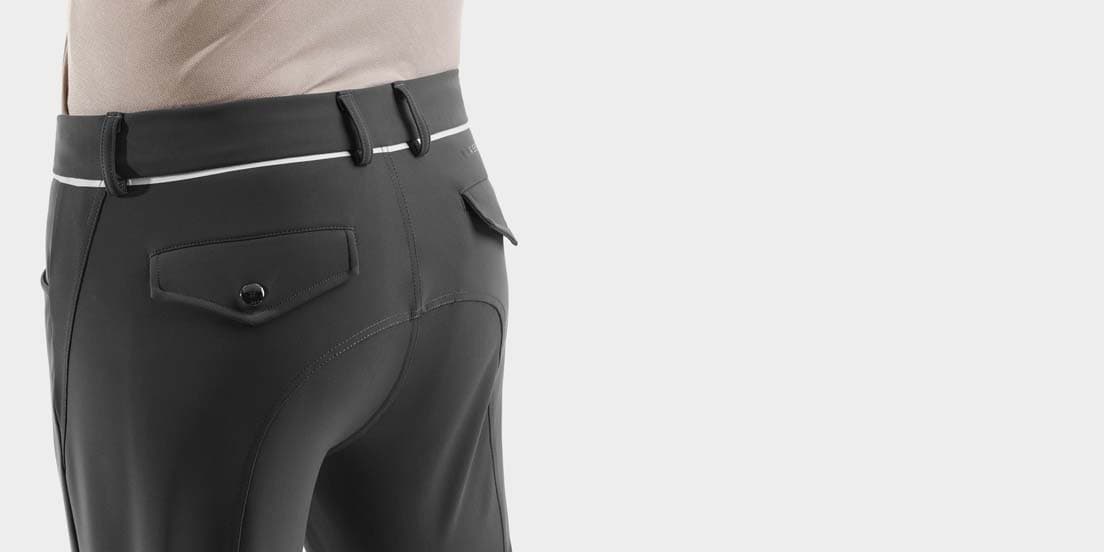 Choosing the right riding tights with phone pocket
Everything you need to know about riding tights with a phone pocket
Some breeches feature a large pocket on the right thigh to hold a smartphone. It is impossible to place a phone even in roomy pockets on the hips and back of your riding pants because it would be rather uncomfortable once in the saddle.
Therefore, a pocket thoughtfully located on the thigh of certain models of riding pants allows you to keep your phone on your person while on horseback and to access it very quickly on the go with one hand, without having to let go of the reins.
When choosing flattering breeches with a phone pocket, it is also advisable to think about the other technical aspects of riding leggings. The material must be comfortable, and the fabric of high quality. We also recommend favoring the presence of a grip inside the knee because it helps to keep the legs efficient. It will also be necessary to check if there is a full seat grip, integral or not, if you are used to wearing riding tights that include one. In addition, pay attention to the fit of the model: if you only wear high waists, remember to check this feature before making your purchase.
For which equestrian disciplines are riding tights with a phone pocket suitable?
Breeches with a phone pocket can have a disadvantage: the pocket's location on the thigh means that the phone is at risk of damage in the event of a fall. Therefore, this storage solution does not necessarily correspond to all equestrian practices.
Riding leggings with a phone pocket are perfect for use on foot only, especially in summer with summer riding pants and when we wear t-shirts or polo shirts that don't have pockets. They will also be suitable for a recovery ride or even a short, quiet hack.
However, it is preferable to opt for a more secure solution to keep your phone on you during sessions such as jumping, or even on a long ride, in rough terrain, or when a lot of canters are on the program. This type of situation increases the risk of falls and therefore requires additional protection for the rider, as well as special attention paid to the storage of your smartphones.
We have designed a complete guide for all riders; it's full of tips on how to take your smartphone with you in all situations, from showjumping to pony trekking.
Taking your smartphone on horseback in riding tights without a phone pocket
What riding clothes with a pocket will I find in the Horse Pilot collection?
So, your riding session for the day corresponds to the use of breeches with a phone pocket, but your favorite Horse Pilot breeches don't have one? Don't worry; we have designed jackets for you with pockets to put your phone in safely.
All Horse Pilot jackets have pockets, such as the Celsius sleeveless jacket, which features three zipped pockets outside and an inside pocket with holes for earphones. The Horse Pilot Essential wind and rain jacket is also designed with several outside pockets and two inside pockets; it is available in women's and men's sizes.
Horse Pilot's tips for carrying your phone on horseback
Going for a walk requires having your phone on you to warn of any problems but does not necessarily require being able to access the phone several times per session. So you can wear your favorite riding tights even if they don't have a phone pocket, thanks to a few tricks to keep them close at hand.
Firstly, it is possible to opt for a saddle pad with a pocket or even for a hiking bag that you place at the back of the saddle during your ride. For a less bulky option that you can use in any situation, phone belt holsters can be a good choice. They are often rigid and made of faux leather, offering a protective combination for your smartphone.
More inconspicuous are flat, thin bags that you wear under a jacket, on the stomach, or in the lower back. They have the advantage of being spacious but very comfortable. If you wear high-waisted riding leggings, you won't feel the bag once you are in the saddle. You can find these very discreet bags in the running section of sports shops or the travel section of specialist shops because they are also used to carry your passport and money on you in complete safety.
Finally, fans of very long rides can pick up ideas from long-distance runners. Camelbacks, which you will find in the running department, are particularly flat, discreet bags. They allow you to carry water, a snack, and a smartphone without hindering an athlete's freedom of movement, whatever their sport. These backpacks have adjustable straps that clip on at chest level. If the bag is attached well, the feeling once in the saddle is comparable to wearing a relatively light protection airbag because these bags are designed like vests. The brand you choose does not matter as long as the bag is adapted to your body shape and does not hinder your movements. Please note that wearing a bag of this type is not compatible with wearing a protective vest. On the other hand, they are easy to wear over a windproof jacket or a sweatshirt.
Whatever the option you choose to carry your phone, the first criterion you must consider is always your comfort in the saddle. Also, when trying on riding tights with a phone pocket, a new saddlebag, or a new hiking backpack, it is essential to test them by slipping a smartphone into the pocket provided and performing a few movements; for example, squatting with your arms stretched out in front of you. If these movements are comfortable and you don't feel the smartphone, there's a good chance that your comfort on horseback will be optimal.
Riding tights with phone pocket